SFI's week-long plantation drive in East Burdwan
Over a thousand saplings planted in memory of icons including those like singer KK, Argentine footballer Diego Maradona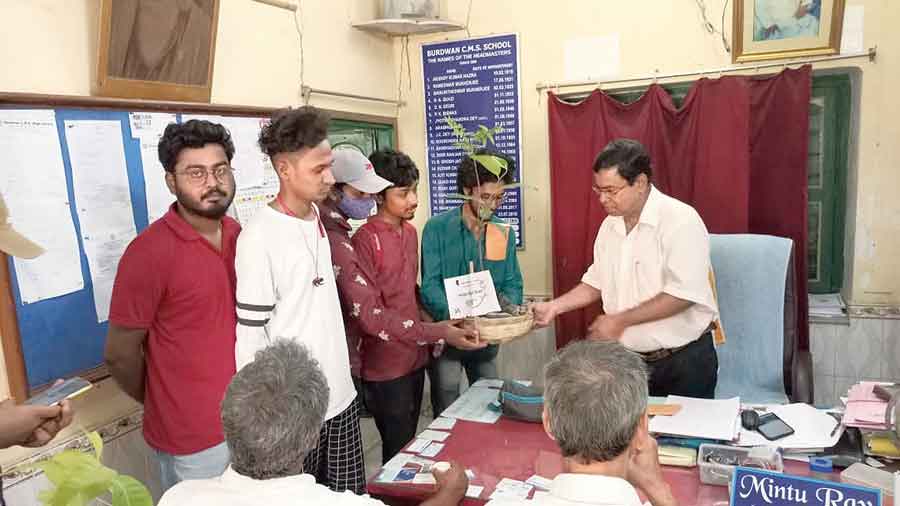 SFI activists distribute saplings in Burdwan on Monday.
Picture by Munshi Muklesur Rahaman
---
Calcutta
|
Published 08.06.22, 01:35 AM
|
---
The East Burdwan unit of the SFI has planted over a thousand saplings in its seven day-long drive in memory of several polymaths, celebrities and players, including those like singer Krishnakumar Kunnath, popular as KK, Argentine footballer Diego Maradona who passed away in recent past across the district.
The SFI leaders said the initiative named as O2 Bucket—was taken to apprise people, mainly students and teachers, of environment and plantation.
The initiative has been started from June 3 and will continue till Tuesday.
"We have mainly chosen schools, colleges and university campuses to plant the trees. Our volunteers visited those educational institutions and handed over several saplings to the teachers and students to plant immediately. We had dedicated each tree for several polymaths, sports personalities and artists including those who died in the recent past," said Anirban Roy Chowdhury, SFI secretary of East Burdwan.
The SFI leaders said during their drive they are requesting the schools to install
solar panels to reduce consumption of thermal power and requesting them to plant as many trees as they can in their campus.
"School campuses have plenty of land to plant trees and that is why we chose those places for plantation," said a SFI leader.
The volunteers of the Left students' wing had planted trees in memory of scientist Jagadish Chandra Bose and like singer KK who passed away after a performance in Calcutta recently.
"We have planted trees in memory of those popular figures across the globe as we want to see them alive through those plants…" said a SFI leader.
Apart from SFI, the youth wing of CPM, DYFI had also taken such a drive in East Burdwan and planted a tree in memory of KK.