Session on ethics and communication
RG Kar trains doctors in grooming juniors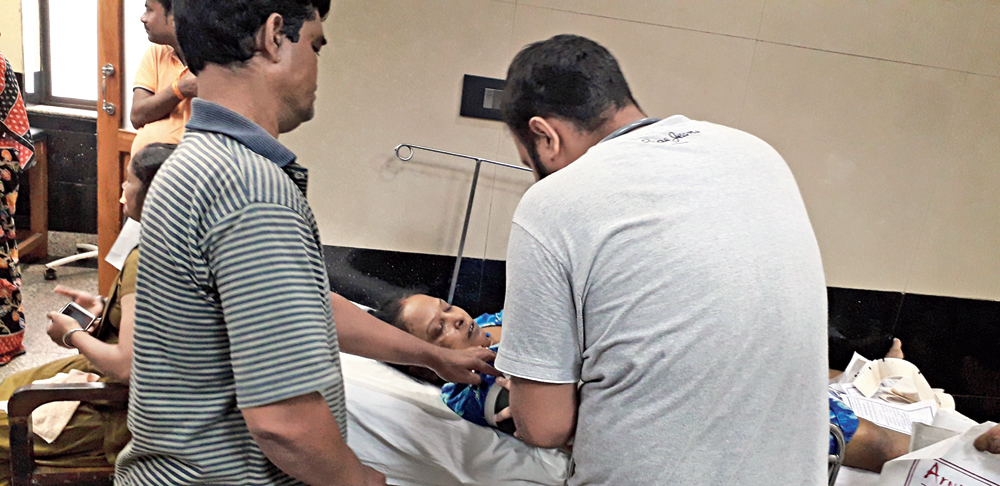 ---
|
Calcutta
|
Published 19.06.19, 01:30 AM
---
When junior doctors were agitating across the state last week, senior doctors were attending a session at the RG Kar Medical College and Hospital on how to train junior doctors and MBBS students in medical ethics and communication.
Thirty senior doctors — of the rank of associate and assistant professor — were trained by seven of their colleagues who have undergone a course at an institute in Ludhiana, in Punjab.
"Communicating with patients and their relatives remains a challenge for most junior doctors," said a senior doctor who attended the six-day training, which was held in the presence of a Medical Council of India representative.
"We were told how case studies could be used to make medical students and junior doctors understand the importance of verbal and written communication."
Patients and their relatives often complain that junior doctors refuse to listen to their problems in detail at the emergency wards and OPDs and behave rudely if they are asked too many questions about the ailment and treatment protocol.
"A junior doctor did not even look up when we asked him about the condition of our relative, who is admitted to the neurology block of the Calcutta National Medical College and Hospital," said Golam Mohammad, a resident of Diamond Harbour in South 24-Parganas.
"When we pressed him for an answer, he shot back: 'Are you a doctor? Will you understand even if I explain it to you'."
The doctors who attended the training were told that students, interns and housestaff could be made to role-play — in situations such as the one in which a doctor is multitasking in a noisy ambience — to help them identify some mistakes in patient-doctor communication.
"We have to take note whether a junior doctor is making eye contact with a patient or relatives while
talking to them and whether he or she is interrupting them or refusing to listen to them," a senior doctor said.
As for medical ethics, the juniors will be taught health-care rights and whether a patient has the right to know about his or her diagnosis.
Officials said the modules at the session were on medical ethics, communication, meditation, sports and local language.
"Each module is very important. For instance, students will get to learn the art of how to convey bad news to relatives of a patient," said Suddhodhan Batabyal, principal of RG Kar medical college. "Sports, for instance, will help in team building, while medication will help junior doctors battle anxiety."