Sacked contract workers strike to get re-hired
The protest made official work at the Pundibari forest range office on the outskirts of Cooch Behar grind to a halt.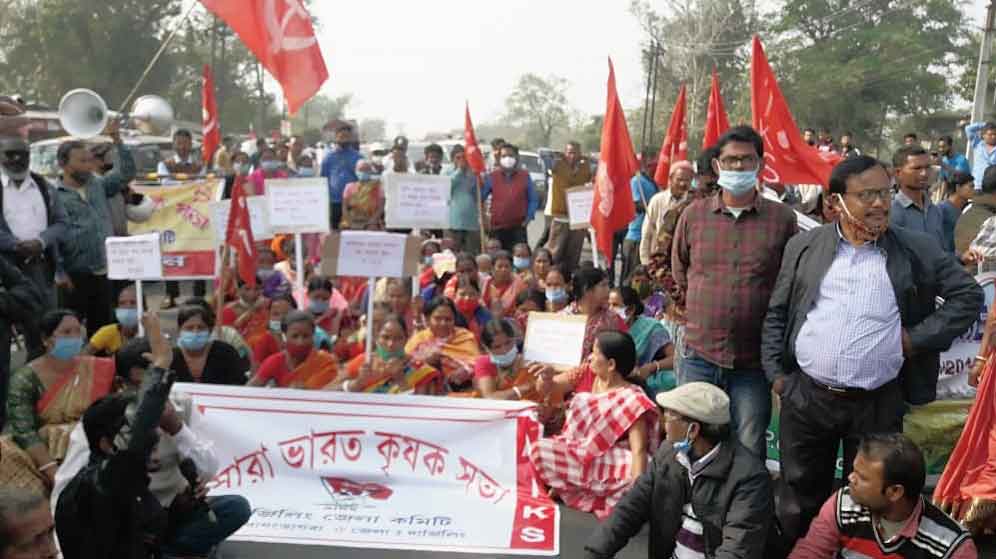 All India Krishak Sabha protest on the highway near Siliguri on Thursday against elephant depredation.
Passang Yolmo
---
Cooch Behar/Siliguri
|
Published 11.12.20, 01:42 AM
|
---
A group of contractual workers engaged earlier for the third rhino habitat of Bengal resorted to an indefinite sit-in demonstration at a forest range office since December 8 to demand they be hired back.
The protest made official work at the Pundibari forest range office on the outskirts of Cooch Behar grind to a halt.
Protesters said that three years back, 32 contractual workers had been engaged to ready the habitat but since July2020, they were told that their services were no longer required.
"Initially, we used to receive Rs 6,800 a month that eventually reduced to Rs 6,300 a month. On July 1, we were told not to join our job and then seven months' salary was due. That is why we launched this indefinite sit-in demonstration and want us to be re-hired," said Shibu Sarkar, one of the agitators.
Sources in the forest department said that in 2018, the workers were hired on temporary basis. On July 1, an order reached local forest officials saying that they could not be engaged any more. 
"Most of them are local residents. Recently, the state forest department appointed Ban Sahayaks (forest assistants) where locals were supposed to be recruited. None of these youths was recruited which has further aggrieved them," said a resident of the area.
"We are trying to persuade protesters to withdraw their agitation and have informed our senior officers," said Sanjit Kumar Saha, the divisional forest officer, Cooch Behar.
Jumbo roadblock
In Naxalbari of Siliguri subdivision, residents of Chowpukuria came out on Asian Highway–II on Thursday and blocked it for one-and-a-half hours, alleging loss of life and property due to elephant depredation.
Residents under the banner of All India Krishak Sabha — the CPM farmers' front — demanded that the forest department create a wildlife squad for the area to tackle this problem.
"Around 100 elephants are wandering in the locality for past couple of months. The herd raids villages and tea gardens, damages property and even kills people. People are spending sleepless nights. A wildlife squad should be formed and posted to tackle elephant depredation in and around Naxalbari," said Jharen Roy, president of Krishak Sabha's Darjeeling district unit.
The blockade, which halted traffic movement along the highway for one-and-half hours, was lifted when foresters reached the spot and assured them of appropriate steps.