Runway cracks ground Bagdogra flights for second consecutive Tuesday
A similar disruption — for over seven hours — had occurred on March 15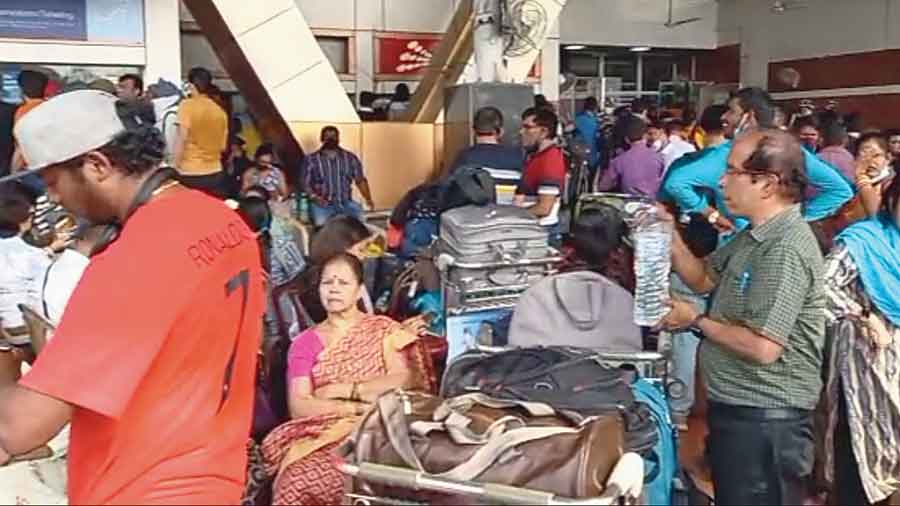 Passengers at the Bagdogra airport on Tuesday.
Picture by Passang Yolmo
---
Siliguri
|
Published 23.03.22, 04:44 AM
|
---
Flight services got disrupted in Bengal's second major airport Bagdogra for the second consecutive Tuesday as cracks were again spotted in parts of its sole runway, airport sources said.
"Flight operations were suspended from around 11.50am owing to certain issues with the runway. Repair works were carried out throughout the day and all the flights due to arrive after 12pm were cancelled. From tomorrow (Wednesday), we expect the services to be back to normal," said an official of the Airports Authority of India (AAI).
A similar disruption in flights — for over seven hours — had occurred on March 15.
The Bagdogra airport is a civil enclave where the runway and the air traffic control (ATC) are  run by the Indian Air Force (IAF).
"We got information (about the problem) from IAF authorities and passed it on to the airline companies. The Border Roads Organisation (BRO) were engaged in the repairs," the official added.
On Tuesday, there were 28 flights or 56 flight movements. Among these, seven flights landed in the morning and five could take off soon afterwards. The remaining two airplanes stood on parking bays and could take off only at around 6pm, after repairs were over.
However, unlike last week, when the services resumed after 5pm and continued till 10pm to help stranded passengers, on Tuesday, apart from the seven flights that landed, the remaining 21 were cancelled.
Such mass cancellation of flights left hundreds of passengers angry. Many alleged that the airline companies did not pass them the information to them in proper time.
"We came to the airport, stayed for hours and eventually learned that flights had been cancelled. They should have informed us earlier," said an aggrieved flier Deepak Gupta, who was supposed to board a flight to Delhi.
Hundreds of tourists who had  to return to their hometowns or workplaces after spending the Holi holidays in the hills were also stranded on Tuesday .Many were seen frantically calling up their contacts and inquiring about tickets in Calcutta-bound buses and trains.
"I have to be in Delhi on Thursday for an important meeting. That's why I have
somehow managed to get a bus ticket to Calcutta and have also booked a flight ticket
for tomorrow (Wednesday) from there. The airline authorities at the Bagdogra airport told me that services here would be normal by tomorrow but I didn't want to take the risk," said Samir Lama from Darjeeling.
The disruption in flight services in Bagdogra for the second time in seven days has also caused the tourism sector to react sharply.
"We will immediately take up the issue with the state and the central governments. Such cancellation of flights acts as a deterrent to the growth of the tourism sector," said Samrat Sanyal, the general secretary of the Himalayan Hospitality and Tourism Development Network.