Roof leak shuts down Calcutta airport aerobridge
With the aerobridge shut, passengers now have to climb down to the ground floor and take a coach to board flights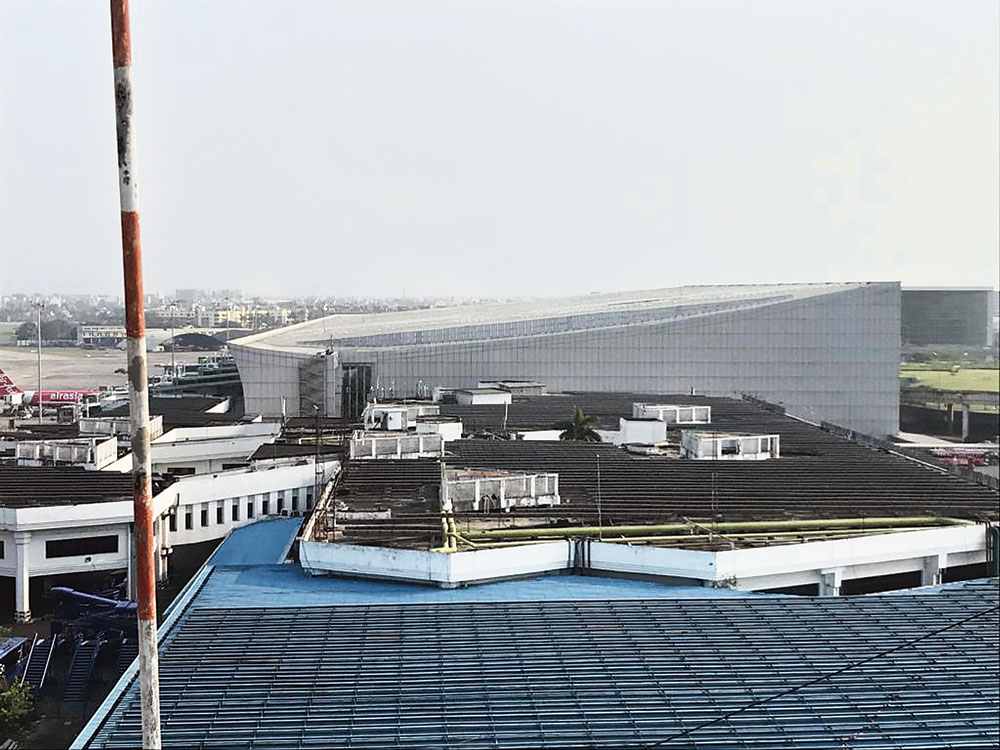 ---
|
Calcutta
|
Published 08.04.19, 09:52 PM
---
A leaking roof at the airport has forced the authorities to close down an aerobridge in the domestic terminal since Saturday.
A thunderstorm, followed by heavy showers, saw water dripping from the ceiling of the terminal. The "downpour" was particularly heavy on aerobridge No. 24, officials said.
Senior officials inspected the aerobridge around 10.30pm on Saturday. Rainwater was leaking from the roof of the terminal as well as the aerobridge.
"Water was leaking all over and the carpet was soaked. We had to place baggage tubs along the aerobridge. Passengers were skirting past the tubs on their way to board the aircraft," an airport official said.
"We waited for the passengers to board the flight before closing down the aerobridge. If we had stalled boarding and asked the passengers to take another gate, the flight would have been delayed," the official said.
Airport director Kaushik Bhattacharya said aerobridge No. 24 needed major repairs. "We are drawing up a plan," he said.
With the aerobridge shut, passengers now have to climb down to the ground floor and take a coach to board flights. "We have pointed out to the authorities several times about rainwater leaking over the aerobridges. Passengers have complained to us but the problem has persisted," an official of a private airline said.
Metro has reported on several occasions how leaking roofs have caused embarrassment to the city airport and the authorities have been unable to plug the leaks.
Engineers said rainwater seeps into the terminal through widening gaps in the roof joints. Several such gaps have been repaired but new ones keep emerging.
The gaps have allegedly been caused by workers walking over the tin roof for maintenance and repairs in the absence of dedicated service walkways. The welding of the joints gives way under their weight, an official said.
The authorities had initiated a project last year to build walkways on the roof so that workers can walk in a single file. "Nearly 90 per cent of the work has been completed," director Bhattacharya said.
Some of the airline offices in the basement of the international section were also flooded.