Robbers raid doctor home in Durgapur, wife injured
Rs 35,000 in cash and ornaments valued at around Rs 1 lakh looted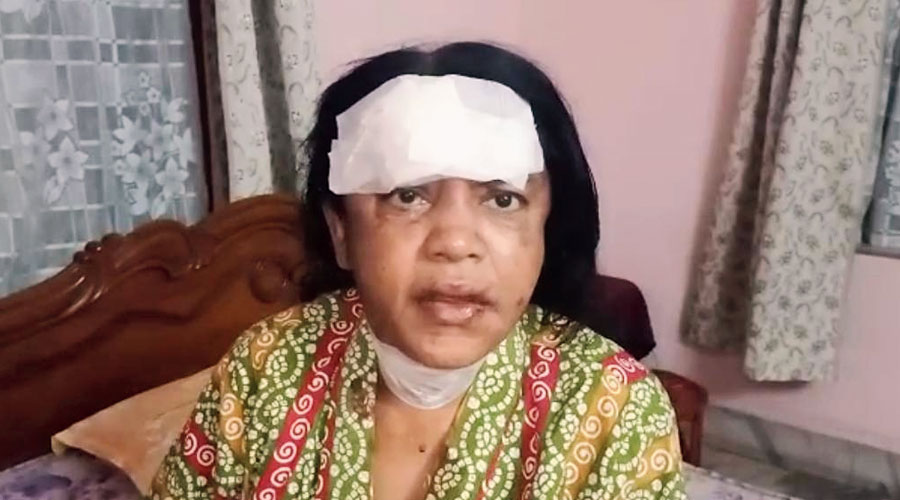 ---
|
Durgapur
|
Published 29.07.20, 04:20 AM
---
Three youths posing as patients held a general physician at knifepoint at his home in Bengal Ambuja Township here on Monday evening and decamped with cash and ornaments after injuring the doctor's wife.
The robbers wearing mandatory masks as part of Covid-19 protocol knocked on the door of Sarat Chandra Karmakar and one of them said he was suffering from fever and no doctor was ready to treat him because of the pandemic.
"Suddenly one of them pushed me and barged into the room. They held me against the wall and brandished a knife. I was asked to hand over whatever cash and ornaments we had at the house," said Karmakar, 72, a retired physician of the Steel Authority of India Ltd-run hospital in Durgapur.
When his wife Kanta, 63, who was in another room, came to the doctor's rescue, she was hit on the forehead with a knife and then they held it on her throat. Kanta suffered injuries to the forehead and throat and was administered two stitches.
"My wife is still in pain and having difficulty in talking because of the injury," said Karmakar on Tuesday.
The robbers took away Rs 35,000 in cash and ornaments valued around Rs 1 lakh, said the doctor.
The Bengal Ambuja Township is barely 300m from a police outpost. The robbery took place around 4pm on Monday.
"The goons took advantage of the deserted locality because the lockdown is in force in the town," said a police officer.
Karmakar's daughter is married and stays in Delhi.
As the robbers left after the 15-minute operation, Karmakar took his wife to the Durgapur Steel Plant hospital for treating her wounds. After returning from the hospital, he informed police.
The police said the robbers who were speaking in Bengali among themselves had locked the door from inside after entering the doctor's house. The police said they had collected the CCTV footage at the locality as part of the probe.
"The criminals might have come on foot or a two-wheeler that they had kept away from the house. We are examining the CCTV footage," said the police officer.
Student's body found
Police on Tuesday fished out the body of Rahul Maddi from the Damodar river in Andal, where he, along with five other friends, had gone on Monday to take a holy dip before fetching water to pour it on Lord Shiva.
Rahul would have turned 18 on Tuesday. He was to take the higher secondary exam next year. Rahul along with his friends — Sourav Mandal, Shibu Das and Sabyasachi Mukherjee — had drowned in the Damodar early on Monday. While the bodies of three others were found on Monday, Rahul remained traceless till Tuesday.