Rakhis that can sprout into a bond with nature
Unique Foundation Team's eco-friendly offering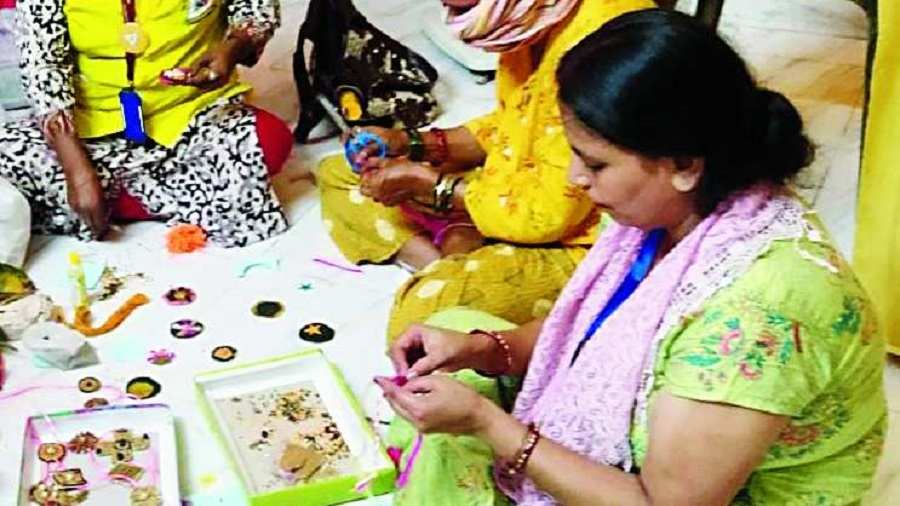 Women in Siliguri make eco-friendly rakhis that contain seeds.
Passang Yolmo
---
Siliguri
|
Published 11.08.22, 02:28 AM
|
---
Sibling bonds are set to be planted firmly during Raksha Bandhan celebration in Siliguri this year with a group of women in this north Bengal town introducing eco-friendly rakhi with seeds of various plants.
A group of eight women from the Unique Foundation Team has lived up to their NGO's name to create biodegradable rakhis.
"We are making rakhis from biodegradable materials like waste paper, clay, grass, leaves, different kinds of pulses, coconut shells, jute and other organic materials," said Devi Dey, one of the women.
The icing, however, is the thought to also put in seeds of various plants inside each rakhi. "One can plant the seeds, which we hope everyone wearing these rakhis will do, anywhere, even in a flower pot if one does not have enough space, " said Dey. Since the rakhi itself is biodegradable they are hopeful that the seeds in it will sprout better.
The women are putting in kidney beans, lentil, chickpea seeds, sprouts, coriander seeds and fenugreek seeds inside the rakhi.
With just a little bit of care and love these seeds are expected to sprout, Dey said. "Rakhi is a celebration of bonding and the thread is sacred to all. We are confident that people will nurture what has been given to them with so much love," she added.
The foundation has decided to distribute the seed rakhis for free.
"We intend to distribute our rakhis for free. Our main intention is to create awareness about tree plantation and a plastic-free life among the people," said Sakti Paul, founder of the NGO.
So far they have made 200 rakhis and are looking to double the numbers till Rakhi day. The cost "is negligible as most of the products are easily found", the members added.
"Everyone loves a rakhi but ultimately the plastic thread and plastic beads land up in dustbins after the celebration. We want our rakhis to bloom," said Paul.