Push for villagers' shift from Buxa
The relocation of the 200 families from the core areas of the BTR is a part of the plan under which tigers would be reintroduced in the reserve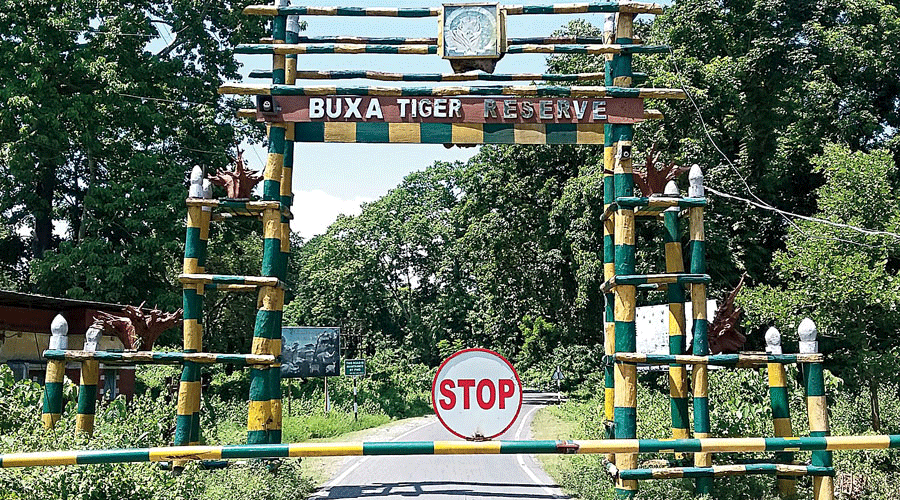 In the BTR, there are 16families at Bhutia busty and190 at Gangutia busty — both under Kalchini block of the district. They will be shifted to other places.
File picture
---
Alipurduar
|
Published 28.10.22, 01:33 AM
|
---
The Bengal forest department has finalised a plan to relocate over 200 families from two villages in the core areas of the Buxa Tiger Reserve (BTR) in the Alipurduar district and sought funds from the Centre to pay compensation to them.
The relocation of the families from the core areas of the BTR is a part of the plan under which tigers would be reintroduced in the reserve.
In the BTR, there are  16 families at Bhutiabusty and 190 at Gangutia busty — both under Kalchini block of the district.
They will be shifted to other places.
"The state forest department has sought funds from the National Tiger Conservation Authority so that each of these families can be provided with Rs 15 lakh.
The department will take care of the villagers and will be in touch with them so that they do not face any problem in future," said Birbaha Hansda, the minister of state for forests.
On Wednesday, Birbaha, along with a team of forest department officers, visited both the villages.
She spoke to the villagers and listened to their opinions about their relocation and rehabilitation.
Sources said according to the rehabilitation plan of the NTCA for such relocation, a family can receive a one-time grant of Rs 15 lakh or else, they can opt for a house with land rights.
The forest department will build the homes at a new location.
"Most of the families at these two villages have selected the first option, that is, the cash compensation. That is why a letter has been sent to the NTCA. We are waiting for the allocation of funds and once we receive it, the relocation process will start," said a senior forester.
As tigers had not been sighted in the BTR for decades, the state forest department, in consultation with the NTCA, had drawn up a plan to bring in tigers from the neighbouring state of Assam and reintroduce them in Buxa.
"But in December last year and in January this year, tiger was sighted in the BTR, rather, pictures were clicked by trap cameras, after a gap of 30 years. It is positive news for us and the relocation of villagers from core areas is necessary. Also, the plan for the reintroduction of the tiger is there and it will happen in due course," the forester said.