Purulia's Mahalaya gift to Covid orphans: Long-term aid
According to government norms, they are entitled to Rs 2,000 a month for three years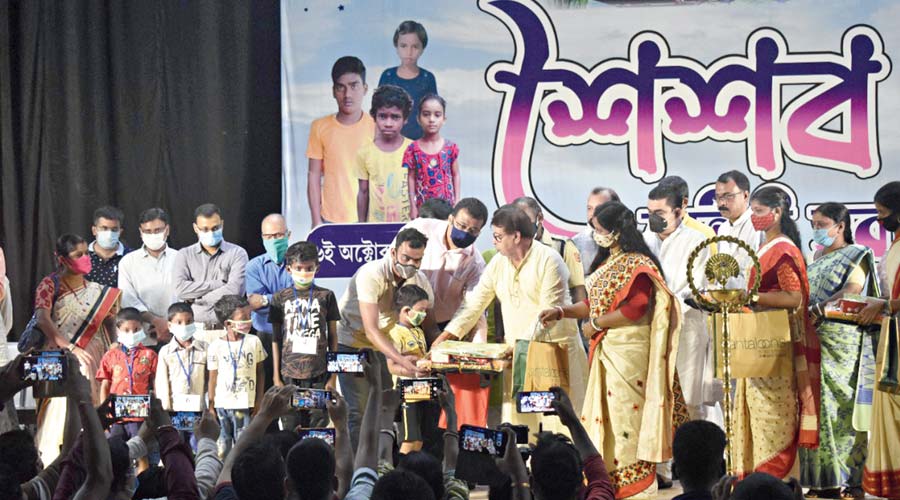 Officials of Purulia district administration hand over Durga Puja gifts to Covid orphans in Purulia on Wednesday.
Telegraph Picture
---
Bolpur(Birbhum)
|
Published 07.10.21, 01:50 AM
|
---
Purulia district administration, with help from the state government, on Wednesday pledged long-term social and economic support to 46 minors who lost both parents to the pandemic, and to six other children who lost one parent each but were extremely needy, at an event at the district headquarters.
All the 52 children received a festive kit of new clothes, shoes, books, colouring materials and stationery at the Rabindra Bhavana auditorium of Purulia on Wednesday afternoon, as Durga Puja gifts on the day of Mahalaya.
A cultural programme was also held for them.
"After a vast survey and virtual interviews of around 1,800 children, we chose these 52 children who are helpless and have no support system. The child welfare department has already granted funds of Rs 2,000 per month to each. We have formed several committees to look after health, education, nutrition and other needs of these children," said Rahul Majumdar, Purulia district magistrate.
"It is Mahalaya after all, and we have vowed to take care of all 52 children till they become self-reliant," the district magistrate said.
Majumdar added that they hosted a cultural programme for the children and gave them gifts as they had nobody left to wish them joy during the upcoming festival.
Purulia, one of the remotest districts in Bengal, is part of the Jungle Mahal belt.
Sources said all the districts of the state started a survey in their respective areas, to find out children who had lost both or either of their parents to Covid-19 since the pandemic was first reported in Bengal in March last year.
Sources in the West Bengal Commission for Protection of Child Rights have said that according to the survey over 3,000 such children were found.
Ananya Chakraborti, chairperson of the Commission, on Wednesday welcomed the gesture by the Purulia administration. "It is our duty to keep these children happy during festivals. It is very good that the administration has decided to take care of all of such children on a long-term basis," she said.
Officials in Purulia said after the state government directed them to identify the children who lost their parents, the district administration asked panchayats and collected names of around 1,800 such children.
"Our district child protection officers did a videoconference with help of local block officials and found out these 52 need the most support," said an official.
According to government norms, these are entitled to Rs 2,000 a month for three years. But the district magistrate can extend the period on a need-based assessment.
In Santuri of Purulia, three siblings aged between 12 and 16 years lost both parents during the first wave of Covid-19 and have been living in a room of a local club in the village. "There was no place for those three to go. Their relatives stay in Madhya Pradesh as migrant workers. Their father, a migrant worker, and mother died of Covid-19 last year. We sheltered them at our club," said Padma Lochan Show, a trader who is their current guardian.
"I took the trio to Purulia town for the government event today (Wednesday), where they got Puja gifts. Their bank accounts have been opened and they will get money for their survival every month. All three are very studious, good students," he added.
The Purulia administration has also assigned a self-help group for each such orphaned child to see to it that they are doing well and getting government benefits.
"This surveillance will be on, to see whether the money or other support from the government is being used only for the child, as we have to deposit the money in accounts of their immediate kin. If any irregularity is found, women of the self-help group will report to us," said district magistrate Majumdar.