Puja through French lens
Mireille's 100-odd photographs of Durga catch the goddess right from the straw skeleton through the clay moulding to the bedecked mother in her finery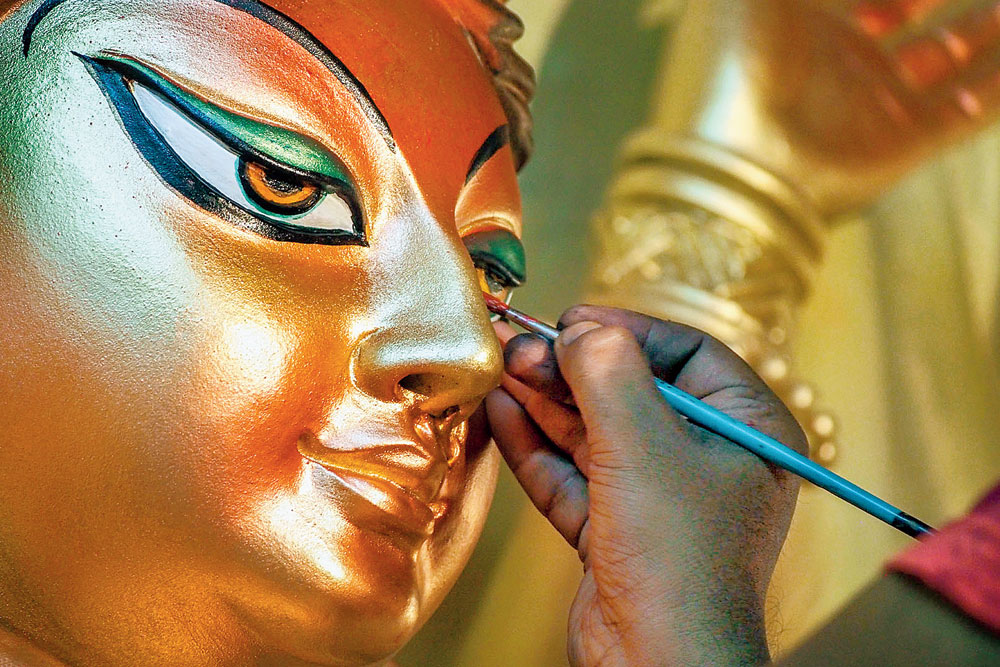 ---
Calcutta
|
Published 13.10.18, 09:09 AM
|
---
She is French who finds her spirituality in Hinduism. She has travelled from Bourges in France to India several times and has been living in Calcutta for a year studying the cult of Shakti.
Meet Mireille Josephine Guezennec, who has taken an Indian name, Himabindu, and is exhibiting her snapshots of Durga Puja at the Indian Museum.
The exhibition — Homage to the Great Goddess Durga, Celebrating Durga Puja — was unveiled on October 12 and will continue for a month.
Mireille's 100-odd photographs of Durga catch the goddess right from the straw skeleton through the clay moulding to the bedecked mother in all her grandeur. Her clicks juxtapose the clay with the kanchan barna or the golden hue of Durga.
Spending most of her time at Kumartuli with the kumors (idol-makers), Mireille catches them moulding the divine with wet clay and straw, waiting to let the figure dry, slapping the paint on the clay, painting the goddess's feet and finally doing the chakhhudan (painting the eyes of the idol).
"I am fascinated with the chakhhudaan. It is as if the goddess gets a life," says Mireille.
This is going to be her fourth Durga Puja in Calcutta, having visited the city every year since 2015 during the autumn festival.
The photographer has sat through the rituals of Kumari Puja at the Sabarna Raychoudhury house in Behala and also visited the Kashi Bose Lane Sarbojonin Puja in north Calcutta. "I don't like to think of Durga Puja as a carnival. I think it is something far sacred and traditional," she said.
A writer and a photographer, too, Mireille is working on her fourth book, which will be on Shakti, with a fellowship from the Indian Council for Cultural Relations (ICCR).
Indian Museum director Rajesh Purohit said: "Himabindu's exhibition will give the audience an orientation to the different moments, rituals, traditions, icons and iconography of Durga and the idol-making tradition at Kumartuli."