Protests in Calcutta: Faces many, voice one
City that took a stand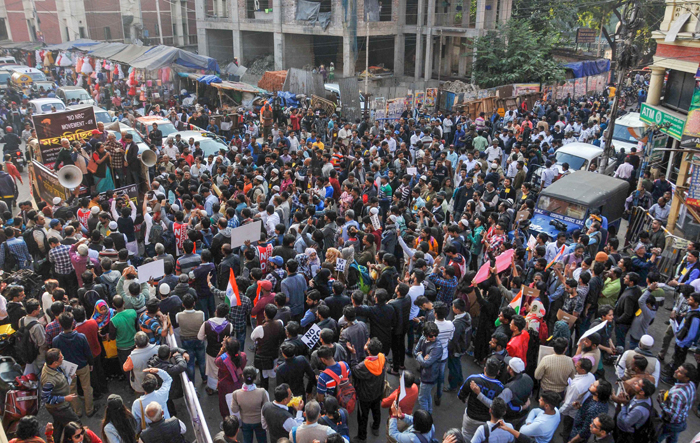 ---
---
Urmi Mukherjee of The Telegraph joined the citizens' rally from Ramlila Maidan to Esplanade on Thursday. She writes about what she saw and heard
"Graamer naujawan Hindu Musalman… Aage ki sundor din kataitam… (Hindu and Muslim youths of the village... We would spend such beautiful times together)," the refrain came from behind me as thousands marched up SN Banerjee Road towards Esplanade. I turned around to catch a bearded man of about 40 singing baul Shah Abdul Karim's composition, to the accompaniment of a dotara.
Around four other men, all well above 40, joined in as a group of college students marching right in front thundered: "Agar tum na doge azadi, toh chheen ke lenge azadi (If you don't give us freedom, we will snatch it from you)."
A little ahead, I caught four girls humming "Kotoi rongo dekhi duniyay" from Satyajit Ray's Hirak Rajar Deshe. It was difficult to keep track of the soft voices in the thunder of "Maanchhi na, maanbo na" and "azadi" that rang through the "19-er mahamichhil", a no-NRC, no-CAA, no-NPR and no-NRIC rally called on Facebook.
Even when I started from home around 11.30am, the number of people who had marked themselves as "Going" on Facebook was barely 700. A little more than a thousand had marked themselves as "Interested". So nothing could have prepared me for the sight that greeted me at Ramlila Maidan.
At 12.10pm, the ground was already teeming with people. There seemed to be several clear groups, identifiable by the banners they carried or badges they sported, some waving the Tricolour, and some carrying effigies of the Prime Minister.
The atmosphere was electrifying and yet utterly chaotic. Nobody had expected so many to turn up. It was overwhelming for most of us who had never joined a rally of such proportions.
Even an hour later, people were pouring in. Young and old, male and female, and a queer group carrying their own rainbow flag — they all came. An octogenarian woman was helped by a younger woman over to a seat before she walked, too.
The rally left in bunches, huddles of people who had come together. But somewhere between Entally and Esplanade, it became one homogenous mass of humanity. And the students shouting "Maanchhi na, maanbo na" joined the singers of "Aage ki sundor din kataitam".
I had to leave at Esplanade, but I walked away exhilarated. It was heartening to know so many of us felt the same way. It was empowering to have made my voice heard as a citizen of a united Calcutta that has taken a stand.