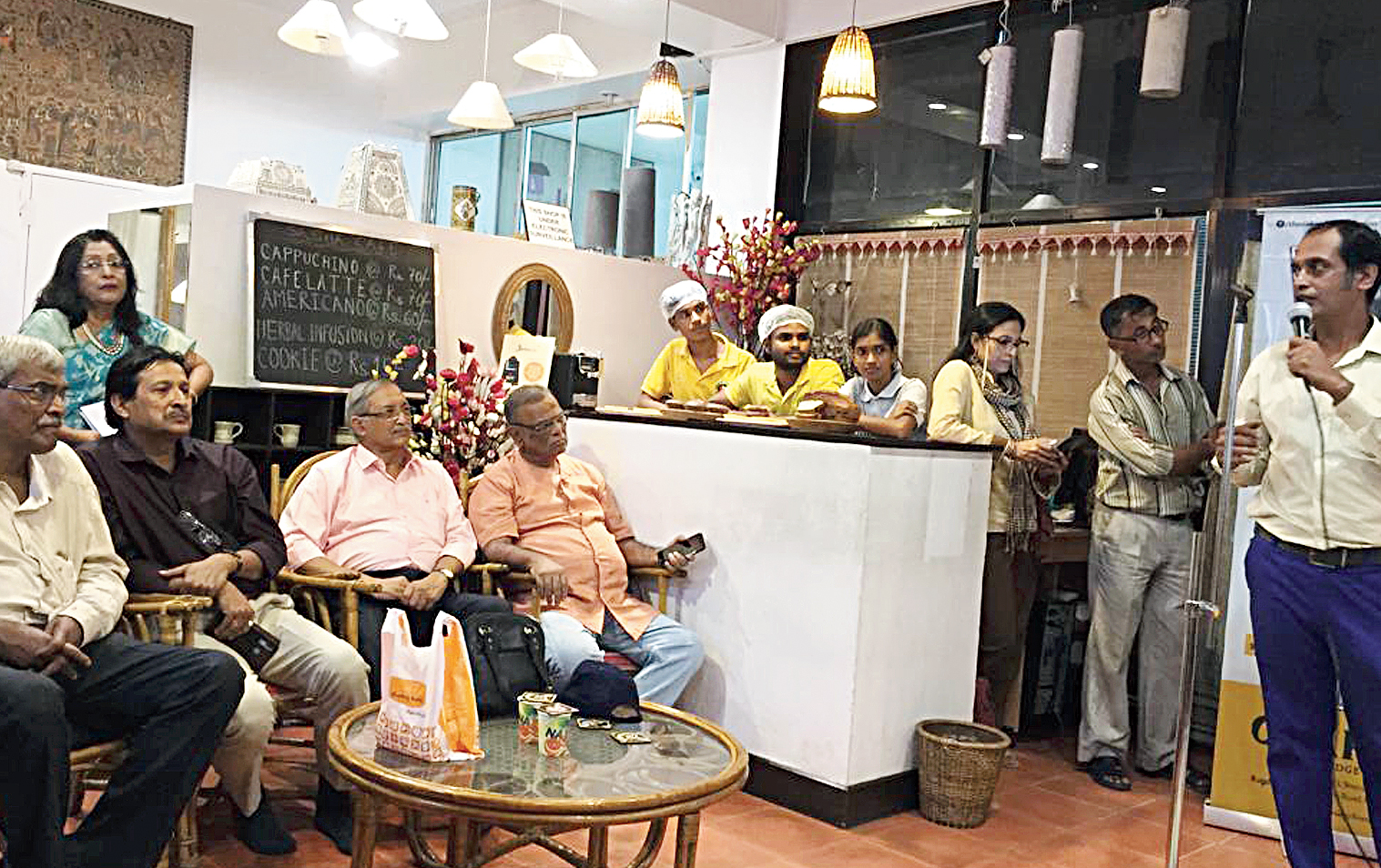 The launch meeting of the Harvesting Plastic movement (The Telegraph picture)
Calcuttans are joining hands to rid the city of the scourge of plastic. And they are starting with the riverbank.
While one group has organised two clean-up drives on successive Sundays, another was launched last Saturday. "Our programme, Harvesting Plastic, will tie up with two related projects — Green Planet and Fighting Cancer," said Arkodeb Bhattacharya, president, Oakridge Foundation.
"We produce roughly 300 million tonnes of plastic and only 10 to 13 per cent of it is recycled. The rest usually goes into landfills where it is buried or it finds its way into the ocean. Over the years, they break down into tiny particles and release toxic chemicals, which are used to shape and harden the plastic. These make their way into our food and water sources and affect our endocrine system," explained Shiladitya Basu, president of Rotary Club of Calcutta Midwest.
The first clean-up drive will be at Mullick Ghat on Mahalaya (September 28) around 3pm. Volunteers from Alliance Francaise du Bengale and a French NGO working in Calcutta, Life Project 4 Youth (LP4Y), have promised to lend a hand. "Green mobility is one of our activities," said Elisabeth Josnin, LP4Y coach.
"There are plans to create installations out of the garbage we clear. We need to remind people that we had a life before plastic use became so rampant," said Sudipta Dawn, founder of Culture Monks. They plan to fan out to nine other ghats in future.
A couple working with the Techno India Group are spearheading the cleaning of Mullick Ghat every Sunday morning, with help from a friend in Australia.
Pauline Laravoire holds a master's in sustainability and social innovation and has worked in four continents on sustainable development projects. She now heads Y-Est, an initiative of the Techno India Group that aims to connect all parties working in the sector.
"I moved to Calcutta a year ago and wanted to keep working on the issue. When my husband's business partner Lochie Burke came to Calcutta, he brought with him a passion for fighting ocean pollution. Ten big rivers, he says, are responsible for 90 per cent of the pollution, the Ganga being one. He is spending half of the profits from his environmental solutions business in Australia to create impact in Calcutta," Pauline said.
The group has created an online page called Ganges River Clean Up that can be accessed through Facebook where one can fill in a Google doc form to let the organisers know if one wants to participate as a volunteer or a paid worker. "We need both kinds of stakeholders as for the impact to be lasting we also require a workforce of cleaners who will do the job daily," Pauline explains. They have already hired a project manager.
Once the clean-up is done, typically by lunchtime, partner organisations like Vital Waste and Ad My Bin segregate and dispose of the waste. Last Sunday's drive removed about 600kg of litter.
"We do not want money. Just give us your time," Pauline's husband Meghdut RoyChowdhury, director of global operations at Techno India University, appeals to fellow Calcuttans.