PIL cases prevent recruitment, says Mamata Banerjee
From the dais of a state government event to commemorate Teachers' Day, the Bengal chief minister delivered a speech peppered with political statements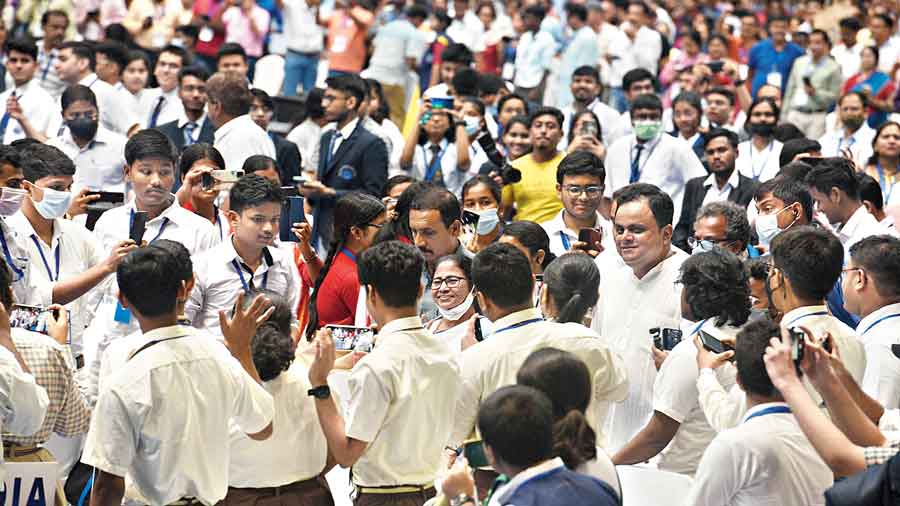 Mamata Banerjee with students at the Teachers' Day programme in Calcutta on Monday.
Pradip Sanyal
---
Calcutta
|
Published 06.09.22, 02:38 AM
|
---
 Mamata Banerjee on Monday said her government remained keen to generate employment opportunities and hire 89,000 teachers more but was not able to do so because of public interest litigants. 
From the dais of a state government event to commemorate Teachers' Day, the Bengal chief minister delivered a speech peppered with political statements.
She broached the subject of the ongoing controversy over alleged corruption in recruitment for educational institutions during the Trinamul regime. Blaming the BJP-led Centre — without naming it — for denial of funds due to Bengal and holding the erstwhile Left Front government in the state for the debt burden she had inherited when she had ascended to power in 2011, Mamata said: "Despite all of that, we gave 2.63 lakh teaching and non-teaching jobs through the school education department. Over 10,000 teachers were recruited for universities. Over 89,000 more teachers would be recruited, it's all ready."
"There are some people who won't eat themselves and will not allow others to eat either…. Creating jobs for 89,000 youngsters takes time. The process that could have been completed in three months, but it might now take a year. The processes are getting lengthened," she added.
The audience included over 1,000 schoolchildren and their parents, besides teachers. Mamata shared with them an anonymous anecdote of a cabinet colleague to explain how the threat of public interest litigations (PILs) was allegedly used by some lawyers as an extortion practice. "I want to give jobs, and some want to keep that from happening. They will not help a starving man with even Rs 5, but in the name of filing PILs, they have turned all of life into a PIL. Whatever you want to do, a PIL will be filed (against it)."
Her statements at the Biswa Bangla Mela Prangan came after now-sacked and suspended Trinamul heavyweight Partha Chatterjee — the education minister when the alleged recruitment scam took place — had been arrested by the Enforcement Directorate (ED).
 "Every human being is different, quite like our fingers…. Our moral nature differs substantially, from person to person. Society has forever had both the good and the bad, even in people," she said, apparently referring to Chatterjee, who has largely been given the hot-potato treatment by the party and the government since his July 22 arrest.
Mamata delved at length on morality, greed, and the value one attaches to material possession."Just as one individual's bad deeds cannot be used to decimate a whole society through canards, one bad deed cannot be deemed enough to fully define a person…. Even good human beings are sometimes led astray by bad company, in times of depression," she said.
"Nobody, not even god, can control 100 per cent.Mamata wondered why there were no arrests in connection to scams in BJP-ruled Madhya Pradesh, for instance, and went on to assert the right to corrective action if mistakes are made in the process of expediting work, despite best intentions."Somebody does something at the lower levels, the upper levels are blamed. By the time one tries to catch the wrongdoer in the lower level, they escape. There are many things in this," said the chief minister.
"The big dacoits, when they rob… you will see they are never caught. A petty thief, or a pickpocket, when he picks a pocket, he gets caught very easily," she added.She repeatedly attacked the CPM, apparently suggesting that scams from the Left regime could not be unearthed solely because of missing paper trails."You will not find a single piece of paper from a single cupboard, from the CPM era. Not a single document," said Mamata.
"Only because everything is properly, adequately documented in our era are you able to trace the mistakes. Their era, we tried and failed to find even a single piece of paper, a file or a cupboard. That is why nothing was found," she claimed.She asserted that her government would ensure justice for all those who were deprived of it."I can say this much, those who did not get justice, they will get it, and they will get it only from us… if anybody thinks they did not get it. But not for political reasons," said Mamata.
The Trinamul chief indicated she would have said a lot more, had the matter not been sub judice.
"When matters are sub judice, not everything ought to be said. Sometimes, speech is silver, but silence is golden," she said."Bolar thakley, phatiye bola jeto (If one had to say it, it could have been said explosively)," added Mamata.