Tape up Centre like phone: Bengal CM
Pegasus: Mamata points finger at Modi govt on spyware fiasco
The Bengal CM urged the Supreme Court to take suo motu cognisance of the issue and intervene during her July 21 virtual address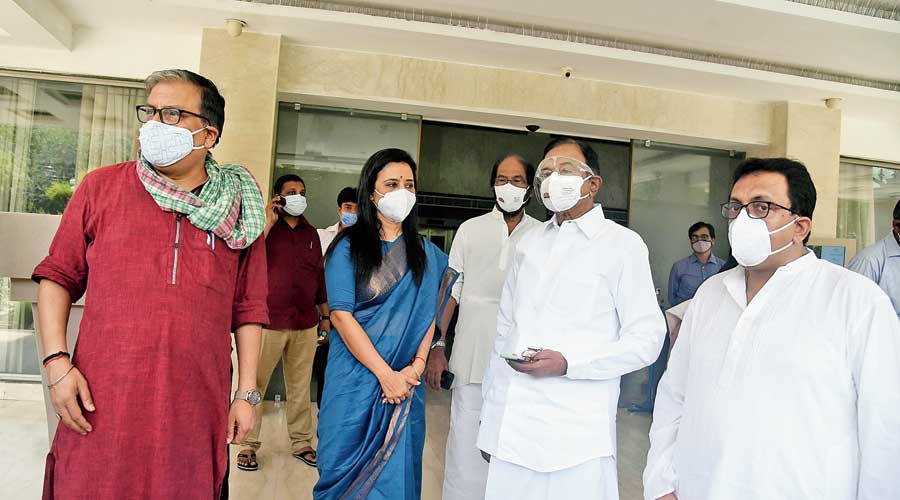 ---
|
Calcutta
|
Published 22.07.21, 02:56 AM
---
Mamata Banerjee on Wednesday called the spyware scandal "even bigger than" Watergate, described it as "Narendra Modir nabhishwash (last gasp)" and urged the Supreme Court to take suo motu cognisance of the issue and intervene.
The Bengal chief minister had clearly been awaiting the July 21 dais to broach the subject, and by the end of her address it was apparent that she would optimally use the issue to corner the BJP.
The Trinamul Congress chief began her virtual address at 2.14pm and it took her barely seven minutes to bring up Pegasus.
"Our phone is totally tapped. Not only tapped, it is just like a recorder…. Pegasus. Dangerous, ferocious. They have forgotten how to allow people to live peacefully…. Their dictatorship is too much," Mamata said.
Displaying her unconventional but effective communication skills that break down complex topics into easily comprehensible capsules, Mamata showed the audience how she has taped up the cameras of her iPhone after the Pegasus-related revelations as no one is safe now.
"I have done one thing, I am showing you. See, I have fully plastered this," said Mamata, holding aloft her phone for all to see.
"What does one do otherwise…? They capture everything through the camera, even if I am only making an audio call. Even if I am using FaceTime (a video-telephony product of Apple). Even if I am on a video call. That's why I fully plastered the cameras," added Mamata, ruing how she cannot freely talk to any leader from the non-BJP parties because of the snooping fears.
"Yeh government of India ko bhi plaster lagana chahiye, nahi toh desh barbad ho jayega…. Keu kaukey bishwash korte parchhe na (This government should also be plastered up, otherwise the nation will be ruined…. Nobody is being able to trust anybody)," she said.
The chief minister implied that even Modi might not be aware of every such activity.
"Modiji, bura na maney, hum aapko personally criticise nahi kar rahe hain (Mr Modi, do not mind, I am not criticising you personally). Because I am not in the habit of doing such things…. But consider this, the amount of time you and Amit Shah spent together… although I don't even know if you (Modi) knew any of this at all, whether it's all done by Amit Shah only… I don't know," Mamata said.
According to the Project Pegasus investigative reports by a media collective, among the potential targets of surveillance was the phone number of Abhishek Banerjee, Trinamul's national general secretary. The phone of Prashant Kishor, the poll consultant closely involved with the Trinamul election battle, was found to have been hacked.
Mamata herself had, on numerous occasions in the past couple of years, publicly alleged that she suspects her phone had been hacked by the BJP. At times, she had named Modi and Union home minister Shah as those responsible.
"Instead of giving money to the poor, you (the BJP-led Centre) are spending lots of money for spy-giri. Spy. Spying, beating, killing, and talking too much, doing nothing," she added. "You want to turn this into a surveillance state instead of a democratic state."
The chief minister asserted that a nation could not be run this way, before issuing a plea to the apex court for its intervention.
"My humble regards to our honourable Supreme Court. Everybody has great respect for you. Can't you take suo motu cognisance, Sirs? I appeal to my Supreme Court judges. Can't you take suo motu cognisance when judges' phones are tapped? All political parties' phones are tapped, fully," she said.
"Even the central government… your (the BJP's) ministers, their phones are also (hacked)? Spy-giri is on. Ministers' phones, Pegasus dhukey gyachhey (has entered). Officers' phones, Pegasus captured. All leaders' phones, Pegasus captured. All judges' phones… maximum judges' phones… also captured," she added.
Addressing the judges of the Supreme Court, Mamata said: "Everything is recorded. Sirs, either with a suo motu case… please have mercy and save the people, the nation and its democracy. Or else have an SIT (special investigation team) set up, which will work under you, you will monitor it. If anybody can save democracy in India today, it is the judiciary… and the people of this nation."
The Trinamul chief accused the BJP of weakening the foundations of India's democracy.
"The BJP party… they bulldoze the democracy, they finish the federal structure, they have finished the democratic rights. Three main pillars in democracy, one is (the sanctity of) elections… two, media, and three is judiciary. Now, your Pegasus, captured the election process, captured the judiciary, captured the political party leaders, captured the media houses. Now, whatever you (the BJP) will say, every institution has to do it. Otherwise, you will blackmail them with Pegasus," Mamata said.
"You only misuse agencies, disturb the Opposition, kill people, enact black laws… but what the people need, about that, you never consult anybody. You never do. The lowest possible lows, you sank to. Despite that, you didn't benefit. Bengal's people rejected you…. The entire nation, even many parts of the world, were keenly watching," she added, rubbing salt into the duopoly's smarting wound.
The Trinamul chief asked not only her party to launch mass movements but also every other non-BJP party across the nation. "I urge you, please take strong action, generate mass movements against this."
She reminded them of the Watergate scandal of the 1970s in the US and said: "This is even bigger than that. Do not let this pass, do not forget it."