One wedding and 14 funerals in Bengal
On Monday, Char-Churabhandar village was busy celebrating the marriage of a girl, when news of the Tuesday night AH 48 accident spread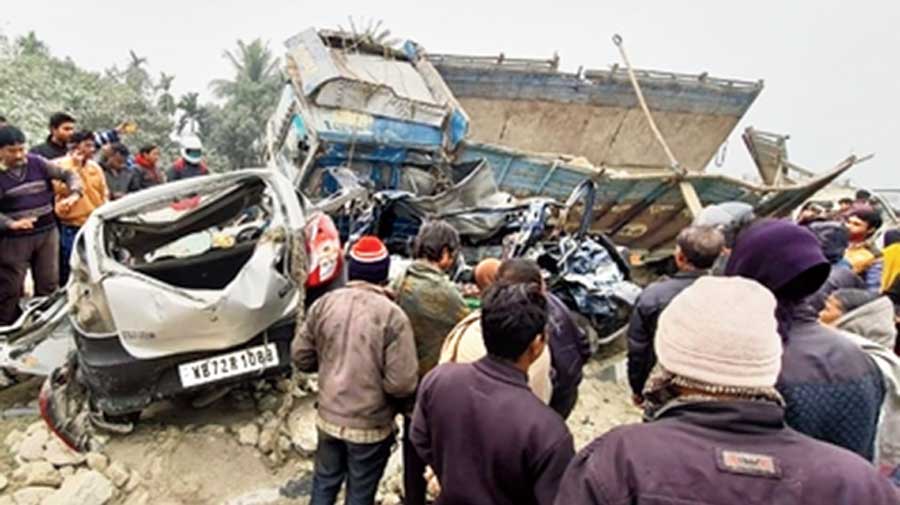 ---
Jalpaiguri
|
Published 21.01.21, 03:02 AM
|
---
The ambience at Char-Churabhandar village in Maynaguri block of Jalpaiguri district changed from festivity to mourning overnight.
On Monday, the village was busy celebrating the marriage of a girl, the festive mood spilling on Tuesday as well. Abruptly, the village plunged in despair when the news of the Tuesday night AH 48 accident that killed 14 persons, who were part of the bride's party on way to the groom's family reception, spread.
When this correspondent went to the village on Wednesday, wails were heard from many homes.
As state ministers Gautam Deb and Aroop Biswas reached the village and went to the houses of the deceased, hundreds joined them to extend their condolences.
"We have no words," said Joydeb Roy, the bride's father, standing near the morgue of Jalpaiguri district hospital on Wednesday. "None of us had an inkling that my daughter's marriage would turn into a nightmare for so many," he said, alluding to the 14 dead and the 13 injured.
Dulali Roy, one of Roy's neighbours, lost her husband and two sons in the accident.
"She is often falling unconscious. We don't know how to console her. She has lost her whole family in the mishap," said a neighbour.
Pushpa Roy, also a neighbour of the bride, had been seriously injured but died at the NBMCH later.
Kameswar Singha of Odlabari of Malbazar subdivision in Jalpaiguri district, a relative of the bride, lost six family members. "My elder daughter, son-in-law, two granddaughters, sister-in-law and her mother have died," said an expressionless Kameshwar, standing near the morgue.
His son Ajay, injured and being treated at Jalpaiguri superspecialty hospital, received permission to join his father at the morgue. Wincing in pain, he stood near the morgue to catch a glimpse of the deceased.
Six-year-old Ritesh Mishra, who being treated at the same super-specialty hospital here, lost his parents Rajesh and Renu. "Ever since he learnt the news, he is just staring blankly and not talking. We don't know how long it would take for him to become normal," said a relative.
Bipan Sarkar from nearby Baroghoria village lost his wife Mamani and three-year-old son Biraj in the accident.
"I returned home (to Baroghoria) after the wedding but my wife and son stayed back in Char-Churabhandar. Our fourth wedding anniversary is on Friday. We had plans. But everything is finished," he wept.