Women demand job scheme dues immediately
On housing scheme audit, Central team faces protests in East Midnapore
Women demand MGNREGA dues pertaining to 100 days' work scheme in Contai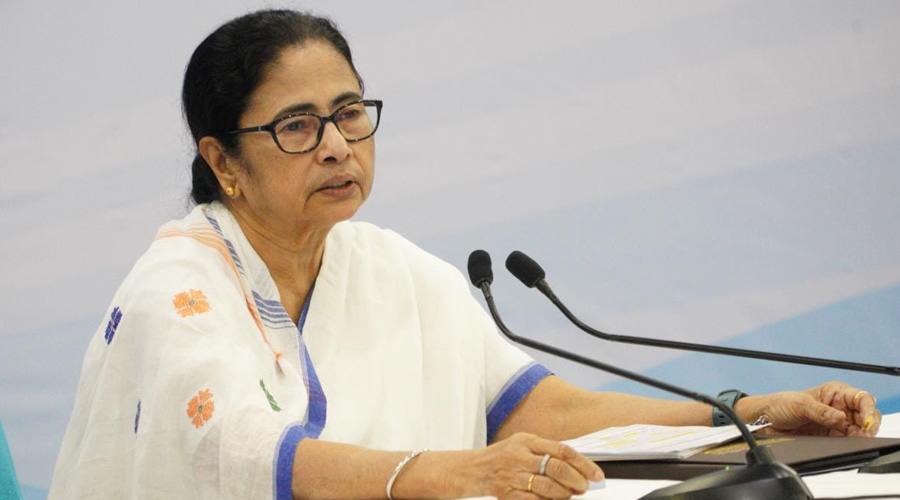 Chief Minister Mamata Banerjee
File picture
---
Calcutta
|
Published 05.01.23, 07:58 PM
|
---
A Union government delegation which visited East Midnapore on Thursday to make enquiries regarding alleged irregularities in the execution of the Pradhan Mantri Awas Yojna (PMAY) was in for an unpleasant surprise when it found itself at the receiving end of villagers' ire over alleged non-payment of central dues for the MNREGA scheme.
The team was gheraoed by womenfolk in the Bhagabanpur area of Contai sub-division of the district as they demanded immediate clearance of the dues.
"We are deprived of 100 days' work. There is no work. We are in an extremely difficult financial situation," Malati Baidya, an agitating local woman said.
The agitation came in the wake of Chief Minister Mamata Banerjee reacting to the central teams' visit earlier in the day when she slammed the Centre for turning a blind eye to corruption by BJP leaders and targeting TMC leaders.
Raking up the issue of non-payment of funds for the 100 days' work scheme to the state, she said, "The Centre is not releasing funds under MGNREGS. But it is sending central teams to assess the implementation of PMAY. We have already investigated and cancelled 17 lakh applications of those who own two to three-storied buildings."
"BJP leaders have taken the money from PMAY despite having two/three storied buildings," Mamata told reporters during her visit to the Sagar Island to oversee preparations for the upcoming Ganagasagar Mela. 
Bengal's  political cauldron has been on the boil for the last few days over allegations and counter allegations of irregularities in the PMAY housing scheme after it was found that applications by several people having multi-storied homes were approved in some districts.
The teams from the Union rural development ministry have begun field inspections in Malda and East Midnapore districts from Thursday and are being led by deputy secretary Shakti Kanti Singh and director Shailesh Kumar respectively.
The team visiting East Midnapore reached the office of  district magistrate Purnendu Kumar Maji post noon on Thursday and held a meeting with senior district officials before heading for Bhagabanpur.
Accompanying policemen with the team managed to convince the agitators to move away and the central team members went ahead with their scheduled visit.
While local BJP leaders accused the TMC of engineering the protest, the latter said it was a spontaneous demonstration by aggrieved locals as the Narendra Modi government had squeezed fund allocation for Bengal for executing MGNREGS.