Octogenarian MLA's riverbed vigil in Malda
Samar Mukherjee's relentless effort to prevent illegal mining of soil and sand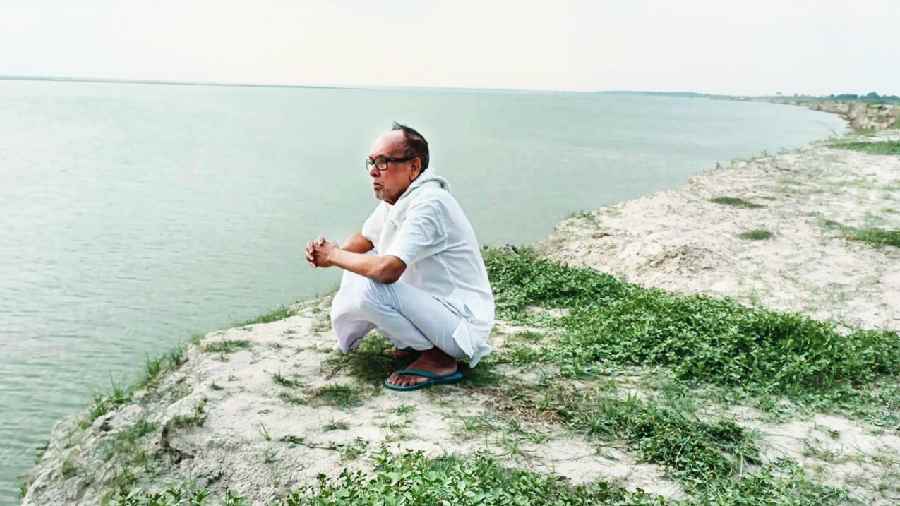 MLA Samar Mukherjee sits on the bank of the Fulhar to raise alert on illegal sand-lifting from the riverbed
Soumya De Sarkar
---
Malda
|
Published 18.05.22, 01:22 AM
|
---
Eighty-year-old Samar Mukherjee, the Trinamul MLA of Ratua in Malda district, walks up to the banks of the Fulhar river in his constituency every day and spends hours there in a bid to prevent illegal mining of soil and sand from the riverbed.
"I have lost faith in a section of local police as they are not doing anything to stop illegal extraction of sand and soil from the Fulhar, despite repeated instructions from the chief minister. That is why I visit the riverbank every day and raise an alert if I spot any such extraction going on," said Mukherjee.
Earlier, Mukherjee accused some police officers at Ratua police station of a nexus with illegal sand and soil lifters and had written to senior police officers. Illegal extraction of sand is endangering the Nakatti bridge over the Fulhar, which connects Malda with Bihar, the MLA had said.
However, Fazlul Haque, the block Trinamul president of Ratua and some other leaders had backed the police officers and accused Mukherjee of "talking in delirium."
Undaunted, the MLA decided to monitor the river on his own. "I cannot sit silent and let illegal practices go on," said the octogenarian.
Malda police declined to comment on the MLA's accusations of nexus. But his daily visits to the Fulhar banks made police beef up surveillance there. Over the past few days, the police have installed over 30 CCTV cameras in key locations near the river, including the Nakkati bridge.
"We installed 21 CCTV cameras in different parts of the bridge. Five cameras have been fitted in different places along the road that connects the bridge to Mahanandatola market. On the other side of the bridge that connects Bhaluka Bazaar, another five cameras have been put up. Our team keeps watch on camera footage and will take steps if any illegal mining or transportation of sand and soil is noticed," said a police officer. Police, he said, are also flying drones over Fulhar and some other rivers which flow through Malda.
"A number of vehicles have been seized for carrying sand and soil which were taken out from rivers without proper permission. The drive will go on," the officer added.
In the past three weeks, the police have seized 31 tractors and an excavator while 26 persons have been arrested.
In Trinamul circles, the counter-remarks made by Haque, the block Trinamul president, against MLA Mukherjeehas left state party leaders disgruntled
Recently, a showcause notice was served by the district to Haque, asking him to clarify his remarks. "None of our leaders should comment in a way that can encourage people illegally extracting sand and soil and evading the revenue due to the state," said a Trinamul functionary.
Mukherjee, when told about police initiatives and that how leaders who scoffed at him were rebuked by his party, said he would keep doing his duty: "I will keep on visiting the river till the time I can walk. It is my responsibility to see that such illegal activities do not take place in my Assembly area," he said.