North success stories to attract new business
The plan to highlight the region's industrial investments was elaborately discussed at the annual general meeting of the north Bengal zonal council of CII in Siliguri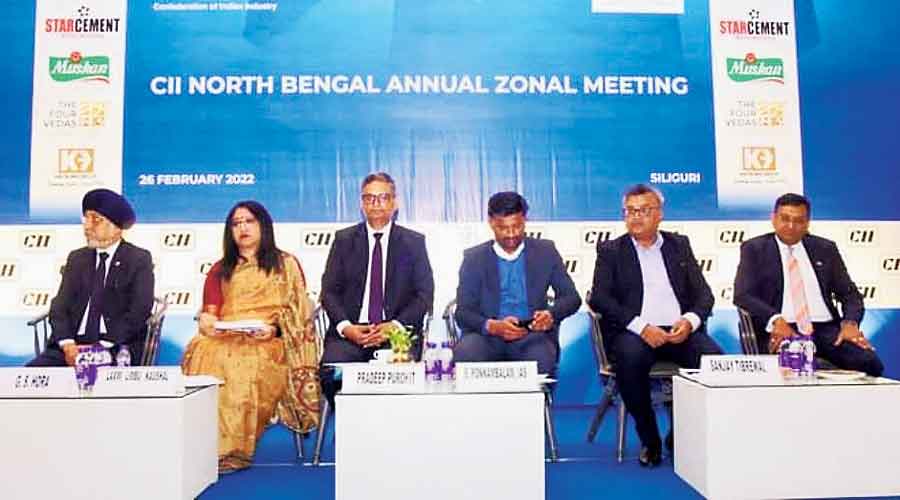 The annual meeting of the north Bengal zonal council of the Confederation of Indian Industry in progress in Siliguri on Saturday.
File photo
---
Siliguri
|
Published 01.03.22, 02:15 AM
|
---
Entrepreneurs based in north Bengal will showcase the success stories of industrial investments in the region when they meet representatives of various industrial sectors at the upcoming Bengal Global Business Summit (BGBS) to attract fresh investments in the region.
The summit is scheduled to be held in April this year in Calcutta.
The plan to highlight the region's industrial investments was elaborately discussed at the annual general meeting of the north Bengal zonal council of Confederation of Indian Industry (CII) held in Siliguri on Saturday.
"We need to showcase the success stories of north Bengal at the BGBS to bring investments here. The region is ideal for industrial investments, whether in terms of political environment, law and order situation and geographical location. We should highlight these factors before entrepreneurs who will attend the summit from other states and from abroad," said Dilip Dugar, who is associated with the PCM Group.
Based in Siliguri, the PCM Group has footprints in 12 countries of the world and in various locations of India.
"The recent investment of around Rs 400 crore by Star Cement here… they have set up a plant in north Bengal, is yet another success story which we must share," Dugar added.
In the course of the meeting, the CII members also said that the Bengal government's recent policy to allow setting up of industrial parks on plots measuring five acres had also led to a boost in private investments across north Bengal.
"After the state came up with the policy, the first such park came up in north Bengal. A second park is ready and some more proposals are in the pipeline. We are simultaneously focusing on the development of start-ups in the region and also trying to develop power looms, considering the recent policy adopted by the state to augment production in the textile industry," said Pradeep Purohit, the newly elected chairman of the NB zonal council of the CII..