Noise norms blown to bits on Diwali
Violation rampant in silence zones, too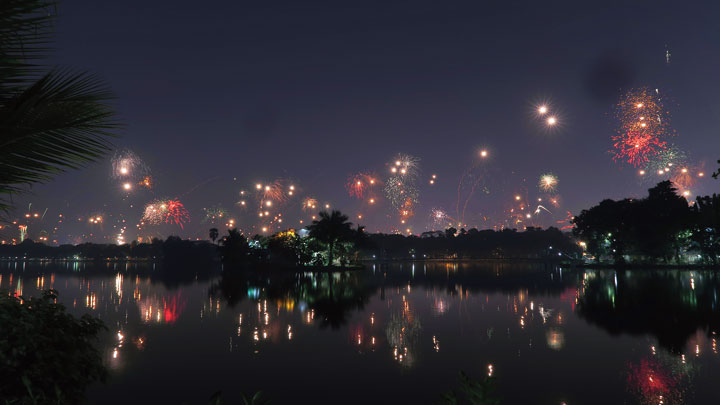 ---
|
Calcutta
|
Published 27.10.19, 07:41 PM
---
Banned firecrackers were burst rampantly across the city on Diwali.
The state pollution control board received 95 complaints related to bursting of banned crackers till 10.30pm on Sunday. Sabuj Mancha, a citizen's initiative to address environment issues, received more than 50 complaints till about the same time.
An officer at Lalbazar said 179 people were arrested from across Calcutta till around 11pm on Sunday.Data provided by the board showed that the noise level around SSKM and RG Kar hospitals had breached the permissible limit, suggesting that crackers were being burst.
An official at RG Kar hospital told a roaming team of Sabuj Mancha that banned firecrackers were being lit incessantly in the vicinity of the hospital.Hospitals and their immediate surroundings are silence zones, which means the ambient noise level should not exceed 45 decibels during the day and 40 decibels at night.
Also, Noise Rules 2000, framed under a central act, state firecrackers cannot be lit within 100m of hospitals.In Bengal, the sound limit of firecrackers is 90 decibels at 5m from the source.
Pollution control board officials said the Supreme Court had in an order in October 2018 allowed bursting of firecrackers between 8pm and 10pm. But residents of many areas across the city said crackers were freely lit before 8pm and after 10pm, too.
"Initially, it seemed this Diwali would be less noisy compared with previous years. But as the evening progressed, bursting of crackers intensified," said a Gariahat resident. "I could see police patrol vans roaming around but they failed to keep violators at bay."A few residents of the nearby Ballygunge Circular Road recounted a similar experience.
Dibakar Ghosh, a Salt Lake resident, said: "Around 9.40pm, we heard a series of loud explosions from banned firecrackers."A Kasba resident said: "In our area, crackers continued to burst well after 10pm."
Complaints of violations also poured in from Behala, Bagbazar and Lake Town-Bangur. "Someone from Behala said residents of a housing complex had been bursting crackers since the morning. We passed on the complaint to the pollution control board. A team from the board visited the place and took action," said Naba Dutta of Sabuj Mancha.
Rajesh Kumar, the member-secretary of the state pollution control board, said their teams were on patrol across the city. Another official of the board said they had lodged 12 FIRs with several police stations till Sunday evening.
Calcutta's police commissioner Anuj Sharma had notified a list of 127 banned firecrackers, that included chocolate bombs, chain crackers, loose crackers, kalipatka, dhanipatka and dodoma. Ahead of the festival, the police had seized about 5,000kg of banned firecrackers.
An officer of the Bidhannagar commissionerate said at least 25kg of banned crackers were seized from a vehicle that was moving towards the Sukhobristi housing complex in New Town's Action Area III on Sunday. "We let off the driver and the passenger with a stern warning and seized the crackers," the officer said.