No question of dividing Assam, declares Himanta
The declaration comes as damper for proponents of new Cooch Behar state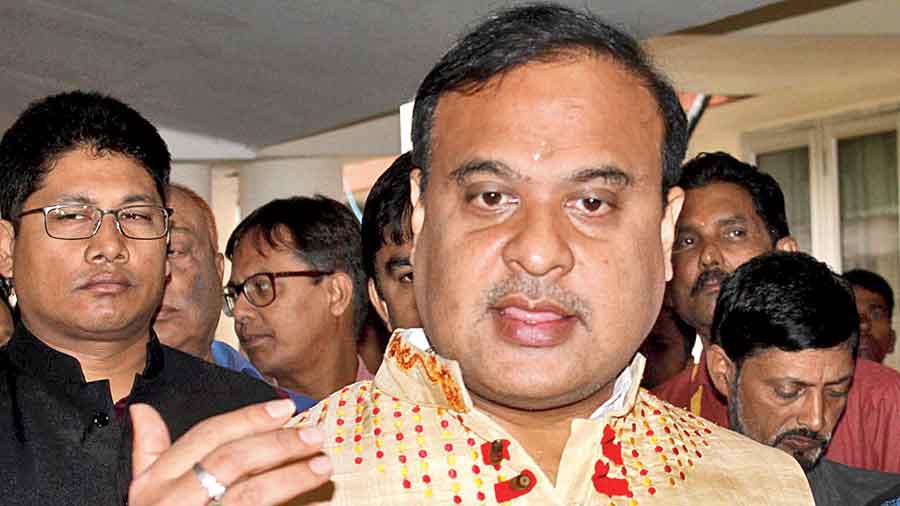 Himanta Biswa Sarma.
File Picture
---
Siliguri/Jalpaiguri/Cooch Behar
|
Published 08.09.22, 02:40 AM
|
---
An unequivocal assertion by Himanta Biswa Sarma, the chief minister of Assam, that his government is against any division of his state, has come as a blow to a number of organisations of north Bengal.
For years now, these organisations, which claim influence among the Rajbanshis, have been demanding a separate Cooch Behar or Kamtapur state, asserting that the new state should comprise the entire north Bengal and some contiguous areas of Assam.
On Tuesday, Biswa Sarma, who heads the BJP government of Assam, said his government will work for socio-economic uplift of Rajbanshis but  there was "no question" of dividing Assam .
Interacting with newspersons, Biswa Sarma said that they plan to confer more power to bodies like the Kamtapur Autonomous Council and the Rabha Hasong Autonomous Council. "We also need to give land rights to Kamtapur Autonomous Council in areas excluding the BTR (Bodoland Territorial Region) and Rabha Hasong Autonomous Council region. However, there is no question of any further division of Assam, as is being demanded by some people. It is not possible," said Biswa Sarma.
In 2020, the Assam government passed the KAC legislation to constitute the council for Rajbanshis of Goalpara, Dhubri, Bongaigaon and South Salmara.
Over the past few weeks, north Bengal-based organisations like the Greater Cooch Behar Peoples' Association (GCPA), Kamtapur Progressive Party and Kamtapur Peoples' Party (United) have reasserted their demand for a separate Kamtapur state in a number of public meetings and rallies. In these events, leaders of these organisations said that the new state should have some areas of Assam.
Biswa Sarma's stand has prompted some statehood proponents to react.
Nikhil Roy, the president of KPP (U), sad: "We want the new state to be carved out of north Bengal, without the hills. Those who stay in Assam have already been provided with an autonomous council… there is no point in dragging the issue." Bangshibadan Barman, who heads one of the factions of GCPA, said: "We will continue to push our demand and are not concerned about the area right now. It can be resolved in due course."
Calls made to Ananta Maharaj, who heads the other faction of GCPA, went unanswered.
Trinamul leaders scoffed at these associations and the saffron camp.
"Those raising the demand should understand reality and realise that the BJP leaders support them only for political interests," said Girindranath Barman, the chairman of Cooch Behar district Trinamul.
Trinamul held a rally against statehood demands in Cooch Behar on Tuesday. Barman said: "Through the rally, we proved that people in Cooch Behar are not with them."