New life for church pictures
Read more below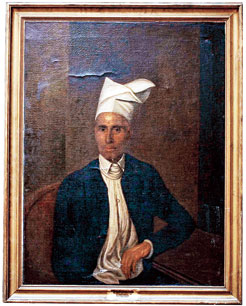 ---
Published 24.08.13, 12:00 AM
|
---
Before
After
A portrait of Charles Weston, benefactor of the parish of St. John's church before and after restoration. He suffered from rheumatism in the head and at home always wore an ordinary cotton handkerchief stiffly starched, as protection against cold
A group of 12 oil paintings, three lithographs, five pencil sketches and 30 photographs, which were in the vestry of St. John's church and in pretty poor shape, have been given a new lease of life by a six-member team of Intach-trained restorers. They were responsible for restoring Zoffany's painting of the Last Supper in the same church under German restorer Renate Kant.
These works will be opened before the public at a ceremony in the church at 4 pm on Saturday.
Intach had earlier restored the exterior of the church and a wooden spiral staircase inside. This time, the cost of restoring the works was shared by the church, Intach and the Rotary Club of Calcutta, Chowringhee. G.M. Kapur, state convenor, Intach, said the portraits are of priests or vicars of the church but sadly, all of them could not be identified. There is a painting of Christ on the cross which was faded, fragile and damaged. Among the photographs there is a certified copy of Zoffany's self-portrait. There is also a photograph of a portrait of Warren Hastings.
Of the oil paintings, eight had been previously restored. The rest were brittle and their canvas showed signs of wear and tear. These were mended. Only five of the paintings had captions. Although these are not masterworks they should be of interest to those studying history as these are portraits of clergymen. The most interesting of these is a painting of Charles Weston, benefactor of the parish of St John's church.
According to the caption, "He suffered from rheumatism in the head and at home always wore an ordinary cotton handkerchief stiffly starched, as protection against cold."
Of the photographs, there is a group shot of the bishops of India, Burma and Ceylon taken in January 1935, and single prints of a senior chaplain, an archdeacon of Calcutta and of Mary Cooper, a great benefactress of St. John's.