NEET feat of bidi worker's son
Mother can't afford medical College fees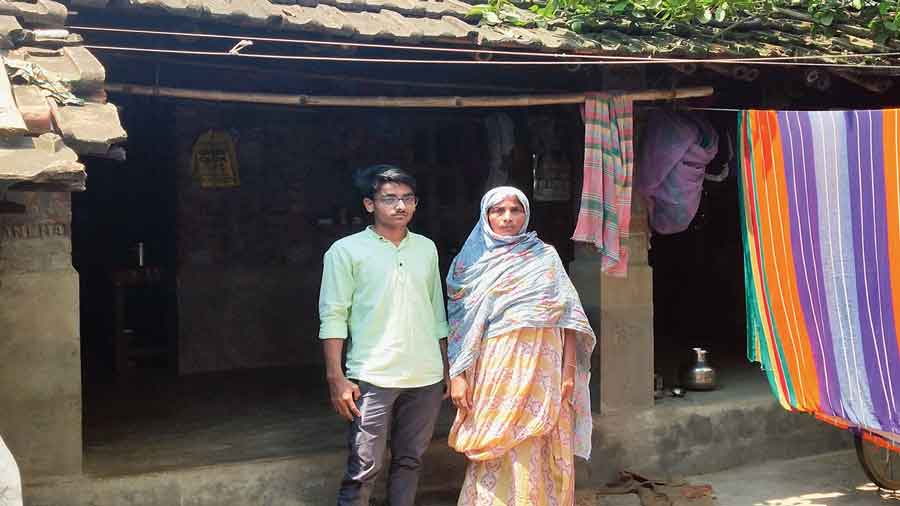 Amin and his mother Sonawan at their home in Bhasaibaikul village, Murshidabad.
Samim Aktar
---
Behrampore
|
Published 10.09.22, 02:11 AM
|
---
His mother rolls bidis for a living. His father, a poor grocer, died five years ago. But Amin Hossain, 19, from a village in Murshidabad district, has ranked 12,335 in the state in NEET whose results were declared this week.
Amin, who aspires to be a doctor, says he took a year off after his higher secondary in 2021 where he scored 450/500, in order to prepare for NEET.
"Given my NEET rank, I expect to get into a medical college in and around Calcutta. That had been the trend last year (for students with this rank)," Amin said.
His family and relatives in Bhasaibaikul village, Samserganj block, say his achievement has made them proud. But Amin is more concerned about which medical college would admit him. And whether he would be able to pay the fees. Sources said that a government medical education costs a minimum of Rs 6,000 a month, a figure much higher than the family can afford.
Amin's mother Sonawan Biwi, 40, says she makes around Rs 4,500 a month from making bidis, a mainstay of the local economy. Her late husband Zakir Hossain owned a grocery shop but succumbed to a heart  attack in 2017.
Ever since, she has been struggling to bring up the family of five children, of which Amin is the eldest.The family lives in a two-room house with red tiles on the roof. Such is the scarcity of money that Sonawan has not been able to give a coat of cement that the brick walls desperately need. But Amin's mother feels that is building a house is not her priority, the education of her children is."I am extremely proud of my son's academic feat, but we are unsure of how to pay for his medical education going forward," she said.
For now, Sonawan and Amin say they would look into loan options and keep their "fingers crossed".Preparing for NEET was easier said than done for the son of a bidi worker. "My maternal uncle, who is a primary school teacher, helped me out with the fees for coaching classes over the past year," said Amin and added that without such help, his journey to this point would have been impossible.