National Human Rights Commission lists minister as goon, CM fumes
Mamata Banerjee called the committee 'a great liar', accusing it of distorting facts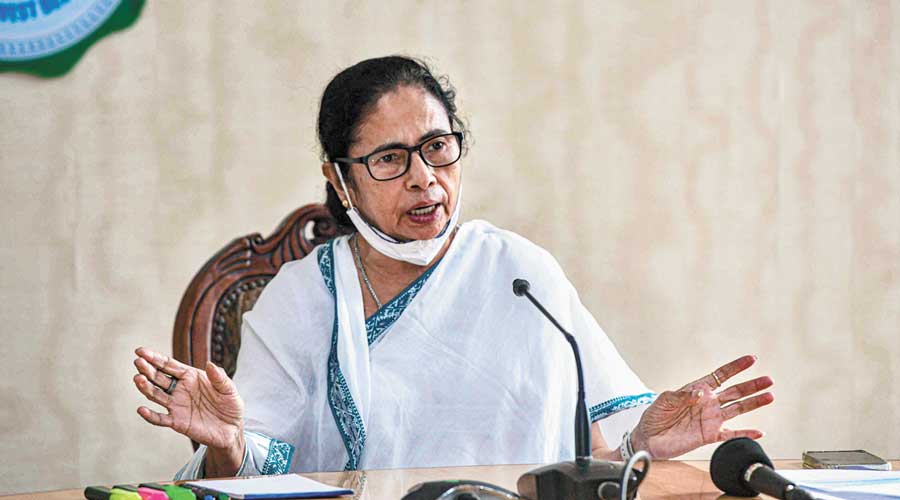 Mamata Banerjee
File picture
---
Calcutta
|
Published 16.07.21, 01:17 AM
|
---
A report filed by the National Human Rights Commission's probe committee before Calcutta High Court on alleged post-poll results violence in Bengal has named several current and former lawmakers of the Trinamul Congress, including a senior minister, in its list of 123 "notorious criminals/goons", besides echoing many of the BJP's concerns and demands.
The list of names is part of an annexure to the report. Chief minister Mamata Banerjee called the NHRC's committee "a great liar", accusing it of distorting facts.
"The pre-poll matter, they say post-poll violence. (It was) Pre-poll violence, it (the administration) was under the Election Commission, not with us. What they are raising, maximum… this was pre-poll. That also we don't support. But that time, it was not with us… the law and order machinery was with the Election Commission, please understand this," said Mamata.
The list includes the likes of Jyotipriya Mullick, Trinamul's key leader from North 24-Parganas and forest and non-conventional and renewable energy sources minister, former Dinhata MLA Udayan Guha, Burdwan South MLA Khokan Das, Naihati MLA Partha Bhowmik, Canning East MLA Saokat Molla and Mamata's Nandigram election agent Sheikh Sufiyan.
Mullick, a lawyer, said he was "extremely hurt and ashamed" that the NHRC had done this to him, allegedly without having conducted its due diligence, at the BJP's behest. Mullick threatened to sue the NHRC over the "false, fabricated framing".
A special five-judge bench of Calcutta High Court led by Acting Chief Justice Rajesh Bindal had on June 18 expressed dissatisfaction over the "ongoing post-poll violence" in Bengal.
It directed the NHRC chairperson — currently Justice (retired) Arun Kumar Mishra — to set up a committee and send it to Bengal to inquire into the post-poll violence and file a report before the court.
"They (the committee) are speaking just like a great liar. Sorry, liar is an unparliamentary word. They are misleading the people and distorting the facts. When the court will give us the time, we will file our affidavit and give our opinion to the honourable court," Mamata said.
She demanded answers on why the report for the court had been circulated widely and made public even before it featured in a hearing.
The chief minister accused the committee of having disrespected the court thereby, out of "political vendetta". "(What is it) if it is not political vendetta? Only to malign the people of Bengal, because they (the BJP) have lost the election."
In a statement, the NHRC rejected allegations regarding the leak of the report, pointing out it was already available with all parties concerned.