More trains cancelled
Since Sunday, no train has passed through New Jalpaiguri-Malda Town route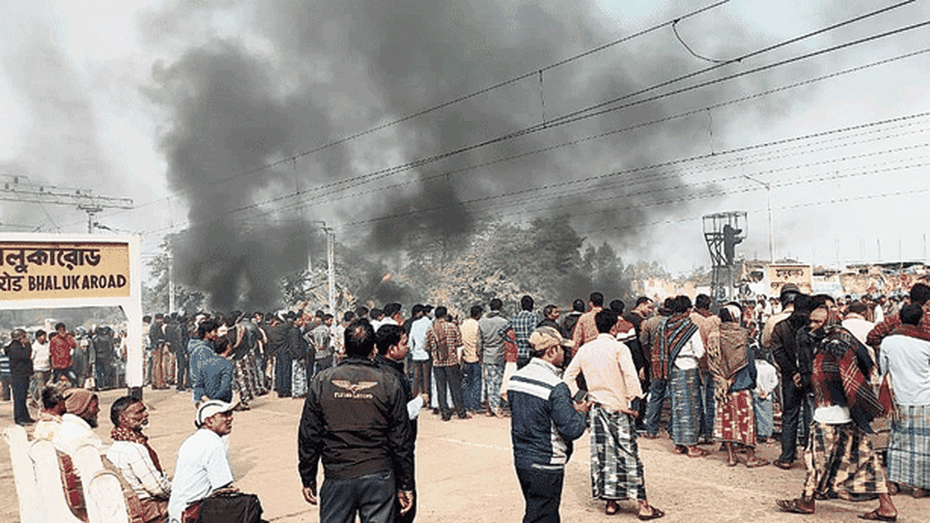 Smoke billows from burnt railway property at Bhaluka Road station in Malda on Sunday.
Picture by Soumya De Sarkar
---
Siliguri
|
Published 16.12.19, 07:50 PM
|
---
The Northeast Frontier Railway announced on Monday that trains bound for Calcutta and some destinations in south India from north Bengal and Northeast were cancelled till Tuesday (December 17) because of widespread damage to railway properties in the protest against the Citizenship (Amendment) Act.
Since Sunday, no train has passed through the New Jalpaiguri-Malda Town route that connects north Bengal with south Bengal and south India.
"Some passenger trains have been cancelled because of agitations at various stations in Bengal and damage caused to railway properties. The loss is being assessed and efforts are on to restore the train services. All trains going from the NFR region to areas under the Eastern Railway have been cancelled till the improvement in the situation," S. Chanda, the chief public relations officer of the NFR, said on Monday.
In total, 38 trains were cancelled on Monday. Forty-four trains, most of which run between north Bengal/Northeast and Calcutta, scheduled for Tuesday have been cancelled, said sources in the NFR.
Thousands of passengers, including tourists, were stuck at different stations because of a halt in the train movement. Some passengers had left the stations to look for road and air options for their onward journey.
As the demand for flights increased, air fare on the Bagdogra-Calcutta route also soared. "For Tuesday's flights, the rate has reached over Rs 14,000," said Sudip Dutta, a resident of Baruipur who had come to Siliguri with his family to visit Sikkim.
The Tenzing Norgay Central Bus Terminus and other bus stations in Siliguri were swarming with passengers on Monday. "Around 25 buses leave Siliguri for Calcutta every evening. In no way is it possible to accommodate the train passengers on buses," said Santanu Choudhury who is associated with travel trade in the city.
Protests against the CAA were reported from many places in Murshidabad, Malda, South Dinajpur, North Dinajpur, Birbhum, East Midnapore, West Midnapore, Howrah and Nadia districts on Monday.
About 25,000 people blocked NH12 near Omarpur More under Raghunathganj police station in Murshidabad for over three hours.
However, there was no vandalism or arson. Sources said an apolitical platform called Yuba Samaj had organised the road blockade and urged participants to maintain peace. Some protesters carried tyres to burn the same on the road but were disallowed from doing so.
A group of protesters assembled on the Malda-Chanchal Road at Samsi on Monday and started heading towards the railway station. When police stopped the march, they were attacked with brickbats and bombs by the protesters. The police resorted to baton charge and teargas bursting and opened fire in air to disperse the mob.
A march by Trinamul turned violent at Kanki under Chakulia police station in North Dinajpur. A number of vehicles were ransacked on NH 31 and a government bus was torched. Police went to the spot and chased the agitators away with batons. The protesters also attacked the police with bricks and stones, prompting the law enforcers to burst teargas.
In South Dinajpur, a BJP office was ransacked at Harirampur on Monday night. Furniture, flags and documents were brought out and set on fire. The BJP has blamed Trinamul for the attack. The charge was denied by Trinamul.
Suri-Howrah Express and a local train were delayed for about an hour when about 2,000 people blocked the tracks at Mahishadahari halt station near Sainthia in Birbhum district.
Hundreds of people blocked Bolpur-Rajgram Road in Chatra near Muraroi for over three hours. They later blocked the tracks at Chatra railway station for over half an hour.
Blockades were also raised on NH60 near Dubrajpur and Suri-Sainthia road near Mathpalsa in the Birbhum district.
Around 500 people from Visva-Bharati, including students and teachers, took out a march on the campus to protest against alleged police torture on students in Jamia Millia Islamia University in Delhi.
In East Midnapore, around 4,000 people blocked tracks at Basulia railway station for over five hours since Monday morning. All trains, including Haldia-Howrah locals, were cancelled. Daily commuters who work in Calcutta could not reach their workplace.
NH116B connecting Nandakumar and Digha was blocked at Sitapur by around 5,000 protestors for over five hours since 8am. No bus from Calcutta was allowed to ply on the route till Monday afternoon.
Road blockades were also raised at Tamluk, Mahishadal and Mecheda in East Midnapore.
The Howrah-Mumbai connector of NH6 was blocked for over four hours since 8am in Mechogram of Panskura.
Blockades were held at several places in West Midnapore, Howrah and Nadia districts also.
Additional reporting by Anshuman Phadikar, Alamgir Hossain, Snehamoy Chakraborty, Subhasish Chaudhuri, Kousik Sen and Soumya De Sarkar