Minorities in India being deprived of social justice, says Father Franklin Menezes
Leaders of different faiths and rights activists attended the programme hosted by Cathedral of Most Holy Rosary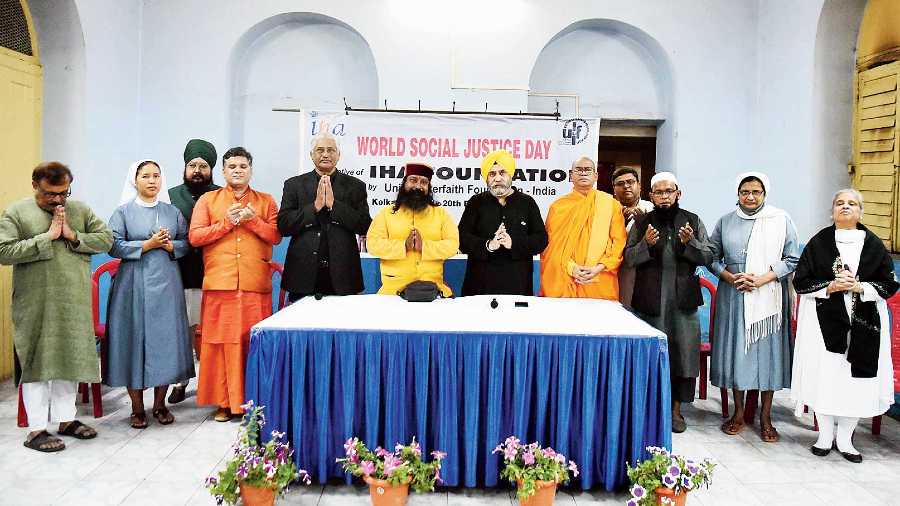 Religious leaders at the symposium at the Cathedral of Most Holy Rosary on Brabourne Road on Sunday.
Picture by Gautam Bose
---
Kolkata
|
Published 21.02.22, 10:13 AM
|
---
Communal amity and rights of minorities are central to a just and equitable society and the trampling of both does not bode well for India, a group of religious leaders told a symposium in the city on Sunday.
"Social justice means equal rights for minorities. It stands on four pillars — equity, access, participation and rights. Speaking of minorities in India right now, they are being deprived of justice on each plank," said Father Franklin Menezes, pro-vicar of the Cathedral of Most Holy Rosary on Brabourne Road.
The cathedral hosted a programme to mark the International Day of Social Justice, celebrated worldwide in February 2020.
Organised by the IHA Foundation and United Interfaith Foundation, the programme was billed as a "conversation on ways and means to promote social justice".
Leaders of different faiths and rights activists attended the programme. Many of them said treatment of minorities with equality was a cornerstone of social justice.
"In Karnataka, Muslims are not the only targets. In the past, churches have also been vandalised. The polarisation of our people is uncalled for. This means distracting from core issues of livelihood and education affecting our people," said Father Menezes.
Divakar Chaitanyaji Maharaj, in charge of Chinmaya Mission, Calcutta, said ignorance was the root cause of communal tension.
"Using Jai Shri Ram as a war cry to beat people up is actually belittling Hinduism. But people who do the same don't realise this. All religions speak of love, brotherhood and respect. But still, maximum bloodshed is caused in the name of religion," he said.
"The theme for this year's World Day of Social Justice is 'Achieving Social Justice through Formal Employment". Through this theme, we plan to promote the need to transition to formal employment, which is a necessary and important condition to reduce poverty and inequalities in society. The pandemic has put a spotlight on the vulnerability of workers in the informal economy. They are twice as likely to be poor compared to formal workers. We need a recovery from the crisis that is inclusive, sustainable, and resilient," said a note from the organisers.
Syed Zaki Hasan Rizvi, imam of Imam-e-Jumma mosque, rued the silence of the Prime Minister on the harassment of Muslim girls for wearing the hijab.
"One sentence from the Prime Minister, condemning the hooliganism, would have made a huge difference. But he chose to look the other way. Islam says that a ruler should treat all his subjects with equality and fairness. But in today's India, religious discimination seems to be the norm," he said.
Satnam Singh Ahluwalia, chairman of the IHA Foundation and general secretary of Interfaith Foundation, said: "Manav di Seva, Param Dharam (service to humanity is the highest religion). We must all strive to ensure that the generations to come are empowered and educated, as through education and skill development only, we can provide employment and enable people to come out of poverty."