Many janata defy curfew in north Bengal
A number of residents, mostly youths, were seen on empty lanes, enjoying biking and chats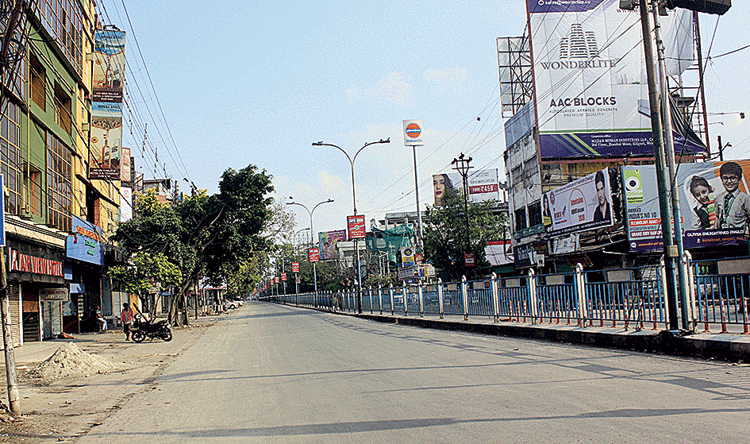 The Hill Cart Road in Siliguri during the 'Janata Curfew' on Sunday
Picture by Passang Yolmo
---
Siliguri
|
Published 23.03.20, 12:38 AM
|
---
Several people were seen roaming on roads at many places in north Bengal during the 14-hour janata curfew on Sunday.
In Malda, a number of residents, mostly youths, were seen on empty lanes, enjoying biking and chats.
"It is unfortunate that some people have still not realised the consequences of roaming around freely. We intercepted many of them and asked them to go back home immediately," said a police officer.
Youths joined in adda session at a number of locations in Raiganj. Police had to make public announcements, asking people to stay indoors.
A number of police officers, Raiganj inspector-in-charge Suraj Thapa, patrolled the town and asked people seen outside why they had come out of homes.
"In most cases, they could not give us satisfactory replies. We explained to them the consequences and advised them to return home," said Thapa.
In Siliguri, youths were spotted at three-four grounds playing cricket, while some others huddled together at tea stalls.
"The police and the administration should take legal steps against them. Those in emergency should be allowed to come out. Else, the purpose of the lockdown cannot be met," said Pradip Chakraborty, a retired government employee in Siliguri.
Five persons, including a foreigner, were sent to the isolation ward at North Bengal Medical College and Hospital in Siliguri on Sunday.
Thirty-eight people who had returned from Kerala, Delhi and Bangalore were screened at Siliguri district hospital in the past two days. All of them have been advised home quarantine for two weeks.