Mamata spoke of her 'pain' because of doctors' misbehaviour
The junior doctors had shouted 'shame, shame' and 'we want justice' when Mamata swept into SSKM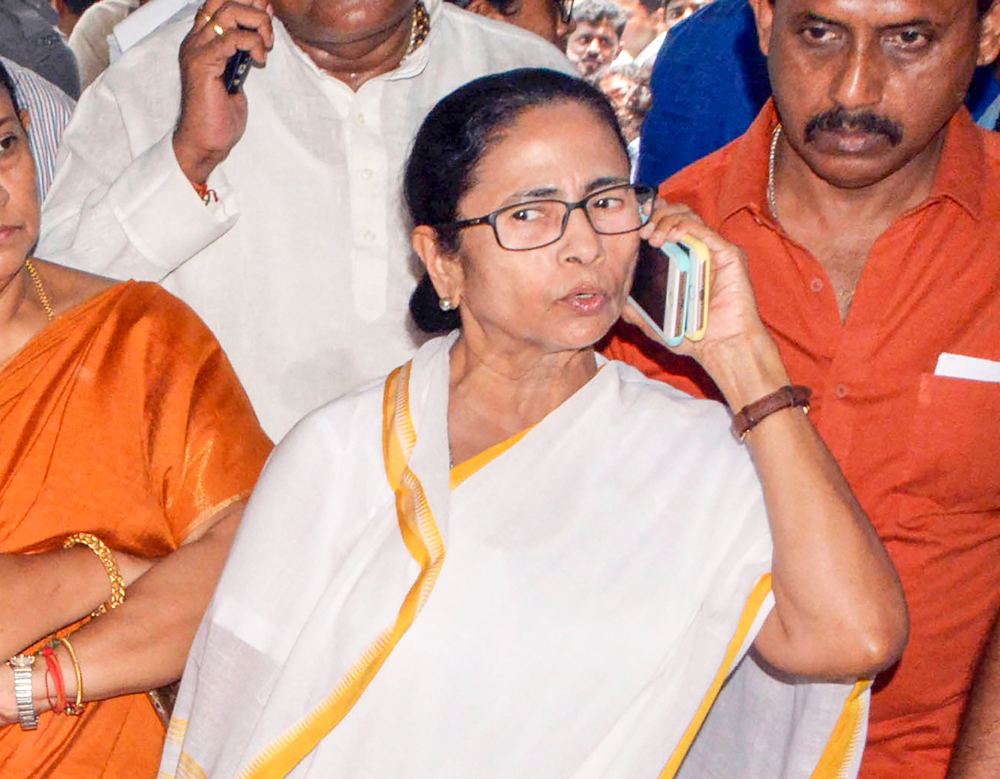 ---
|
Calcutta
|
Published 15.06.19, 01:02 AM
---
Chief minister Mamata Banerjee was "hurt" by the behaviour of a section of junior doctors when she dropped in at SSKM Hospital on Thursday, sources quoted her as telling a team of five senior doctors who met her at Nabanna on Friday evening.
"The CM conveyed how hurt she was by the way some of the agitating doctors behaved," said a source, stressing that Mamata did not blame all the interns present at SSKM.
"One of the five doctors told her the junior doctors were like their children and that she should forget and forgive," the source said.
The junior doctors had shouted "shame, shame" and "we want justice" when Mamata swept into SSKM.
The five senior doctors had arrived at Nabanna in the evening and spent around three hours with the chief minister and senior officials.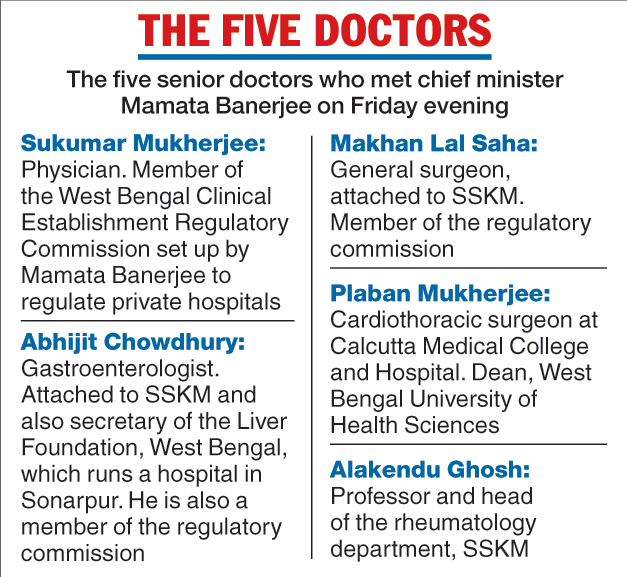 Mamata told the doctors she had shown patience with the agitators, the sources said, adding that she underlined that the junior doctors had not been arrested as was done in some other states in the past.
Rather, Mamata said, Calcutta police had arrested the key suspects who had assaulted the doctors .
"She pointed out that those arrested had not been granted bail by the courts," the source said.
According to the sources, the senior doctors requested Mamata to visit the injured doctor, Paribaha Mukhopadhyay, who is being treated at the Institute of Neurosciences, Kolkata, at Mullick Bazar. One of the agitating doctors' demands is that the chief minister meet Paribaha at the hospital.
"The CM said she would follow her conscience. She told the senior doctors that in the past, she had visited many people in hospital," the source said.
The sources said Mamata agreed to the talks on the senior doctors' request. "She was ready to hold talks with the junior doctors tonight (Friday). She waited for a long time for them. But after the junior doctors said they needed time to take a decision, the CM said she would meet them on Monday," a source said.
However, the doctors told her that waiting till Monday would mean the patients suffering for two more days. She then agreed to meet the junior doctors on Saturday afternoon.