Mamata on long march in Calcutta before campaigning ends
Walkathon: Reach-and-connect show before deadline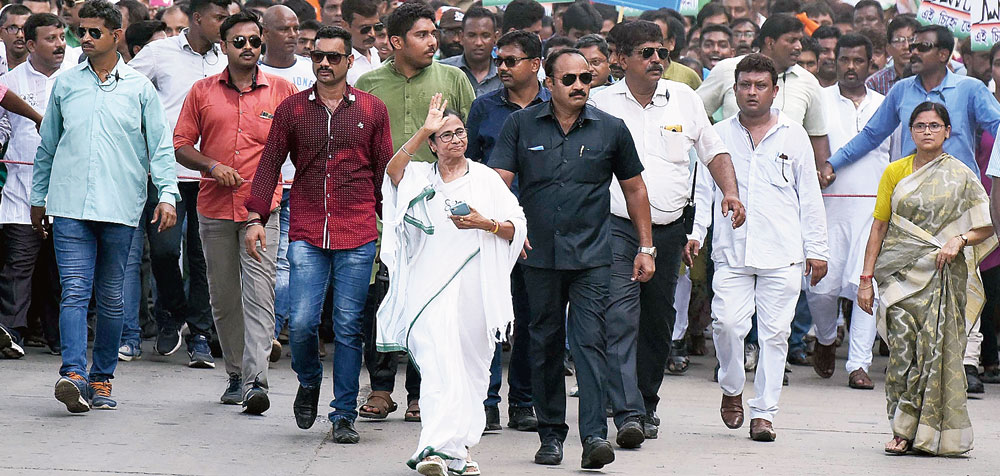 Bengal chief minister Mamata Banerjee on her road show from Calcutta's Joka to Taratala on Thursday
Picture by Gautam Bose
---
Calcutta
|
Published 17.05.19, 02:20 AM
|
---
Mamata Banerjee enjoys long walks. The diminutive chief minister, a frugal eater and a fitness freak, hardly misses her daily walkathon target — 16km to 18km. She is so uncompromising with her target that she tracks the distance covered on her iPhone and paces across airport or hotel lobbies to reach her daily goal.
Mamata, however, walks not only for health benefits or for pleasure. In her long political career, she has successfully woven long walks into her politics.
"For Didi, hitting the streets is the best way to connect with people," said a close aide of Mamata as thousands waited for her arrival near Sukanta Setu for a walkathon in favour of the Trinamul candidate from Jadavpur, Mimi Chakraborty.
Mamata never answers questions on why she prefers hitting the streets. But as many of her padayatras either start or end at the Gandhi statue on the Maidan or Gandhi Bhavan in Beleghata, there is little doubt that she follows another diminutive man who started the trend long back in 1930 when he undertook the 388km Dandi march in defiance of the British empire's salt tax and made such walkathons part of his politics.
On Thursday, the Bengal chief minister spent almost the entire day on the streets holding three road shows — from Joka bus stand to Taratala, followed by Santoshpur to Gariahat and Ballygunge Phanri to Chetla — covering at least 20km as the curtain came down on campaigning for the last phase of Lok Sabha polls in Bengal. In the process, Mamata campaigned for Abhishek Banerjee, Mimi, and Mala Roy — Trinamul nominees from Diamond Harbour, Jadavpur and Calcutta South constituencies respectively.
Thousands walked with her in the three road shows and all along her walkathon routes, people waited to greet her.
On Wednesday, when Mamata walked in the northern part of the city to campaign for party nominee from Calcutta North, Sudip Bandyopadhyay, the scenes were almost similar.
Turnout in rallies or road shows do not necessarily guarantee electoral victory as a lot of people get drawn due to curiosity. However, the reaction of bystanders along the roads — be they in Jodhpur Park or Panchanantala basti in Dhakuria — seemed to indicate that her objective of connecting with people was fulfilled.
"I had come here for skin treatment, but when my stylist said Didi is passing by both of us stepped out midway through the process to see her," said a young woman, who, along with her stylist, was busy clicking the chief minister's picture as she passed by Jodhpur Park.
Both are voters of Jadavpur constituency, but asked whether they would vote for Mimi they just said "we love Didi" and giggled, before vanishing inside the salon.
"After this grand padayatra by Didi, I don't have any doubts about my victory," said Mimi, who matched steps with Mamata on a sultry evening as the chief minister walked from Sukanta Setu to Gariahat crossing.
The Tollywood actress was eagerly waiting for the star campaigner to arrive as slogans — like bolche desher jonota, Dilli jabe Mamata (people of the country are saying that Mamata will go to Delhi) — rent the air.
The convoy of the chief minister, who had walked around 8.5km by then, reached Sukanta Setu at 5.55pm. Mimi and her mentor and minister Aroop Biswas greeted Mamata as she got off the car. Biswas was heard telling her that the arrangements for the padayatra were ready.
"Ekkhuni 9km moto hente elam (Just now I completed around 9km of walking)," Mamata was heard telling the minister.
She was, however, in no mood to rest. After spending barely minutes exchanging pleasantries with the councillors, MLAs and MPs, she started her second march of the day around 6pm. The walkathon continued till a little beyond 9pm and Mamata reached her Kalighat home well before the campaigning-end deadline of 10pm.
"These road shows were very important for us. The BJP tried to derail these by forcing the Election Commission to issue directions to shorten the campaigning window by 20 hours, but they couldn't stop Didi," said one of Mamata's aides.
Even if they are not real indicators of support, road shows draw people and create hype in urban areas with high population density. Ergo, most political parties use road shows extensively in poll campaigning.
"These are great photo-ops and political leaders like it," said a political scientist, adding that the parties organise such events only after being assured of hype and crowd involvement.
According to him, the BJP held its first road show in Calcutta by a leader as prominent as Amit Shah only after thorough planning — or event management.
Trinamul leaders, however, said Mamata's road shows were different for several reasons. "She walks — unlike the BJP leaders who stand on fortified vehicles," said an aide.
The other distinguishing factor, he said, was Mamata's attempt to reach out to people who stand along the route.
This correspondent was witness to at least two incidents on Wednesday when two youths breached the security cordon to try and touch Mamata's feet.
In both cases, Mamata spoke to the persons before police whisked them away. Near Kankurgachhi crossing, when one of the youths was being taken away and his glasses fell, the chief minister told the cops to stop, picked up the spectacles and handed them over to the youth.
"That's a rare trait. I have to admit that very few in our party have such traits," said a senior Trinamul leader, who was in a vehicle that followed Mamata's padayatra on Wednesday.
"We can afford this (be in a vehicle) because we have Didi," he added with a chuckle.
There is little doubt that Mamata has been carrying the party almost single-handedly by trying to connect with people. In her Opposition days, while camping outside the Tata Nano factory in Singur, she would walk regularly as a mark of protest. Her 10km walk from east Burdwan to Birbhum in 2010 demanding justice for 10 landless farmers who were hacked to death by alleged CPM cadres in Suchpur of Nanur had hit the headlines.
The habit of walking didn't change after she came to power. After taking oath as chief minister in May 2011, she walked from Raj Bhavan to Writers' Buildings. When the Saradha and Narada scandals raised questions marks on the credibility of the Trinamul government, she again hit the streets along with her party colleagues.
"Walking is often taken for granted as an everyday activity, but it has extraordinary resonance with common people as one can send out a message that I am one among you," said a political scientist. "Mamata knows that well, and so she uses it effectively."