CM irked by ECL nod delay in home project
The Bengal chief minister was conducting an administrative review meeting in Durgapur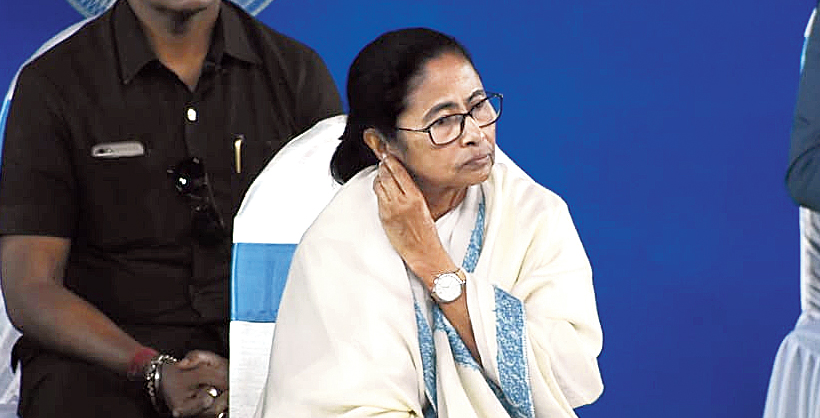 Mamata at the review meeting in Durgapur on Thursday
(Swapna Barua)
---
Durgapur
|
Published 13.02.20, 08:21 PM
|
---
Mamata Banerjee on Thursday attacked the Narendra Modi government over alleged delays in issuing clearance for rehabilitation of people living in subsidence-prone areas of West Burdwan and wondered if the Centre valued coal more than human life.
The Bengal chief minister who was conducting an administrative review meeting in Durgapur was apparently infuriated when Asansol mayor Jitendra Kumar Tiwari informed her that the rehabilitation project was stalled because of unavailability of land. He said objection from central utility Eastern Coalfields Limited (ECL) stalled the project. "If the ECL does not allow us to construct houses on land bearing coal beneath it, they will have to take the responsibility of casualties, if any, because of subsidence in the area. Is coal more precious than human life?" she asked.
"This has been a longstanding problem. I had personally taken this up with the Centre and our chief secretary, too, urged them to allow us the construction of houses for people living in subsidence-prone areas. But they remain indifferent," she added.
Mamata then asked West Burdwan district magistrate Shashank Sethi to take up the matter with the ECL in writing once again.
"If they do not allow us to construct houses on the land, only because of the coal reserves beneath, tell them clearly that they must take responsibility of casualties, if any, because of subsidence," she said.
The chief minister said the state always cooperated with the Union government in central projects, but Delhi did not return the courtesy.
She also blamed the railways for alleged delay in giving a clearance for the construction of the Majherhat bridge in Calcutta.
"These things will continue till we have a government of our liking at the Centre," she said.
Sources have said the state housing department and the Asansol-Durgapur Development Authority are constructing around 33,000 dwelling units to rehabilitate about 45,000 families living in areas identified as subsidence-prone. They require around 400 acres to build the homes, but received permission from the ECL for only 172 acres so far.
The sources have said since the area is coal-bearing, no-objection certificates have to be taken from the ECL before carrying out any construction.
ECL officials said coal reserves lie 600m below the surface, which could be mined in the near future, and according to the rules of Coal India Limited, they were unable to allow construction on it. "I'm very worried about the people living in great danger there and I eagerly want to finish their rehabilitation," said Mamata.
She later said the state was interested in the upgrade of the Andal airport. She instructed chief secretary Rajiva Sinha to initiate dialogue with the civil aviation ministry to launch chopper services between Andal and Dum Dum.
She said her government was also planning to start monorail or speed bus services between Andal, Purulia and Bankura.