Mamata Banerjee govt to form inquiry panel if it gets complaints of false SC, ST applicants
The issue of issuing caste certificates to ineligible people came up during a meeting of the West Bengal Tribal Development Council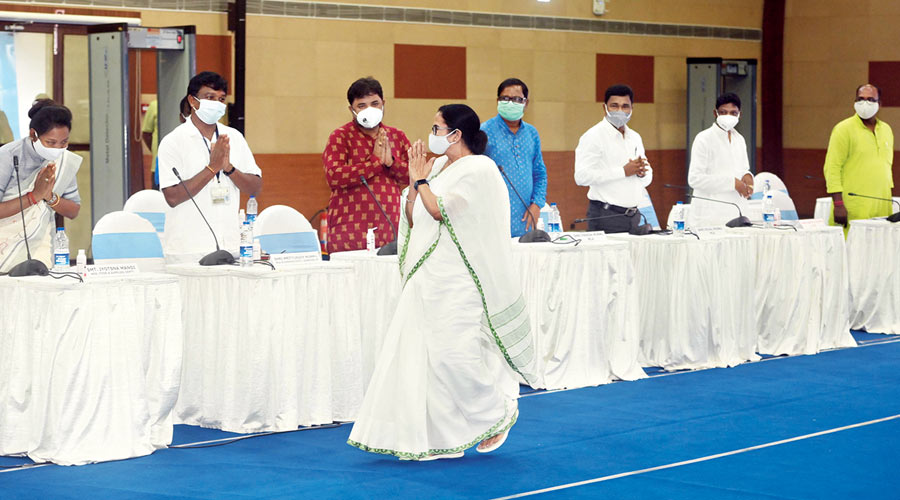 Mamata Banerjee at the meeting of the West Bengal Tribal Development Council on Monday.
Telegraph Picture
---
Calcutta
|
Published 24.08.21, 02:37 AM
|
---
The Mamata Banerjee government will set up an inquiry commission if it receives complaints that ineligible people were among the recipients of 21 lakh caste certificates issued during the first edition of the Duare Sarkar drive rather than cancel such papers.
The issue of issuing caste certificates to ineligible people came up during a meeting of the West Bengal Tribal Development Council that the chief minister convened at Nabanna on Monday.
"Junior forest minister Birbaha Hansda raised the issue first and informed the chief minister that scores of non-tribal people had been provided with caste certificates and some of them even secured government jobs based on the fake papers. The junior minister had brought some fake certificates with her and showed the chief minister the same," said a source.
Before Mamata Banerjee could intervene, sources said, tribal development department secretary Sanjay Thade said the fake certificates could be cancelled if the complaints were true.
"The chief minister stepped in and said caste certificates couldn't be indiscriminately scrapped based on complaints only. The department can set up an inquiry commission if such complaints are lodged," said an official.
Bengal has a sizeable population of Scheduled Castes and Scheduled Tribes and they are eligible for benefits like cash scheme, scholarships for students and reservation in jobs among others.
Sources in the tribal development department said complaints of issuing fake caste certificates couldn't be ruled out particularly after the rules for the process had been eased during the Duare Sarkar camps held between December 2020 and January 2021.
"Earlier, an inspection was required to be carried out before issuing caste certificates. But since a huge number of people applied through the Duare Sarkar camps, the chief minister asked district authorities to ease the standard practice and issue caste certificates based on the certificates of the applicants' family members," said a source.
The issue was discussed at length at the meeting on Monday.
If there is any delay in issuing caste certificates in the name of procedure or formalities, it goes against the government as the potential beneficiaries consider it as an attempt by the administration to deny them what they deserve.
At the same time, if certificates are issued to ineligible people, it also goes against the government as it means depriving genuine people of their dues.
"That is why the chief minister initiated a cautious step by asking the department to set up an inquiry commission before cancelling any certificate," said a source.
The state doesn't have the history of setting up a commission to tackle the issue of false caste certificates. "The liberal distribution of caste certificates helped the ruling party in the Assembly polls... That's why the chief minister is treading with caution," said a source.