Madhyamik: Poverty doesn't come in way of performance
The Telegraph narrates the stories of some of these bravehearts who have outshined others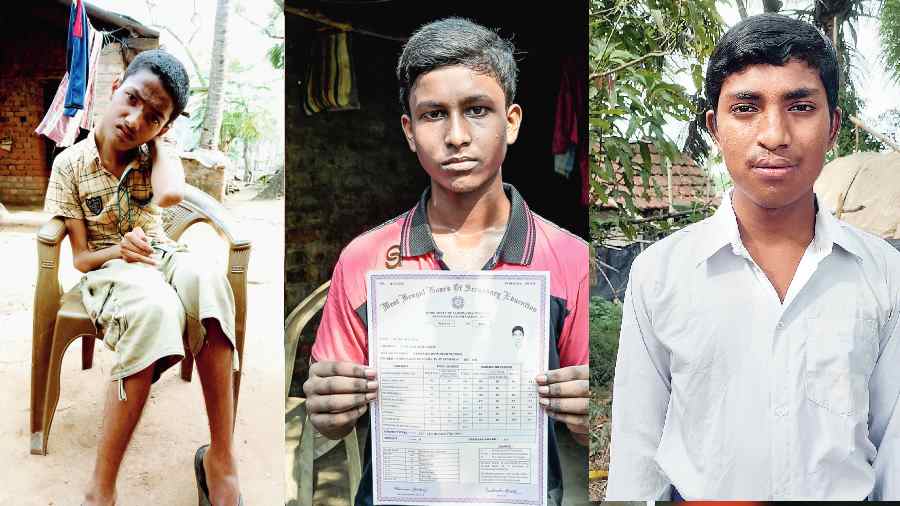 (From left) Md. Alam Rahman, Tuhin Halder and Santanu Das
Sourced by The Telegraph
---
Calcutta
|
Published 04.06.22, 12:39 AM
|
---
As the West Bengal Board of Secondary Education announced results of the Madhyamik (Class X) exams of this year on Friday, a number of students emerged as achievers after braving various odds.
The pass percentage was around 86.60 per cent and close to 11 lakh students were declared successful.
The Telegraph narrates the stories of some of these bravehearts who have outshined others with their performance.
Name: Md. Alam Rahman
Score: 625/700
School: Godda Ganapati Adarsha Vidyapith School, Murshidabad
Rahman, who aspires to become an astronomer someday, might remind one of the genius scientist Stephen Hawking. Like Hawking, Rahman suffers from paralysis and has trouble in lifting himself up. The undiagnosed disease in his spinal cord has taken away his ability to move his hands and reduced the mobility of his legs.
Fighting against such adversities, Rahman wrote his Madhyamik examinations with his right leg and has secured over 89 per cent marks. His father Feroze Muhammad runs a small grocery shop out of their residence, which barely earns them Rs 4,000 a month.
"I've two daughters and hence, five mouths to feed from this meagre income. I couldn't afford to pay for a toto or rickshaw ride to his school. Hence, I had to carry my son to his school, which is 2.5km away, every day on my cycle," Muhammad said.
The 16-year-old wants to pursue science in future but for that he will have to take admission to some school outside his village.
"We are in a fix. How can we allow him to go outside on his own in his condition? He can't even eat by himself. Moreover, we don't even have enough money to get him admitted to some school outside," said Rahman's mother, Alam Ara Begum.
Name: Tuhin Halder
Score: 651/700
School: Nrisinhapur High School, Nadia
Tuhin, who has secured 100 in geography, 97 in physical science, 96 in mathematics, 93 in life science, 92 in history, has one single dream — to eradicate his mother's hardships. "I just want to give my mother some respite and bring her smile back. I want to get a job," Tuhin, who wants to pursue electrical engineering after his higher secondary exams, said.
Living with his widowed mother Bandana for the last 12 years, this boy has battled immense financial hardships. Bandana works as a cook for the mid-day meal programme in a local school and makes a paltry Rs 1,500 a month.
"God only knows how I manage everything with such a paltry amount…. I used to earn around Rs 500 more by providing tuitions. But since the pandemic, I've lost them all," Bandana said. She had lost her migrant labourer husband in Nagpur more than a decade ago.
Name: Santanu Das
Score: 628/700
School: Panskura Bradley Birt High School, East Midnapore
Financial liabilities had forced Santanu to run errands to fund his education. Santanu's father Gurupada is an agricultural labourer who is registered with the MGNREGA programme.
"I don't have a fixed annual income. My son had two private tutors, but I couldn't pay them on time. Hence, Santanu was forced to look for some income," Gurupada told this newspaper.
"Apart from studying, my son works in the flower fields. He keeps the farms clean and also makes garlands out of them for sale," he added.
Santanu wishes to pursue science. However, his father is unsure if he will be able to arrange funds for his higher studies. Name: Rupan Majumdar;
Score: 670/700
School: Loknathpur High School, Alipurduar
Over the years, Rupan has grown up with poverty at his small hut. But it has not deterred him from being consistent in his studies. Since Class I, Rupan has been the topper in studies.
Son of a day wage worker, the boy received help from some of his teachers.
"My father barely makes Rs 6,000-7,000 a month. My schoolteachers are with me and encourage me to continue my struggle," he said.
Name: Kalpana Roy
Score: 599/700
School: Fulbari High School, Jalpaiguri
Daughter of an ice-cream vendor, Kalpana has proved her mettle in Madhyamik.
The girl, who intends to be a mathematics teacher, said her father had worked for extra hours from morning and till late evening to make additional earnings so that he could pay the tuition fees to two teachers who had taught his daughter.
"My father's income has dwindled after Covid-19. But even then, he was desperate and made all efforts to ensure that I did not face any inconvenience in my studies. Teachers at the school have also helped me a lot," said Kalpana.
Name: Priyanka Chakraborty
Score: 574/700
School: NJP Railway Girls' High School, Siliguri
Daughter of a painter who works at construction sites and makes around Rs 10,000 a month, Priyanka emerged as a topper in her school.
Ahead of her exams, she would study five to six hours a day and prepare on her own. "My father can't afford to pay for my private tuition and other expenses. It is the immense support of the teachers which has helped me," she said.
Priyanka wants to be a doctor. "But I don't know whether I would be able to arrange the funds required to pursue a career in the medical field," said the girl. Name: Tanima Biswas
Score: 567/700;
School: NJP Railway Girls' High School, Siliguri
Her father serves as a security guard at a milk factory, on the outskirts of Siliguri. "Whenever I felt like it, I would open the books and study. My target was to confirm I come up with decent marks so that I can study further," she said.
Tanima wants to study English literature. "I am well aware of my family's condition and am ready to struggle to finish my higher education," said Tanima.
Reporting by Alamgir Hossain in Behrampore, Binita Paul in Siliguri, Anirban Choudhury in Alipurduar, Anshuman Phadikar in Tamluk, Subhasish Chaudhuri in Kalyani