Lottery sale & music at tea stalls 'banned'
Social policing at Murshidabad-Jharkhand border village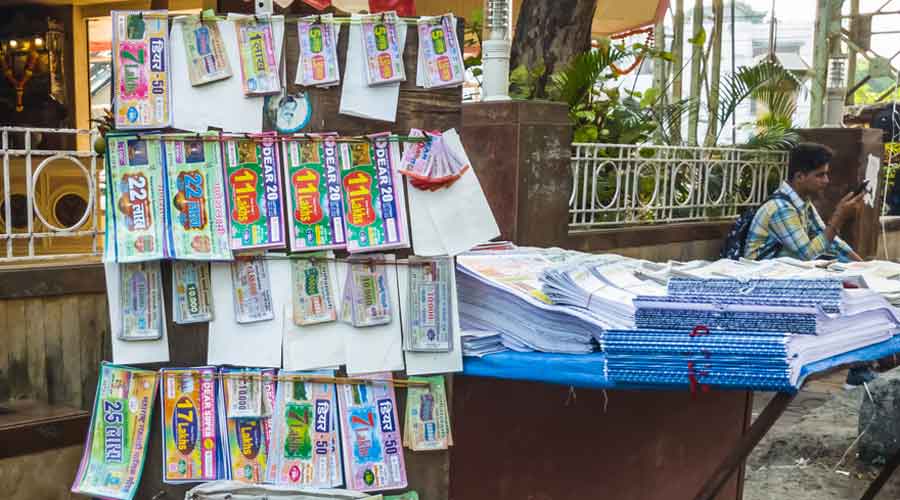 According to the flyers pasted across the area, the sale of lottery tickets and alcohol entails the highest fine of Rs 7,000
Shutterstock
---
Samserganj
|
Published 18.08.20, 12:01 AM
|
---
A kangaroo court (salisi sabha) has initiated unprecedented social policing measures for 12,000-odd residents of a village on the Murshidabad-Jharkhand border.
The recently-formed samaj sanskar (social reforms) committee at Adwaita Nagar listed "punishable offences" like purchase and sale of alcohol, lottery tickets, tobacco and marijuana, playing TV sets at tea stalls and music from a phone, playing carom in public and listening to music on a computer.
The committee that consists of at least three gram panchayat members of Trinamul and one from the Congress held the kangaroo court last week. The committee printed and circulated pamphlets, listing the alleged offences punishable by fines ranging from Rs 1,000 to Rs 7,000. It also announced rewards between Rs 200 and Rs 1,000 for informers.
Sabha president and Trinamul supporter Azharul Sheikh said: "The diktat was issued in the interest of youths and obeying it is mandatory. The measure is a protective step to ensure that our youths do not go corrupt."
"Watching TV indoors is the only exempted activity. Playing TV at tea stalls distracts youths in the evening, when they should actually be studying."
Asked how the sabha would enforce the regulations, Azarul said it had already reprimanded two youths for violations related to marijuana and cigarette smoking. "However, we did not fine them. Our main interest is their well-being, so we just asked them to pray with folded hands for forgiveness before the sabha," added Azarul.
According to the flyers pasted across the area, the sale of lottery tickets and alcohol entails the highest fine of Rs 7,000. If one buys booze or lottery, he needs to pay a fine of Rs 2,000.
Playing TV sets at tea stalls would attract a penalty of Rs 1,000. The same amount is charged for using smartphones or computers for music and organising carom. Playing carom would attract a fine of Rs 500.
The penalty does not end with fines but there measures have been incorporated to publicly humiliate people for act the sabha things are "offensive".
Those found selling alcohol, the diktat says, would be tonsured and taken around the village. Similarly, those caught drinking will be made to hold their ears and do sit-ups in front of villagers.
For other offences, the "offender" will have to apologise publicly apart from paying fines.
"Lottery is gambling even if it is approved by the government. Police barely keep a watch here. So, who else is going to look after the well-being of our youths," said sabha member and Congress leader Babul Akhtar.
He added that the sabha was "society-oriented and not political".
Asked, superintendent of police (Jangipur), Y. Raghubamshi, said he had been informed of the development and had dispatched the OC to submit a report.
"Anything illegal will be shut down. We are taking care to ensure there are no communal overtones," he said and added that Samserganj OC K. Bishoyi had told him that a few youths of the village were behind the act and had confessed to their wrongdoing. "They have promised not to repeat this in the future."
However, committee president Azharul Sheikh refuted the SP's claim and said they had not been contacted by police.
"If the police want to discuss the issue with us, we are ready to meet them at the police station," he said.
Samserganj BDO said he was not aware of the issue but said he would send a team to look into it.
Local Trinamul MLA Amirul Haque said he did not support the initiative, and expected "law to take its course" against the sabha.