Local focus in Mamata blitz against BJP
She slammed BJP over national issues, such as unemployment and the farm crisis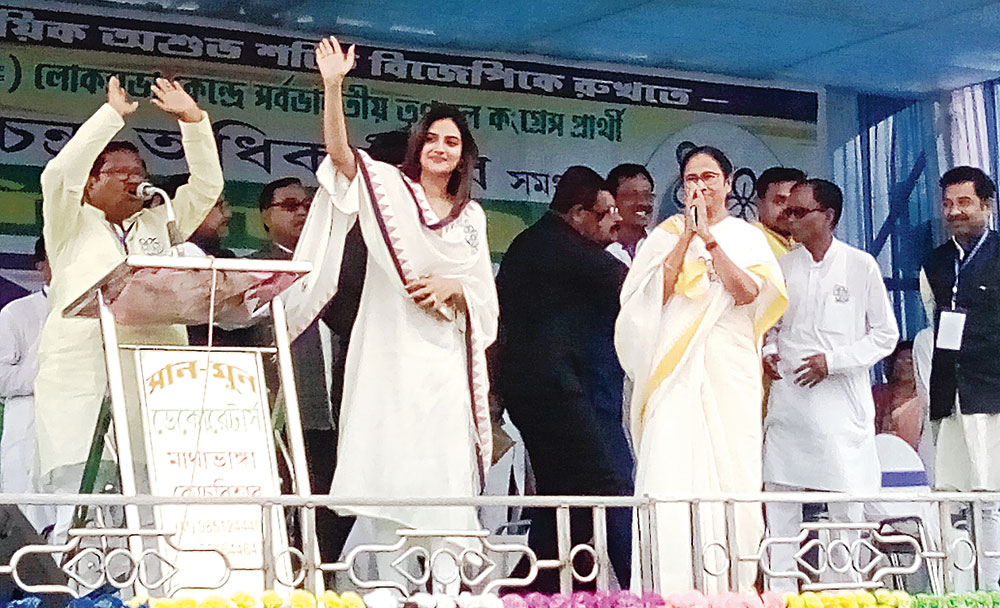 ---
---
Mamata Banerjee on Thursday dubbed Narendra Modi a "jhootha (fake) chowkidar", continuing her rebuttal of claims by the Prime Minister who has called her a "speedbreaker" to development.
The Bengal chief minister has planned a series of meetings in north Bengal, focusing on local and regional issues, unlike Modi who has chosen selected venues, including in Siliguri on Wednesday where he had hurled the "speedbreaker" jibe and later in Calcutta where he continued the attacks.
"These people (BJP) have invited Bimal Gurung and Atul Roy (president of the Kamtapur Progressive Party) to Delhi to speak on some issues…They (BJP) are responsible for the violence in the hills and tried to divide the hills and plains. Earlier, they had made some promises to the hill people but did not keep them," the Trinamul chief said in Mathabhanga, alluding to the 2017 Gorkhaland agitation.
She also slammed the BJP over national issues, such as unemployment and the farm crisis, and warned of a threat to the Constitution and voting rights if Modi returned to power. "Jodi aashey, Ambedkar-er Constitution bodle debe aar mone rakhben, karo votadhikar thakbena (If they come to power, he will change Ambedkar's Constitution and keep in mind, no one will have voting rights)."
Mamata also brought up Modi's reference on the Rajbanshis, who form a large chunk of voters in some constituencies of the region, including Cooch Behar. "Modi said he will think of the Rajbanshis. What was he doing in the past five years?" the chief minister asked the crowd, addressing her second public meeting in the region during the first leg of her campaign.
Like on Wednesday, Mamata spoke about Assam's NRC, an issue which many Cooch Behar residents relate to as they have relatives in the neighbouring state. "We will never allow NRC in Bengal. They have done it in Assam and put lakhs in distress. Even people who hail from the hills (Gorkhas) are yet to get their names enrolled in NRC."
BJP chief Amit Shah had declared in Alipurduar last week that his party would launch NRC in Bengal to drive out illegal migrants, drawing fire from rival parties and several organisations.
"The chief minister will continue to rebut the Prime Minister's remarks, a strategy planned to blunt the BJP's aggressive campaign against her party and the government. At meetings planned over the next few days in north Bengal, she would continue her verbal assault," said a political analyst.
Mamata plans to speak in more public meetings, possibly at least once a day, to counter the BJP, Trinamul leaders said. The approach contrasts with that of the BJP and Modi, who is likely to pick some venues in Bengal during the campaign. The Prime Minister next meeting in the region is scheduled in Cooch Behar for April 7.
"Modi's meetings on Thursday had drawn crowds in Siliguri and Calcutta.
But our plan is to ensure crowds of 50,000 or so and cover more areas. Also, if our party supremo addresses at least one rally daily instead of a mega rally convened after three-four days, it would be more effective," said a Trinamul insider.
Trinamul sources said Mamata was likely to speak hold 11 more rallies over the next seven days in north Bengal.