Left, Congress fall back on 'Siliguri model'
Left leaders in all four blocks of the SMP area and their allies have started assessing the seats where they can go for such alliances, party insiders said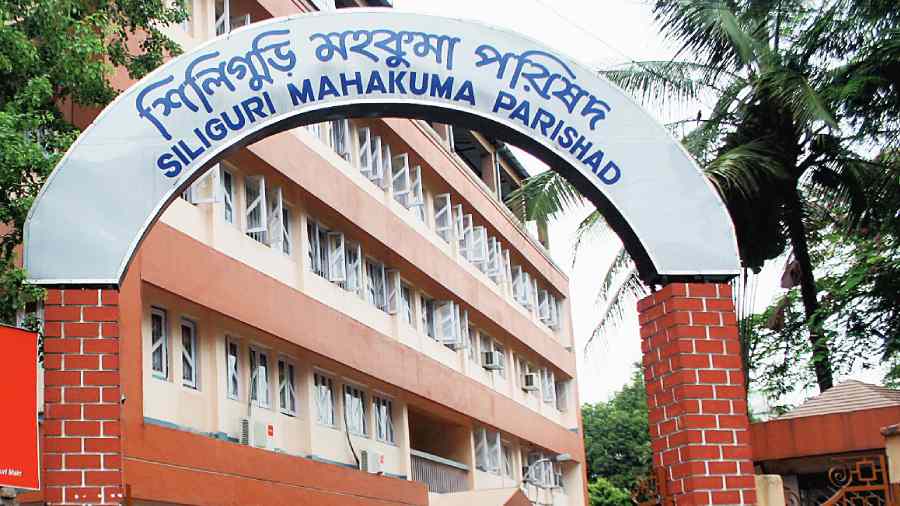 The SMP headquarters in Siliguri.
File picture
---
Siliguri
|
Published 28.05.22, 01:13 AM
|
---
The "Siliguri model," a political strategy conceived by CPM leaders some seven years back of  an informal alliance with the Congress, is back in action ahead of the three-tier panchayat elections of Siliguri Mahakuma Parishad (SMP) to be held on June 26.
Submission of nominations in all three tiers started from Friday and will continue till June 2.
Leaders of both the CPM and Congress who had succeeded in thwarting Trinamul and the BJP at the rural and civic polls in 2015 with this model have started exploring options for a similar alliance for the June 26 elections, especially at the two lower tiers (panchayat samiti and village panchayats), sources in both parties said.
However, rivals Trinamul and the BJP are keen to secure the rural bodies here as till date neither has won the panchayat samitis and the SMP.
Jibesh Sarkar, a state secretariat member of CPM based in Siliguri, said their party will extend all support to "potential candidates" of other parties in panchayats to defeat Trinamul and the BJP.
CPM leaders in all four blocks of the SMP area and their allies have started assessing the seats where they can go for such alliances, party insiders said.
"Our basic aim is to contest the SMP polls with all allies of the Left Front. We will go for seat adjustments in certain areas where we don't have an adequate support base. In such cases, there might be an informal alliance with the Congress to keep Trinamul and BJP at bay," said Sarkar, the Darjeeling district convener of the Left Front.
"In 2015, the 'Siliguri Model' had worked wonders for the Left and Congress as they could win the Siliguri Municipal Corporation (SMC) polls and the SMP polls back to back. It is obvious that they would give it a try again," said a political observer.
In 2015, the Left Front won six of nine seats in the SMP. The remaining three seats went to Trinamul. The Left Front also won all four panchayat samitis and 11 of 22 panchayats.
The strategy, however, flopped at the Siliguri civic polls in February this year when Trinamul, for the first time, won a majority of the seats.
"The 'Siliguri Model' didn't work in the civic polls. We are sceptical if it will work in the rural elections," said a senior functionary of Congress.
Sankar Malakar, the Congress president of Darjeeling (plains) district, however, said that the strategy can still work at the grassroots.
"We will field our candidates only in those seats where we are confident of our support base. It is obvious that the Congress or the Left alone cannot stop Trinamul. That is why Left leaders working in different tiers of the party have approached our leaders to make adjustments in the local levels. The strategy worked earlier and can still be effective in the grassroots," said Malakar.