'King' of Makaibari to shed crown
Rajah Banerjee calls it quits, partner to get full control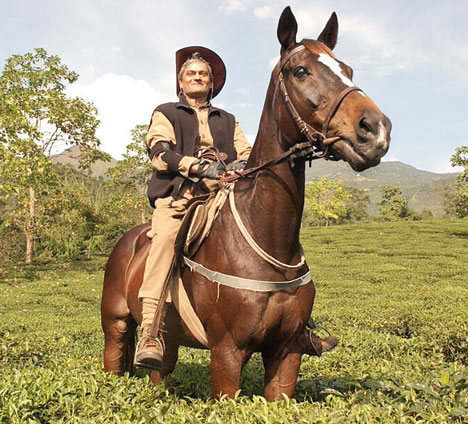 ---
Darjeeling
|
Published 17.03.18, 12:00 AM
|
---
Darjeeling: The "Rajah" of Darjeeling tea has given up his crown.
Swaraj Kumar Banerjee, more famous as Rajah Banerjee who was as big a brand as his Makaibari tea, on Friday said he we would sell his remaining stake in the marquee garden.
The decision to hang up his planter's boots and bring wrap up a four-generation legacy came exactly a year after Banerjee's ancestral bungalow in the nearly 1,600-acre garden, a veritable treasure trove, was gutted in a fire.
"Today, exactly a year after my ancestral bungalow was gutted, I have decided to exit Makaibari," the 70-year-old told The Telegraph in his Siliguri office.
Rajah had parted with much of his stake in Makaibari Tea and Trade Company under a strategic partnership forged with the Calcutta-based Luxmi Group in 2013, retaining only 12 per cent that he will now give up.
"I have decided to give up all my shares to my partners and I wish them (the Luxmi group) the very best," said Rajah, the only owner to stay in his garden in Darjeeling.
Asked when he started his career as a planter, Rajah's reply personified the man: "I first fell off the horse when I was 23 years old." Rajah's great grandfather Girish Chandra Banerjee, the scion of a zamindar family from Borai, around 100km from Calcutta, had taken over the garden in 1859.
Under Rajah's stewardship, Makaibari's Silver Tips Imperial was sold at Rs 1.17 lakh per kg in 2014. When Prime Minister Narendra Modi called on Queen Elizabeth at the Buckingham Palace in 2016, he had gifted her a packet of Makaibari tea.
The brew from Makaibari - which produces around 1 lakh kg of tea annually - was also served to participants and staff of the 2008 Beijing Olympics and the 2014 Fifa World Cup in Brazil.
"A few years back, I had a life-threatening health problem. I wanted to make the women workers, who account for two-thirds of the (636) staff, but they were not yet ready. Hence, I had to go with other planters," said Rajah.
The final straw was the bungalow fire. "Everything was lost. I had a Samurai sword valued at $2 million (Rs 13 crore) among many artefacts and memorabilia. Perhaps, the incident was a signal from the heavens that I had to go," said Raja, whose two sons are not into the tea business. One is settled in the US and the other in Bangalore, working for an MNC.
Asked if he would miss Makaibari, Rajah said: "Of course. It was my soul. How can you not miss your soul?" Chinta and Mani, his two horses now in Siliguri, will probably miss the garden, too.
But it might not be the final farewell yet. "A property is being developed at the garden by the Ambujas and I have plans to build a bamboo cottage there. It will take some time but I will stay there," said Rajah.
After 47 years as a planter, Rajah let out a secret. "I am not a tea planter but I have always been a tree planter. Of the 1,573 acres at Makaibari, we grew tea only on 550 acres. In the rest, we only planted trees," he said, adding tigers and leopards were occasionally spotted in the garden.