Kid rescued from drowning in Digha
Officer-in-charge of the police station said that this was not the first time people left their children on the beach and went bathing in the sea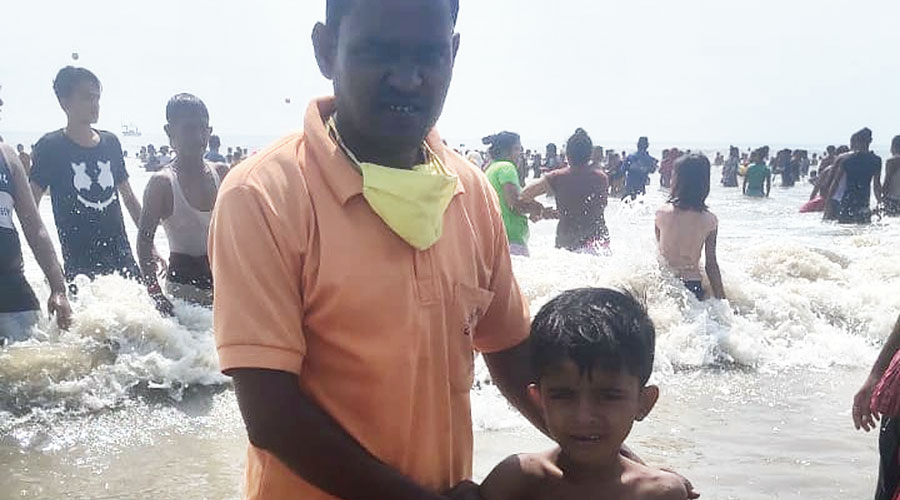 ---
|
Digha
|
Published 27.10.20, 12:06 AM
---
Members of the civil defence team rescued a seven-year-old boy from downing in the sea in Digha on Monday morning.
The Howrah boy, who had come with his parents Sheikh Saibuddin and Noornagina Begum, and sisters aged 13 and 15, had been told to sit on the crowded beach as his parents and elder siblings went bathing in the sea.
Sources said that the boy, Dilanur, decided to follow his family and bathe in the sea too.
But as soon as he stepped into the water, the boy got caught in the swift currents and got dragged away. Members of the civil defence force, locally known as nulias and are deployed in the sea and on the beach to respond to any emergency, spotted Dilanur being swept away, jumped into the sea and brought the child to safety.
"There was a huge crowd in the sea. Everyone was busy enjoying sea-bathing. Suddenly, we spotted a child being dragged away by the sea. Our team members jumped into the sea and pulled him out of the water," said Ratan Das, a nulia and member of the civil defence team.
The task to search for his parents proved to be a bigger challenge. Though the child could tell the name of his parents, he did not know their phone numbers.
Das added that he and fellow beach guards carried Dilanur on their laps and searched for his parents in the sea and on the beach for two hours. "The crowd was so huge on Monday that it was difficult for the child to spot his parents. After two hours, we spotted his parents who were enjoying the sea, oblivious to the close shave that Dilanur had," he said.
Shocked when told her son was being swept away by the sea, Dilanur's mother Noornagina said: "We had come to Digha after 10 years and wanted to make the most of it. We had left our child on the beach hoping our fellow tourists would keep an eye on him. We are lucky to have got him back."
She added that her son was very obedient and she had never thought he would venture into the sea. Father Saibuddin, a bus conductor, added that they did not
want the boy to enter the water for fear of his catching a cold.
Police said the family had come on a day's trip to the sea resort and were scheduled to return home in the evening. They were part of a group that had hired a bus to the sea resort.
Officer-in-charge of Digha police station Krishnendu Pradhan said that this was not the first time people left their children on the beach and hit the sea.
"A few years ago, a couple from EM Bypass in Calcutta had gone for a bath leaving their daughter on the beach. The girl entered the sea and drowned. Dilanur was lucky that nulias noticed him."