John Barla promises to urge Jaishankar to take up closed Bhutan gate issue
The Union minister, who visited Jaigaon for the first time after he was included in the Union cabinet, spoke with members of the local business community and residents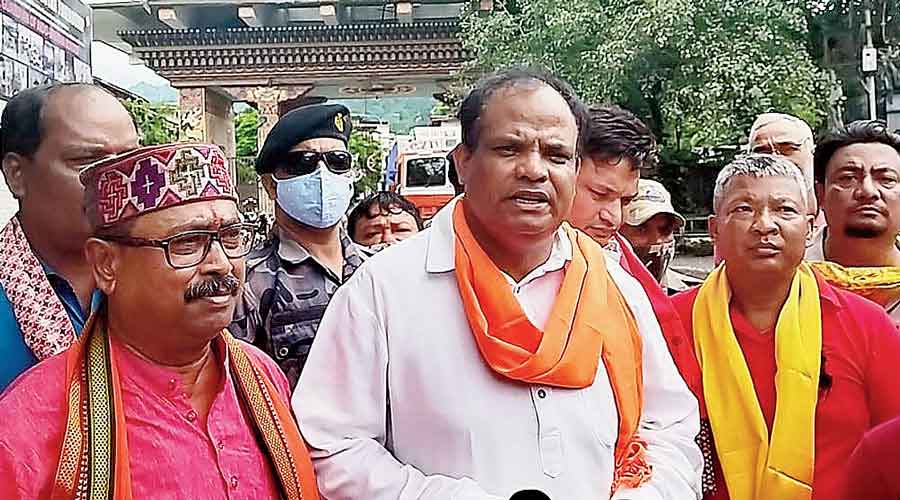 Union minister of state John Barla at Jaigaon on Sunday.
Anirban Choudhury
---
Alipurduar
|
Published 30.08.21, 01:28 AM
|
---
Union minister of state for minority affairs John Barla, also the Alipurduar MP, on Sunday promised to urge Union external affairs minister S. Jaishankar to take up the issue of Bhutan gate in the middle of the bordering town of Jaigaon (Alipurduar district) and Phuentsholing (Bhutan).
Since March last year, Bhutan has closed the gate, the principal entry point to India, because of the Covid-19 pandemic.
As a result, commercial activities have drastically declined in Jaigaon, which largely depends on Bhutan. Thousands of Bhutan residents would cross the gate to enter the local market of Jaigaon every day.
Barla, who visited Jaigaon for the first time after he was included in the Union cabinet, spoke with members of the local business community and residents.
"I will go to Delhi next month. There, I will meet the external affairs minister and will request him to take up the issue with Bhutan. The pandemic situation has improved in both India and Bhutan and if the gate is reopened, it would help the people of both countries," said Barla.
He said that traders apart, many transporters and even people in general of Jaigaon depended on Bhutan.
"Many people would walk to Bhutan every day from Jaigaon to serve as daily-rated workers. They are sitting jobless now. Most traders have kept their shops closed for months now. Jaigaon used to buzz with commercial activities but over the past one-and-a-half years, such activities have considerably reduced," said Barla..
In Jaigaon, there are around 2,000 shop owners and suppliers dependent on Bhutan. There are another 5,500-odd small traders and stall owners, who did brisk business before the pandemic.
Goods worth between Rs 1.5 crore and Rs 2 crore would transacted in the local market daily, said sources. Ramashankar Gupta, secretary, Jaigaon Merchants' Association, said almost 80 per cent of shops were closed now.
 and many traders, who had come from other states to Jaigaon, were planning to return after selling their shops, houses and belongings.
"If someone can't find even a couple of customers for months, how can he survive," Gupta added.