Jitters for Bengal daughters
Left and Trinamul have criticised government of Assam over the exclusions and expressed concern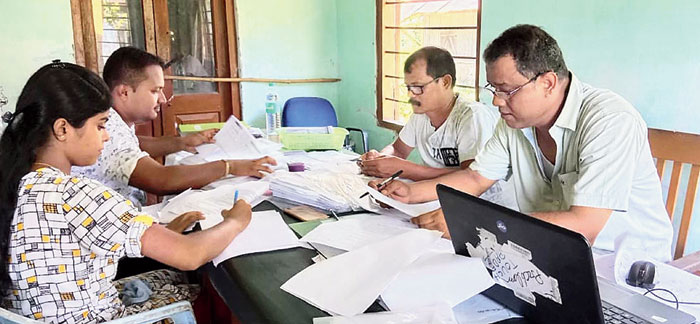 ---
---
A number of families in Cooch Behar, a Bengal district that borders Assam, are worried about daughters married and settled in Assam who could not find their names in the final draft of the NRC published on Saturday.
Safar Ali Sarkar, a resident of Khutamara village in Cooch Behar's Dinhata, is anxious about sister Saleha Bibi. "Saleha submitted every possible document at the NRC hearing. But her name is not there. We are concerned over her future and don't know whether she would be able to stay on in Assam," said Safar.
Saleha, 35, lives in Dhuturamari village of Dhubri, around 15km from the Bengal border. Her husband Abdul Samad, who runs a cycle repairing shop, figures in the list, as do their two daughters.
Samina Yasmin, the elder daughter, is worried about her mother. "It is surprising that while three of us (the father and two daughters) are in the list, my mother has been left out. We don't know what to do," said Samina, a student of Cooch Behar Panchanan Burma University.
Sufia Bibi, wife of Samad's elder brother Hajer Ali, has also been left out of the list. Sufia hails from Purba Falimari village at Baxirhat in Cooch Behar.
"I got married in Assam. During the (NRC) hearing, I provided all documents. Yet my name was not included in the list, unlike my husband and four children whose names are there. My family members are worried but I have decided to stay with them and not leave for Cooch Behar. I am not a Bangladeshi resident and feel there is nothing to fear," Sufia said over the phone.
Fatema Khatun and her sister Hasina, who are from Choto Laukuthi village in Cooch Behar's Tufanganj and married to men in Assam's Tamarhat, are among the 19 lakh people whose names are not in the final draft of the NRC.
"We used to stay in Assam and later shifted to Cooch Behar. Both my sisters got married in Assam. When they had told us about the NRC enrolment, I provided them all necessary documents. But after I called them on Saturday, they told me that their names are not there in the list. I will visit them soon to find out what they plan to do next," said Ashique Ali, their brother.
The Left and Trinamul have criticised the BJP government of Assam over the exclusions and expressed concern. BJP leaders have alleged that the Bengal government has not carried out verification of documents of scores of individuals from Bengal settled in Assam.