Jatra star of AE Market
Utpal Dutt's co-star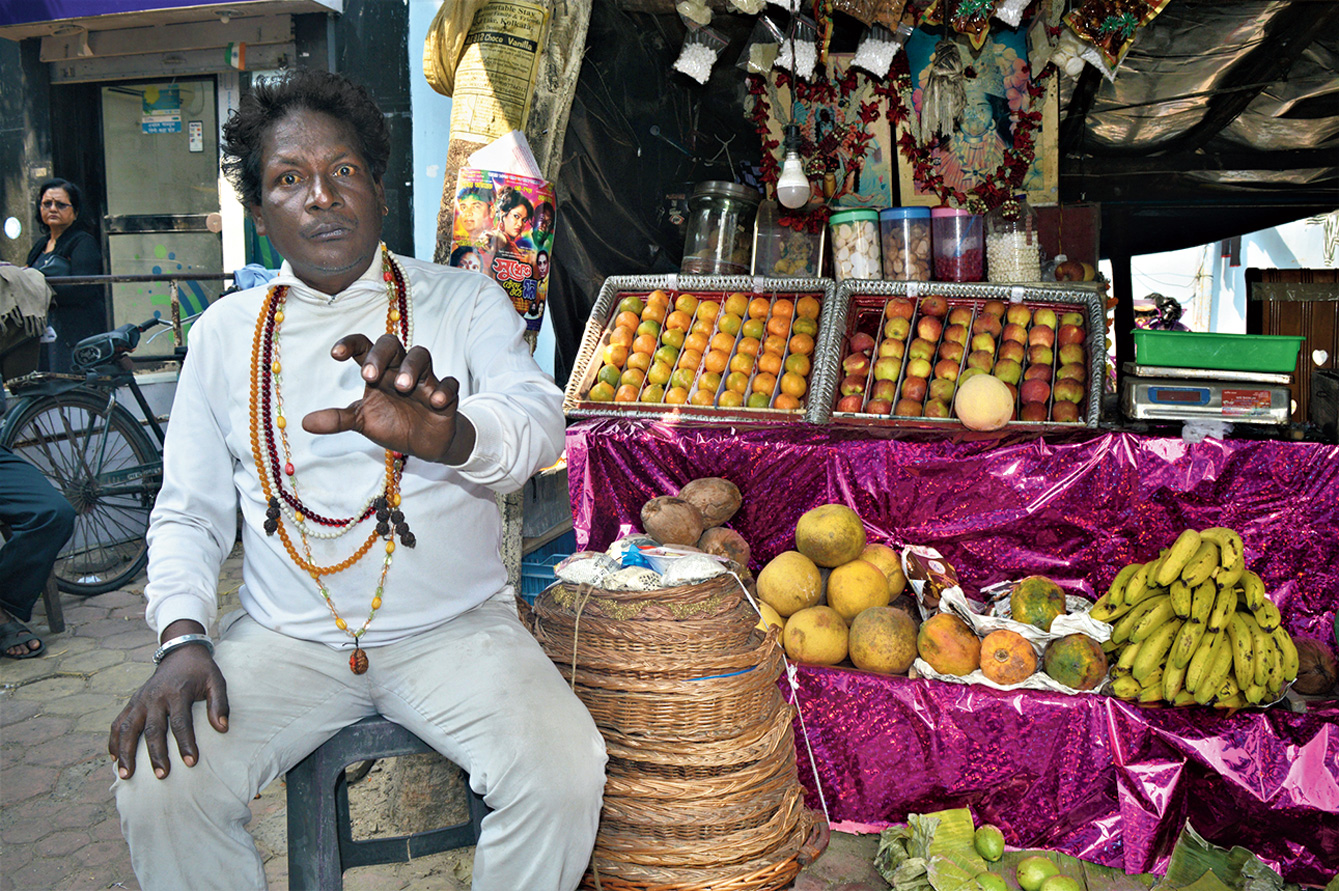 ---
|
Calcutta
|
Published 04.01.19, 12:43 PM
---
If you've ever stopped for fruits at the stall outside AE Market and felt intimidated by the big, burly man behind the counter who speaks in a loud baritone voice, you are not alone.
"My voice and persona are the result of decades of practice. Now even if I speak softly, customers think I'm arguing with them!" says Chandi Hati, who is a fruit-seller by day. By night, he is "Kalo Cheeta", a jatra artiste famous for his negative roles.
Hati's stall has a poster of his ongoing jatra — Shukheo Kende Othe Mon — with his picture (top right in the poster) as one of the stars.
Utpal Dutt's co-star
Hati was born in South 24-Parganas. He studied till Class IX and then headed to Chitpore, the jatra capital of the state, to scout for roles. "I started this fruit shop at about the same time but it was jatra that I really wanted to do," he says.
His first role was that of a positive character Jabbar Mia in Taka-r Golam. The play was successful and they toured Bengal, Assam and Tripura with it. But it's with negative roles that he struck gold.
"I've done a TV serial and a film called Raja Kansa but I don't like those media. Jatra gives the real feel," says the actor whose best experience has been working with thespian Utpal Dutt in a jatra titled Rifle. "Dutt had written, directed and acted in the play. I essayed the role of a ruffian in it. People loved my performance so much that they honoured me with the stage name Kalo Cheeta. It has stuck on," he smiles.
Struggles of an actor
If not for the winter, Hati would be roaming about bare-chested and bare feet. "It's how I've lived all my life," says the man, who wears chunky and colourful stone necklaces for luck. For his shows, however, he transforms beyond recognition, even before costume and make up.
"The show organisers send a car to my fruit shop," Hati begins. "I take the car and reach the venue in a shirt and tie. I step out of the car with a cigarette dangling from my mouth; spot boys run to carry my bags, someone leads my way with a torch and they announce on the mic to the cheering audience that: "Bhoyonkor Kalo Cheeta eshe gyache!"
This flashy entrance aside, Hati says the life of a jatra artiste is a struggle. "We are destined to babur cholon, kuttar bhojon, gadhar
shoyon. We have to look like gentlemen but live off scraps like street dogs and sleep wherever we find space, like donkeys. Still, there is nothing else I'd rather do. Jatra is my worship."
Praise and prayer
Close by, Hati has performed in BE Block, CRPF Camp, Lake Town and New Town. Some residents have even asked him to direct their plays.
"I've seen Chandida perform at CRPF Camp. He's brilliant," says Keshab Chandra Saha, who runs the ration shop in AE Market. "He's also helpful. He's very strong and there have been times when he single-handedly emptied out a truck-full of ration into my shop." Hati also drives a rickshaw.
An AE Block resident said Hati writes poetry and short stories and has read them out to him. "His fruits are a tad expensive but are delicious," he said, popping oranges into his mouth outside the shop on Wednesday.
But Hati's well-wishers say he is very ill, owing to a drinking problem and though the man downplays it, his yellow eyes say otherwise. "A few days ago, Chandi promised me that he wouldn't touch alcohol," says the customer, asking not to be named. "Let's see. We all pray for him."