Japan beauty queen traces Bengal roots
POLITICAL LINEAGE AND PACHYDERM MISSION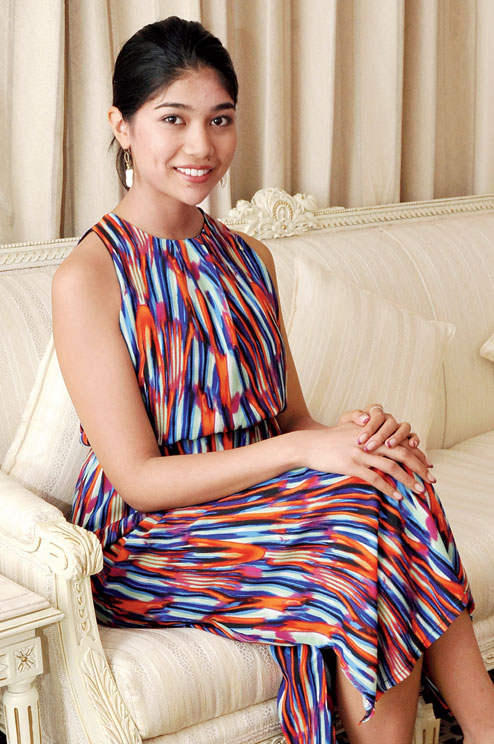 ---
|
Calcutta
|
Published 01.11.17, 12:00 AM
---
Calcutta: The great-granddaughter of Prafulla Chandra Ghosh, Bengal's first chief minister, is on a visit to the land of her ancestry after being crowned Japan's most beautiful woman in 2016.
As Miss Japan, 23-year-old Priyanka Yoshikawa last year became only the second woman of mixed race to represent the country of her birth at an international pageant.
Her crowning had created a stir in a country where barely two per cent biracial babies are born in a year.
The tall Tokyo girl, whose father is a businessman and mother a Japanese yoga instructor, had spent a year in Bengal when she was nine and still manages a smattering of Bengali.
"That year, I built a strong connection with the Bengali side of my family. They have a house in Sodepur. I used to study in an English-medium school an hour away," she told Metro on Monday before a party in her honour at the residence of the consul general of Japan, Masayuki Taga.
Priyanka, a model and TV show host, said she could read and write "a little bit" of Bengali back then. " Ekhon ami Banglay kota (sic) boltey pari kintu liktey pari na (Now I can speak Bengali but can't write)," she said.
Her lineage is something she is proud of, especially her great grandfather. "My family is very proud of him. Uni amar babar dadu, amar borodadu (He is my father's grandfather, my great-grandfather). I do not know much about him, though," Priyanka said.
The India trip came about due to her conservation work with elephants. Earlier this year, Priyanka, who is a certified elephant trainer, was named brand ambassador for the Balipara Foundation in Assam that is involved in ecological protection and restoration.
As a child, Priyanka had asked her father for an elephant as a pet. "I was four or five. He told me that elephants eat a lot and become very big, so there would be no space left for us to stay or food for us to eat," she recalled, breaking into laughter at the thought.
It was her brief stay in Bengal as a child that sparked in Priyanka the urge to get involved in social work. "We would go to Dakshineshwar often. There were so many beggars, and that shocked me as a nine-year-old. A child was chasing my car for money and you never see that in Japan," she said.
Little Priyanka wanted to make a difference in people's lives and the Miss Japan title has given her that opportunity.