Inttuc leads 8-hour pay hike demonstration
During their protest, workers demanded that like the state irrigation department, they should be inducted as contract employees by the CWC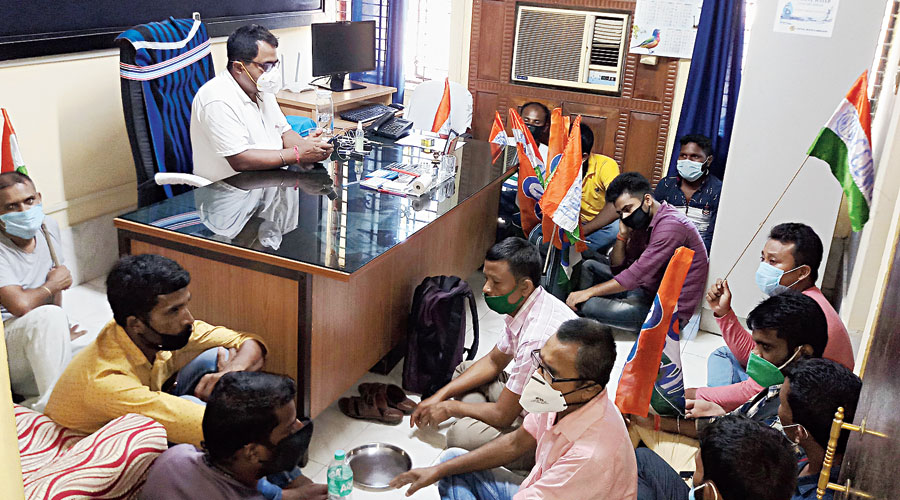 ---
---
A group of casual workers at the divisional office of Central Water Commission (CWC) here in demonstrated at the office and confined the executive engineer for over eight hours on Tuesday under the banner of Inttuc, the workers' front of Trinamul, to press their demands of pay hike and confirmed jobs.
Around 10am, the employees deputed through private agencies during monsoon to collect rainfall data, rising water levels of rivers, among others, walked up to the chamber of Sudipta Sarkar, the executive engineer. There, they sat in a demonstration and started shouting slogans on their demands.
"In other parts of the country, casual employees like us get a monthly salary of Rs 15,000 but here we get Rs 5,000 to Rs 7,000 a month. This is gross discrimination. Also, many semi-skilled workers are forced to do technical works that is not desirable," said Bhola Dey, president of CWC Jalpaiguri Division Casual Workers' Union that is affiliated to Inttuc.
During their eight-hour demonstration, workers demanded that like the state irrigation department, they should be inducted as contract employees by the CWC with the assurance that they would be engaged in jobs till age 60.
In Jalpaiguri, the CWC runs an office that collects data on flood, water levels of rivers, rainfall in catchment areas, among others, from the districts of north Bengal except Malda, Sikkim and also from some areas of Assam. It sends the data to central and state agencies and to some offices of Bhutan and Bangladesh. This data is collected by casual workers deputed through agencies.
Sarkar, the executive engineer, said they work under instructions of senior officials.
"We have forwarded their (workers) demands. But it is a matter of policy and the decision has to be made at the higher level," he said.
Ceasework in hospital
Temporary workers of North Bengal Medical College & Hospital launched a three-day-long symbolic hunger strike demanding pay hike, permanent jobs, and recognition of skilled workers from Monday. Workers said they approached the NBMCH authorities and sent a memorandum to the chief minister. They threatened a longer agitation if their demands were not met.
Additional reporting by Binita Paul in Siliguri