Indian diaspora assembles in 18 European cities to condemn the Delhi riots
White rose is the symbol of the anti-fascist movement in Europe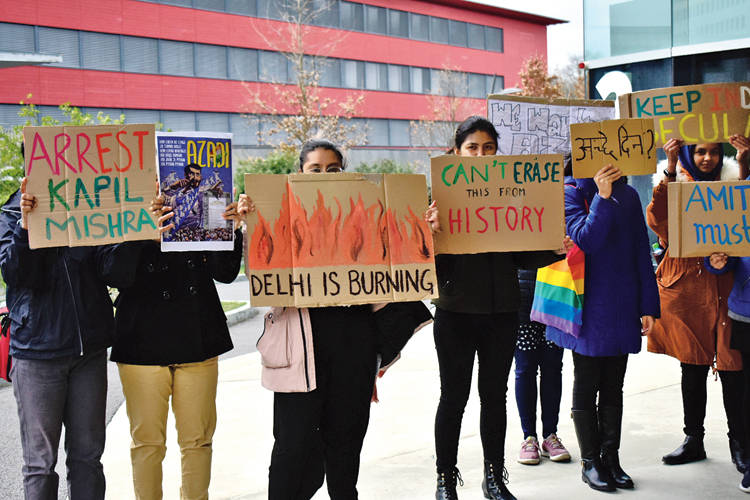 Indians in Geneva
Telegraph pictures
---
Calcutta
|
Published 01.03.20, 08:23 PM
|
---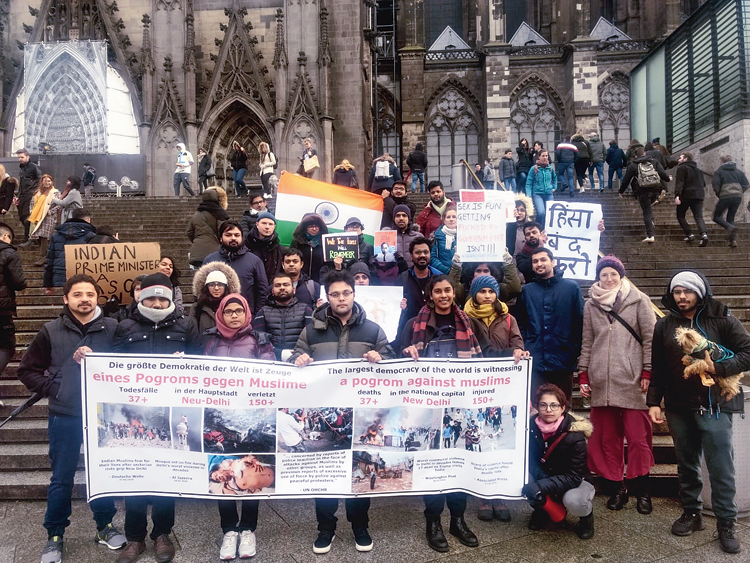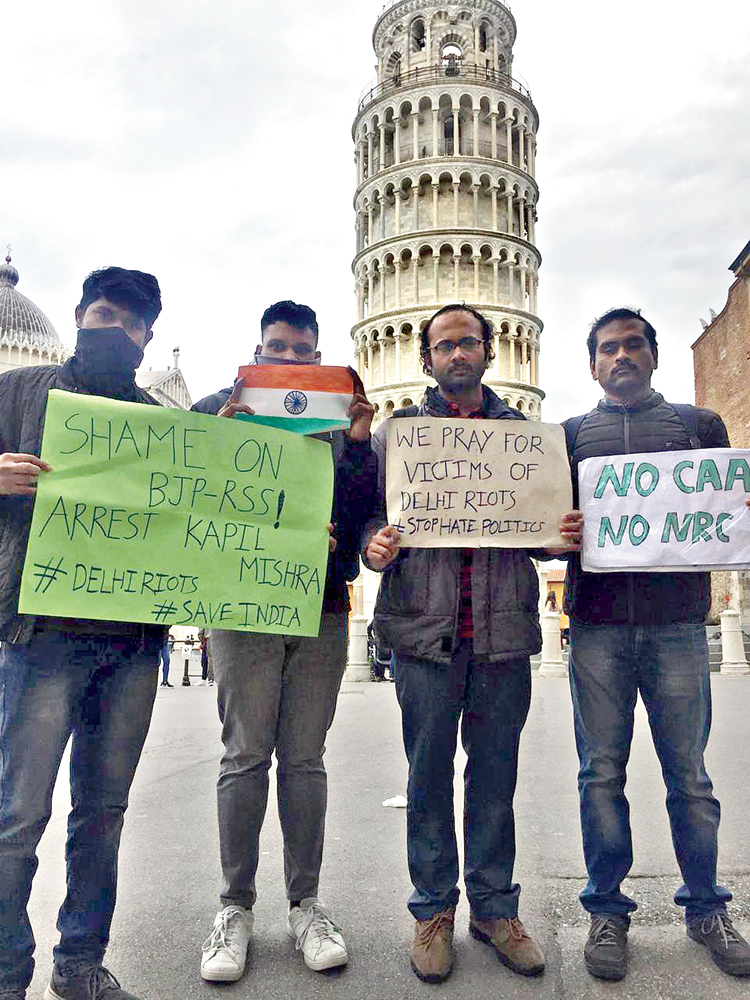 The Indian diaspora assembled in 18 European cities on Saturday to condemn the Delhi riots, mourn the victims and demand immediate action against the perpetrators.
Demonstrations took place in Glasgow and Krakow, in Helsinki and Stockholm, in Dublin and Berlin…. And everywhere white roses served as a symbol of protest and condolence.
The white rose is the symbol of the anti-fascist movement in Europe and was the name of a German group, founded by students, that advocated non-violent resistance to the Nazi regime.
A bouquet of white roses was placed on the pavement in front of the Indian embassy in The Hague in the Netherlands, where more than 100 people gathered. In Berlin, when the embassy objected, the flowers were removed to the opposite pavement.
In Krakow, protesters dressed in black took out a silent demonstration. In Helsinki, many taped their mouths with black cloth to protest the curbing of dissent in India.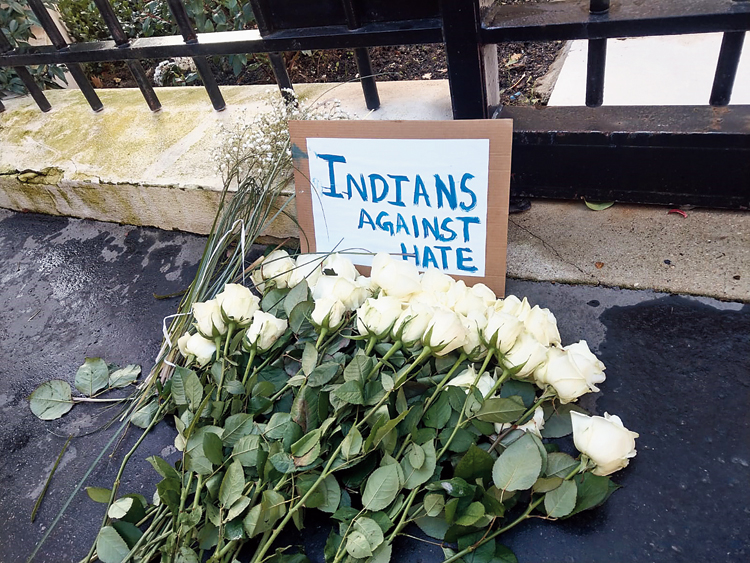 In Paris, French citizens joined Indians to protest what organisers described as "state-sponsored violence last week". Some of them had even sat out a night in front of the Eiffel Tower "out of anger and anxiety".
Some protesters faced inclement weather.
"A freezing wind started blowing in course of our protest meet and it rained, too, so much so that we had to seek shelter for a while. The chill brought tears to our eyes. There were about 50 of us and we kept telling each other that the situation was worse back home. We started by reading out the Preamble to the Constitution. Voices were trembling but I managed to explain the context, describing how the riot was instigated by hate speech," Alokparna Roy told Metro from Cologne in Germany.
"A boy from Delhi spoke emotionally about his hometown. A German lady, who has visited India multiple times, compared the 1930s' Germany to the India of today, warning us that democracy does not crumble overnight and urging us to be vigilant. More people would have spoken if it was warmer; still we went on for two hours," said Roy, a sound engineer whose parents stay in Salt Lake.
In Italy, there was fear in the air.
"Our neighbouring district Lombardy has been significantly affected by coronavirus. Everyone is wary of public gatherings. So there were just four of us, wearing masks, who gathered in front of the Tower of Pisa, holding placards. Yes, we too feared infection but the situation back home is so bad that we had to disregard the fear. We need to do our bit to build global public opinion," said Deep Roy, a PhD student in Pisa, who graduated from Jadavpur University.
The protests had been planned on Tuesday, the day after the riots started in Delhi. "Old posters which were used at the CAA-NRC protest on February 2 had to be changed to include messages on the Delhi riots and the white rose was chosen as our symbol. Those who could not get official permission in the short time brought out silent marches," said a PhD scholar in Geneva, who was part of a protest in front of the University of Geneva.
She requested anonymity as she has faced threats of assault after posting pictures of the protest meets on her Facebook page. "My thesis topic is citizenship and I have to go on field work in India. So I need to be careful," she added.
"Indians in Germany have been among the most pro-active in protest ever since December over the situation in Kashmir and the CAA enactment. And students everywhere have played a leading role. Then as the word spread, we became part of an informal network.
Though activists, students, academics and lawyers form the core of the group, there are others, too," said the Presidency University alumna from Geneva who went around with others putting up posters at bus stops, on notice boards of student hostels, at restaurants and tourist points.
For Saturday's protest, a poster was designed listing the cities where the protest would be happening.
"It got shared so much that friends in Calcutta who visited the Park Circus protest site said they had heard about our activity," the woman in Geneva said.
An economics teacher who was among the organisers of the Hague protest was as upset as he was worried.
"I belong to the minority community and I have family back in Calcutta. I fear the venom of Delhi will spread to Bengal before the Assembly elections," he said, requesting anonymity.
Saturday was not the end, said the organisers in almost every city. A Brussels Chalo march is being called when Prime Minister Narendra Modi visits the city for the India-European Union summit on March 13 and 14.
"Though right-wing supporters outnumber us in many places, we need to make our voices reach him when he comes," one of them said.