In the land of Jogo Bonito
Read more below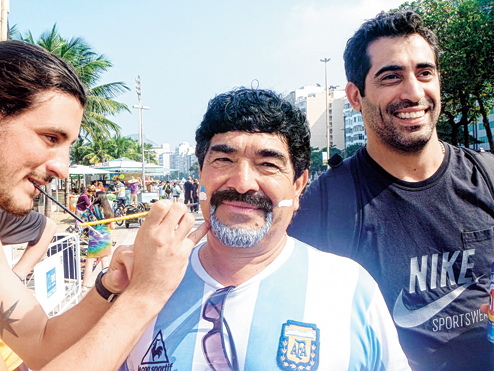 ---
Published 13.07.14, 12:00 AM
|
---
A Maradona lookalike dons the Albiceleste warpaint in Copacabana
We were cruising at 35,000ft. A group of Ivory Coast supporters had boarded our Ethiopian Airlines flight and in the dead of night, dressed in colourful gear they sprung to life, parading down the aisle, singing and playing trumpets and maracas. We were headed for the greatest carnival on earth and the party had already begun.
Sao Paulo
A fan tries his 'hand' at getting a ticket
Hugo, a Brazilian student who had stayed in our Rashbehari Avenue home during a trip to India, was there to receive me at the airport. He drove me to his father's house. Other than a swimming pool, the housing complex had a futsal ground. This five-a-side variant of football is tremendously popular in Brazil. I had seen on YouTube how skilled these players are in dribbling and juggling. Hugo gave me a quick introduction to Brazilian lifestyle. One point that stood out: the necessity of a bath! "We Brazilians hug a lot, so we bathe two-three times a day," he said.
The next day he took me to Fifa Fan Fest, where a giant screen had been put up. But the crowd and the lack of seats made us beat a retreat at half time. His friends joined us, as did his girlfriend. Soon I gathered it was their Valentine's Day. After stopping at a salgado (snacks) counter, I bid them adios (goodbye) and left for the home of a friend's uncle.
I was wearing a T-shirt made to order at Maidan market that had the words "Pobre Indiano. No me Roube" (Poor Indian. Do not rob me) printed on it. As I was walking to the bus stop, a group of youths spotted it and burst out laughing. This T-shirt worked as a conversation-starter throughout my trip and opened my eyes to the high regard Brazilians have for India. One of the youths, William, was a theology teacher and had read The Mahabharata.
Sourabh sports his made-in-Maidan market tee
Santos
Santos is a port city in the state of Sao Paulo. While Pele remains its biggest mascot, having played for the local club all his life — he is on billboards endorsing products — Robinho has been the recent star. While playing football with the local boys on the beach, I learnt that Brazil's current mascot Neymar Jr too has played here for long. It was touching to see how deeply they love him.
The next day, I set off for the Fifa office in Sao Paulo by bus to collect the match tickets I had booked on the Fifa site. Taxi in Brazil is prohibitively costly. So is telephone, especially pre-paid ones. They all use WhatsApp. Hugo taught me that when I called him that day. The two-line conversation cost me R$2.50 (Rs 72)!
Neymar rules the shelves too
I was lucky to be in Santos when the Pele Museum opened. Brazilian President Dilma Rousseff was to inaugurate it, along with Pele. Given the political atmosphere, that drew a horde of protesters to the venue and I couldn't get in till all the guests had left. So I had to be content seeing his boot and jersey instead of the legend himself.
Beautiful horizon
That's what Belo Horizonte, my next destination, means. By now, I had figured out that whatever the distance, city buses and Metros had flat rates, around R$3. For the 65-plus, it's free. But long-distance buses are costly, nearing flight rates on some routes.
Rocinha, Rio's biggest favela, decked in national colours
My host Leandro's parents were so thrilled to have me over that the next day they took me to the market, introducing me to all passers-by as "Indiano".
Real estate is so costly that unlike elsewhere in the West, children stay on with their parents for long. Leo's father was a volunteer at the Confederations Cup and gifted me that T-shirt. "Don't wear it now. Tourists will take you to be a volunteer." With my little Spanish and no Portuguese, that would indeed be a calamity!
It was in the city of the architect Oscar Niemeyer, famous for its food and hospitality, that I was to watch my first match: Belgium vs Algeria. But I was so overwhelmed with the colourful crowd that I could barely focus on the match. It hardly helped that people in front kept walking in and out, for an unending supply of beer.
Over to Brasilia
Though I missed the bus to Brasilia that night, the conductors at the depot made sure I reached at the same time by a different route at no extra cost, without understanding any English. An eagerness to help seems to run in their blood.
Here I stayed with Douglas, who works in a government hospital. Healthcare is free in Brazil, including medicines. The roads were velvety. There were no powercuts. "So what the heck are you all protesting against?" I asked, bewildered. "Corruption," he replied.
Douglas plays the violin at the local church and took me to a church-organised fair where I had churrasco, their famous grilled meat. We also went for the Colombia-Ivory Coast match.
At my next stop, I reached the day my host Rodolpho's girlfriend was leaving town. I felt uneasy about being a "kebab mein haddi" but soon realised that they have no qualms about public display of affection.
Messi is always larger than life
The next day, we went for the Brazil-Cameroon match and Rodolpho chose his jersey from an array in his wardrobe. On match day, everyone, with or without a ticket, is in a Selecao shirt. So I sat in a sea of yellow at the Arena Mane Garrincha. I got my face painted at no cost, again courtesy my "Indiano" tee. Neymar looked so frail up close that I wondered how he survived the giant defenders. He wouldn't for long, as it later turned out.
I had a ticket to the England-Costa Rica match the next day in Belo Horizonte. England was already out of the tournament but that hardly stopped the supporters from singing along. The full team was not fielded initially. I had to wait for a long time to see Wayne Rooney and Steven Gerrard in action.
After the match, I visited a picture postcard town called Ouro Preto, a world heritage site that was home to Brazil's 18th century gold rush. In the bus on the way back, I met an Indonesian boy who showed me his pictures with Beckham, Messi and other gods. I lost no time in sending him a Facebook invite.
At night, when I reached Rodolpho's house, there were five others sleeping over. A Brazilian girl got so excited on learning I was from India that she sang me the opening bars of Daler Mehendi's Tunak tunak tun and danced a Bollywood jig.
For the Portugal-Ghana match the day after, my seat was behind the goal and both goals happened at my end. Here I met a Bangladeshi who was a volunteer. Fifa, I learnt, takes volunteers from across the globe who have to reach and stay at their own cost. This man was lucky that his duty was in the galleries and he could watch the match free.
A 'referee' halts the march to Maracana stadium with a red card
Last stop Rio
Dali and Mozart greeted me at my next host Suhaila's place in Rio de Janeiro. No, not the masters, these were her cats.
The world had descended on Copacabana beach to party. But I stood transfixed watching two girls playing with a football on the water's edge, oblivious to the revelry— trapping it on the chest and in the same motion passing it to the other without the ball ever touching the ground. Jogo Bonito!
Despite the happy memories of watching matches on the giant screen at the beach, my best experience was seeing a Brazil match live in Rocinha, Rio's biggest favela (slum). TV sets were put up every 10 metres in serpentine alleys wrapped in flags, big and small. Life had come to a halt. Each pass triggered animated debates, each missed chance fuelled agitated reactions. After the victory, hundreds of chocolate bombs were burst, just like back home.
The day I landed in Calcutta, Brazil crashed out. Watching the debacle on TV, it was the people of the favelas, who seemed to embody the passion we associate Brazil with, that my heart went out to.
World Cup beats in Brasilia