'Illegal' resort sparks tribal protest in Santiniketan
'The establishment was being built on land belonging to the irrigation department'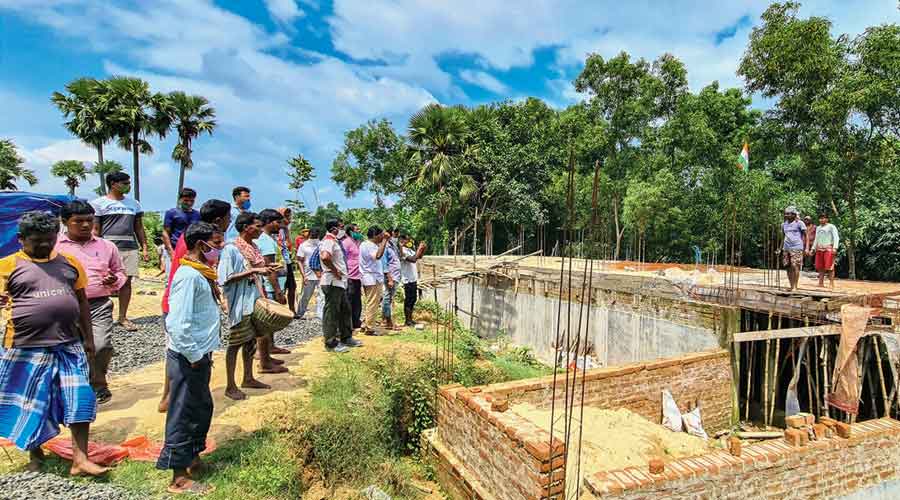 ---
---
A group of tribal residents of Banerpukurdanga village in Santiniketan took out a protest rally on Wednesday and lodged a complaint against a promoter for allegedly constructing an illegal resort by obstructing an irrigation canal at Sonajhuri forest.
Protestors said the resort was one of at least hundred such constructions coming up illegally in Santiniketan.
"The resort was being built on land belonging to the irrigation department. We protested against it and decided to raise our voice against all such illegal constructions. In most cases, promoters have targeted land belonging to tribal people and the government," said villager Ram Soren.
Resort owner Tanmoy Ghosh, however, said: "I have necessary land papers to undertake the project. I have leased a part of the land from the irrigation department. If there is any dispute over construction near the canal, I will demolish it."
The protest began on Tuesday after tribal outfit Birbhum Adivasi Gaonta joined hands with villagers.
The villagers said a month ago Ghosh started building the resort by obstructing the irrigation canal. Villagers, mostly farmers, said they were forced to protest against the construction as it would reduce the flow of water from the canal to their fields. Ghosh alleged the protest started after he did not meet a demand of a group of youths to cough up Rs 3 lakh.
Bolpur SDO Abhra Adhikary said he had received the complaint over the resort.
Many blamed Trinamul leaders for being hand-in-glove with those building illegal resorts in Sonajhuri. Denying this, Trinamul leader Ranendranath Sarkar said they were against such encroachments.
Rabin Soren, the secretary of Birbhum Adivasi Gaonta, said: "The livelihood of the tribal people is at stake in Santiniketan because of mushrooming illegal constructions. We will continue our protests against such resorts and hotels."