If I am born here, I am a citizen: Protester
On its 11th day, the protest at the Park Circus Maidan sees people joining in from various parts of the state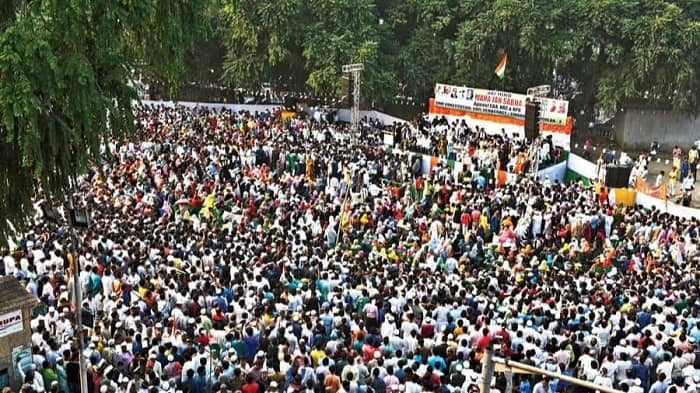 The Protesters at Park Circus Maidan
Pictures by Gautam Bose
---
Calcutta
|
Published 17.01.20, 08:22 PM
---
On a five-week winter break from her university in the UK, a protester had many plans with her family in south Calcutta. On Friday, the economics student was at Park Circus Maidan clapping with the crowd.
Being part of the protest, she said, was "too compelling a call" and she couldn't just sit back and spend time with her mother back home.
Adil Hossain has just submitted his PhD thesis on politics of citizenship at Merton College in Oxford. Ahead of his viva on February 3, the young man from North Dinajpur was at Park Circus Maidan preparing for his postdoctoral theme on citizenship and the chorus of dissent.
"You need to stay through the night and watch how the crowd is bubbling with energy. This is a new definition of gender citizenship with so many housewives sitting through the night in the open," Adil said.
Prithibi, a second-year postgraduate student of sociology at Presidency University, felt the Citizenship (Amendment) Act was against the basic tenor of inclusiveness and a threat to minorities, including Dalits. On its 11th day, the protest against the CAA, the NRC and the NPR by a group of women at Park Circus Maidan on Friday saw people joining in from various parts of the state and even beyond.
"If the government in the UK or any other country recognises my passport as proof of my Indian citizenship, why can't my own government?" asked a protester. "Nagrikta koi ehsaan nahin hain (citizenship is no favour). Paida hunye hain yahan toh citizen hain (If I'm born here I am a citizen)."
"Why should I prove anything to this government. What has it proved to me? It has never proved that demonetisation was useful; why is inflation so high; why will I probably not get a job. The PM…. Kaun hain woh (Who is he)? the protestor asked.
Mohammad Masoom Rana Dewan, a student of Bangabasi College, said he wanted to understand how a government failed to realise the dissent among those who feel marginalised.