Hungry for the tide
What makes BJP upbeat and aggressive on future prospects in Bengal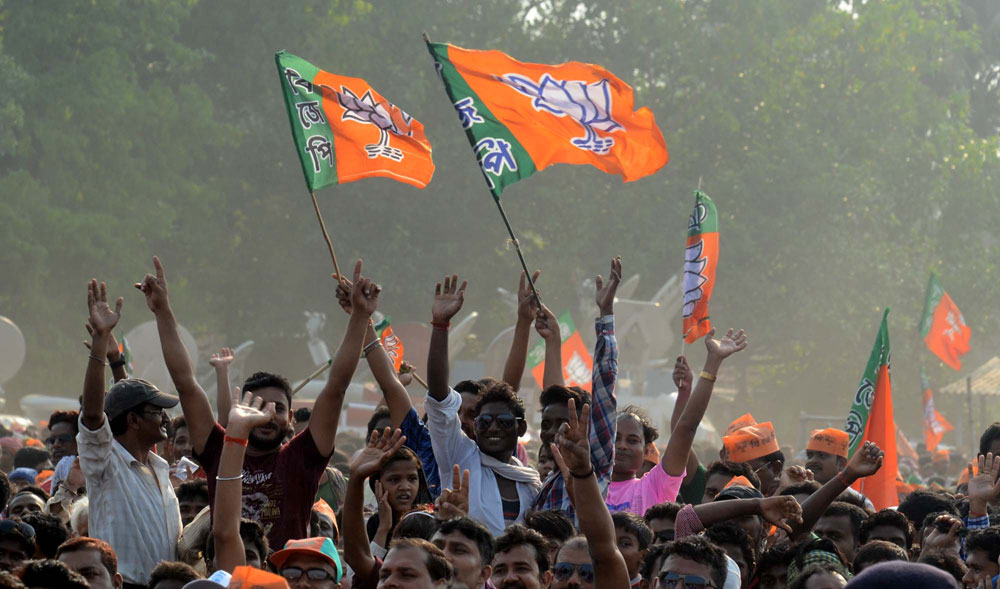 ---
---
Ram ki aaschhe… Is Ram on his way?" the short man in the earth brown T-shirt hollers to someone across the sedentary lane. It is a south Calcutta neighbourhood and seven or eight men are gathered on the pavement. They are discussing elections — who visited whom from the rival camp while campaigning, which party sent three old men canvassing for it. There is a mall looming behind the four o' clock adda and across the lane there is a shop selling chicken cutlet, kathi rolls and tea; there's a discussion happening there as well. The man on the other side responds to the holler with a nod and a finger on his lips.
Not long ago, the BJP was considered infra dig in a state and among a people that prided in being the intellectual capital of India. After all, this is Renaissance land. Ram Mohun Roy was born of this soil — he founded the Brahmo Samaj which preached the worship of one God, he ran a Persian newspaper, he was instrumental in the abolition of sati.
Then there was Ishwarchandra Vidyasagar who forced the British to pass the Widow Remarriage Act among other things. And Rabindranath Tagore. In Makers of Modern India, Ramachandra Guha writes, "Tagore was a patriot without quite being a nationalist..." For all these reasons perhaps, in a 2004 piece in The Telegraph titled "More than a pinch of saffron", Ashis Chakrabarti wrote: "Even for Bengalis who did not like the Communists, the saffron parivar was a distant, alien idea that belonged to the cowbelt."
In the 1990s, when Tapan Sikdar was state BJP president, the party's fortunes improved. In the 1989 Lok Sabha elections, it had secured 1.71 per cent of votes in Bengal and in the 1991 Lok Sabha elections, it secured 11.7 per cent votes. In 1998, Sikdar became the lone BJP Lok Sabha MP from Bengal. Newspaper reports from the year claim that his constituency, Dum Dum, had an "illegal immigrant issue" and "Sikdar's public promise to support only the Hindu immigrants and to drive away the rest" won him hearts and votes.
Two decades hence, the Narendra Modi-Amit Shah combine has turned ambitious and is eyeing "23 seats" from Bengal. Between March and May this year, the Prime Minister held 17 rallies in the state, and the BJP president, 18. The only other state the duo has reportedly invested in as heavily, in terms of political appearances, is Uttar Pradesh, which has double the number of Lok Sabha seats.
The attention, the projections, the naked ambition, they could not possibly exist to the tune that they do without any sense from the ground. Attraction for the BJP in the immediate electoral context essentially stems from opposition to Mamata Banerjee's politics and the near-absence of the Left and Congress as credible alternatives. But fanworship of the bhagwa standard is also deep-rooted in Bengal's history, culture, literature, society and politics. Enough to give the BJP hope? Or are they merely riding hype?
The 2004 report read: "They [the BJP] know that the new support from the middle classes can be unreliable… It is, therefore, the support in the suburbs or the villages that gives new hope to BJP leaders in Bengal... It is the rough-and-tough village youth, and not the chatterbox in the club lounge, who will join the party or one of the sangh parivar outfits and fight it out against the Marxists." Over a decade later, the club lounge guy and his uncle have been co-opted, or seem on their way there.
The BJP brand of neo-Hinduism casts long and distinct shadows. It is not uncommon any longer to have winter evenings mixed with chants of Poush Kali puja or the month-long public Gita paath. Google maps reveal in the city a new proliferation of Hanuman temples. At Lake Kalibari, new car owners line up for automotive blessings. Young people fashion the ceremonial red thread around their wrists, tilak on the forehead. The commemoration of the valour of Gopal Patha or Gopal Mukherjee by the far-Right organisation, Hindu Samhati, is now heard of, even if it is not di rigueur. Gopal, who got the Patha moniker from the meat shop his family owned, has been described by Suranjan Das and Jayanta K. Ray in The Goondas: towards a reconstruction of the Calcutta underworld as a "leader of leaders in the underworld". In the blog, Partition Voices, historian Andrew Whitehead describes him as "one of the key figures in the communal violence and retaliation which tore the city apart" in 1946-47. In recent times, though, Hindu Samhati president Tapan Ghosh has hailed him as "a patriot and a nationalist". Also, in the past few years, communal riots and incidence of communal skirmishes have erupted across the state — Magurkhali and Baduria (North 24-Parganas), Dhulagarh (Howrah) and Raiganj (Uttar Dinajpur). Communal simmer may be nothing new, but a lot in the changing social mores is. The question that begs an answer is what is it about Bengal's DNA that has changed to accommodate the neo-Hindu gene?
A retired professor of History, who doesn't want to be identified, says, "There's been so much infiltration from Bangladesh. We Bengali Hindus will soon become a minority in our own land. We need a strong party like the BJP to check infiltration and drive out the foreigners." An insurance agent from Howrah says, "Modi has many weaknesses but he can take strong decisions. We want a stable government. This will keep the Sensex high, attract more foreign investments." Uttam Saha, founder secretary, Argentina Football Club in Gangulybagan, says he has noticed young people respond impassionedly to Modi's Pakistan rhetoric. (A lot of the interviewees used BJP and Modi interchangeably.) But these are known reasons for supporting the BJP; are there more, reasons specific to Bengal?
"Opportunism, plain and simple," says Nrisingha Bhaduri, Sanskrit scholar and Indologist. "People in the lower rungs of the Left have joined the BJP," he adds. But that still does not explain why those not in active politics would open their minds to the BJP's isms. To this he says, tongue firmly in cheek, "Debotar shurshuri toh aachhei." What he means is the hypnotic caress of faith. "Sampradayikata," says expelled CPM leader Ritabrata Banerjee, who has since joined the Trinamul. He continues, "Sampradayikata or communalism is like a sleeping dog that will jump up at the slightest provocation." According to journalist and BJP Rajya Sabha MP Swapan Dasgupta, "It is an expression of suppressed or simmering Hindu feelings in Bengali society which had been driven towards secularisation by successive ruling parties for decades... It is a natural outburst." Historian Tanika Sarkar says, "I am shocked but not surprised because Bengal did see extremely violent rioting in the past... 1946, 1947, 1964."
And yet Bengal has been different from other parts of India in its receptiveness to a mix of a people and cultures. Of course, much of it was plain geography. The region's riverine character, its proximity to the Bay of Bengal, its wealth of natural resources, all made it accessible and desirable to outsiders — Indo-Aryans, Turkish Muslims, Buddhists.
And then there were the 19th century reformist movements of which Bengal was the fountainhead. Sarkar, however, has a caveat: "While it is true there was a strong liberal tendency in the early 19th century, later there was an equally strong development of orthodoxy, cultural nationalism and communalism." In his 1988 book Europe Reconsidered, the late Tapan Raychaudhuri has written about this: "One component of this developing awareness was a great pride in the Indian past, especially the high traditions of Hinduism." He observes that Bankimchandra Chattopadhyay, the man who scripted Vande Mataram, while evoking the Hindu identity in his passionately nationalist writings, hardly ever missed the chance of a dig at the Muslims.
Amitrasudan Bhattacharya, a biographer of Bankim, was felicitated by Amit Shah last year. He says, "Bankim's birthday is not celebrated in Bengal, except in Naihati, his birthplace. But Tagore's birthday is celebrated. Even Nazrul's [Kazi Nazrul Islam] birthday is celebrated. Bankim is a victim of baishamyer rajneeti or divisive politics." Bhattacharya is not willing to comment on his political beliefs but his grouse about the neglect of Bankim exposes a faultline in the collective rosy liberal Bengal narrative that has been peddled for years now. And faultlines as you know are indicative of occasional seismic shifts.
Sarkar argues there is a history to Hinduisation in Bengal that needs to be kept in mind. "Remember, Bengal played a big role in the formation of the Hindu Mahasabha [in 1915]. Nobody tracked the quiet, persistent, intense work the RSS did in Bengal over decades." A Bengali from Calcutta, Syama Prasad Mukherjee, joined the Hindu Mahasabha in 1939 and in 1951 he founded the Jana Sangh which eventually became the BJP.
In India After Gandhi, Ram Guha describes the "symbolism" of Jana Sangh's inaugural meeting: "The imagery was striking: taken from the Hindu epics but also invoking those Hindu warriors who had later fought the Muslim invaders. But who, one wonders represented the evil enemy… Was it Pakistan, the Muslims, Jawaharlal Nehru or the Congress Party?" Footballer Ronny Talukdar says he supports the BJP for celebrating Mukherjee as a national hero. He says, "This party rescued an illustrious Bengali from ignominy."
Kumar Rana of the NGO, Pratichi Institute, points to other faultlines. He suggests the Liberal Bengal, the Renaissance Bengal, the Enlightened Bengal never went beyond Calcutta and some pockets. "It was all restricted to the Bengali Hindu upper caste. And over the years, the inequalities only increased."
"How many Muslim middle-class families do you know personally," asks educationist Miratun Nahar. And then proceeds to answer, "Most likely not many. Fact is, Bengal has a very slim population of middle-class Muslims. It has been this way since Partition. This class gap has led to the othering. Because you do not see, you do not know; because you do not know, you are open to untoward suggestions. The middle-class Hindu, in this case also a Bengali Hindu, knows only of a certain class of Muslims, with a certain kind of education, subscribing to certain overt markers of religiosity, having a certain number of children. That is not to say everything that is considered overtly Muslim is invalidated by class. But even what is valid and integral to the faith gets branded as alien because one doesn't see or know enough of it." Another faultline.
And another one. Manas Ray, former professor at Calcutta's Centre for Studies in Social Sciences, talks about agrarian castes in Bengal that were considered untouchables a century or more ago. He says, "They prospered economically over the years and climbed the social and ritual ladder. They are the ones who are today more particular about rituals and religious strictures than the upper castes. These people are attracted to the BJP."
Faultlines and shifts. Shifts and faultlines. Three images of the Motherland borne on three lines from Bankim's Anandamath come to mind. Bankim wrote: Ma ja chhilen. Ma ja hoiyachhen. Ma ja hoiben… What She was. What She is. What She will become.