The BJP now finds itself in the august company of Naxalites
Could the attack on a statue of Ishwarchandra Vidyasagar, who challenged orthodoxy, be an unexpected boon for the TMC?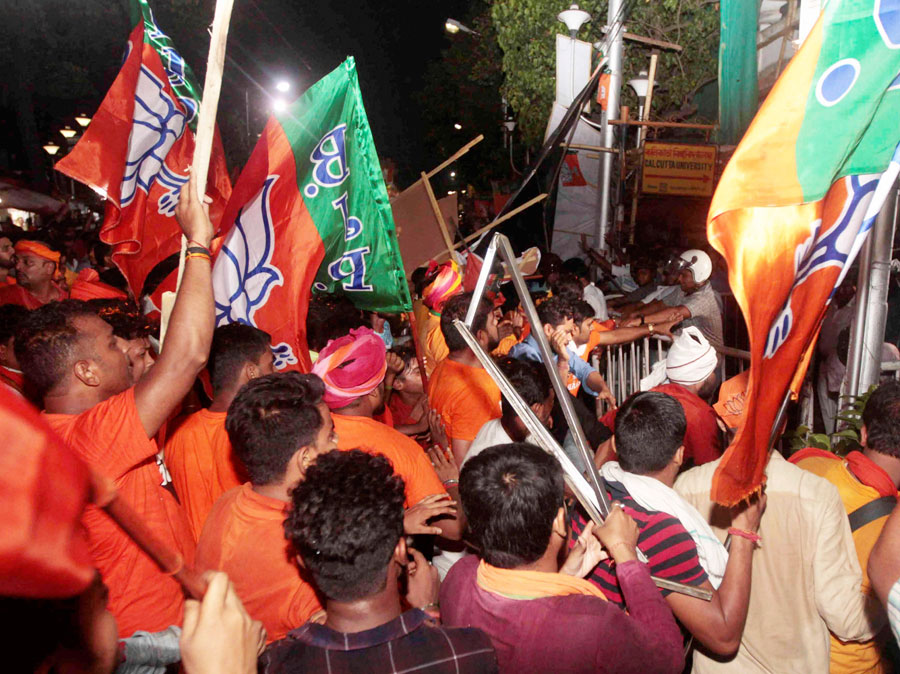 BJP supporters clash with police personnel during BJP President Amit Shah's election roadshow in Kolkata, Tuesday, May 14, 2019
(PTI)
---
Published 16.05.19, 03:39 AM
|
---
Darkness abhors light. History is thus replete with examples of authoritarian forces directing their venom towards figures associated with enlightenment. In a contemporary expression of this animosity, a statue of Ishwarchandra Vidyasagar, a luminary who challenged orthodoxy in the sphere of thought, faith and learning, was vandalized by supporters of the Bharatiya Janata Party during a roadshow led by its president in the heart of Calcutta. The BJP has alleged that its cadre had been provoked by supporters of the Trinamul Congress. Whatever may be the cause, the retaliation — characteristically — was swift and brutal. The party's footsoldiers forced their way into an educational institution, destroyed property and smashed the statue of one of Bengal's towering icons. Incidentally, the carnage took place during the preparations for the bicentennial year of Vidyasagar's birth anniversary. There is a method in this madness. Extremist ideologies — be it the ultra-Right or the leftist variety — are particularly allergic to the idea of reform. Little wonder then that the BJP now finds itself in the august company of Naxalites who had disfigured a statue of the Renaissance man earlier. At the heart of reform lies the promise of emancipation from conservatism, prejudice and discrimination, elements that are allegedly integral to Hindutva, the political ideology that the BJP and its patrons are eager to impose on pluralist India.
Devotion to muscle can be deleterious to the mind. The BJP is said to be desperate to gain a toehold in Bengal. Apparently, the going in these elections has been rough for the party in some of the other states. But lumpenism is unlikely to help the BJP create a niche for itself in Bengal's political ecosystem. The vandalism has come as an unexpected boon for the TMC, the party the BJP hopes to dislodge in Bengal. The chief minister's prompt intervention, the measured tone of her criticism as well as her firm assurance of redressal would certainly cement her position further. However, the BJP has a rival when it comes to myopia — the police. In spite of several warning signs, the force — now reporting to the Election Commission and not the government — cut a sorry figure for itself, helping fan the flames.