Howrah Municipal Corporation to pull down main gate
Civic body undertakes restoration of building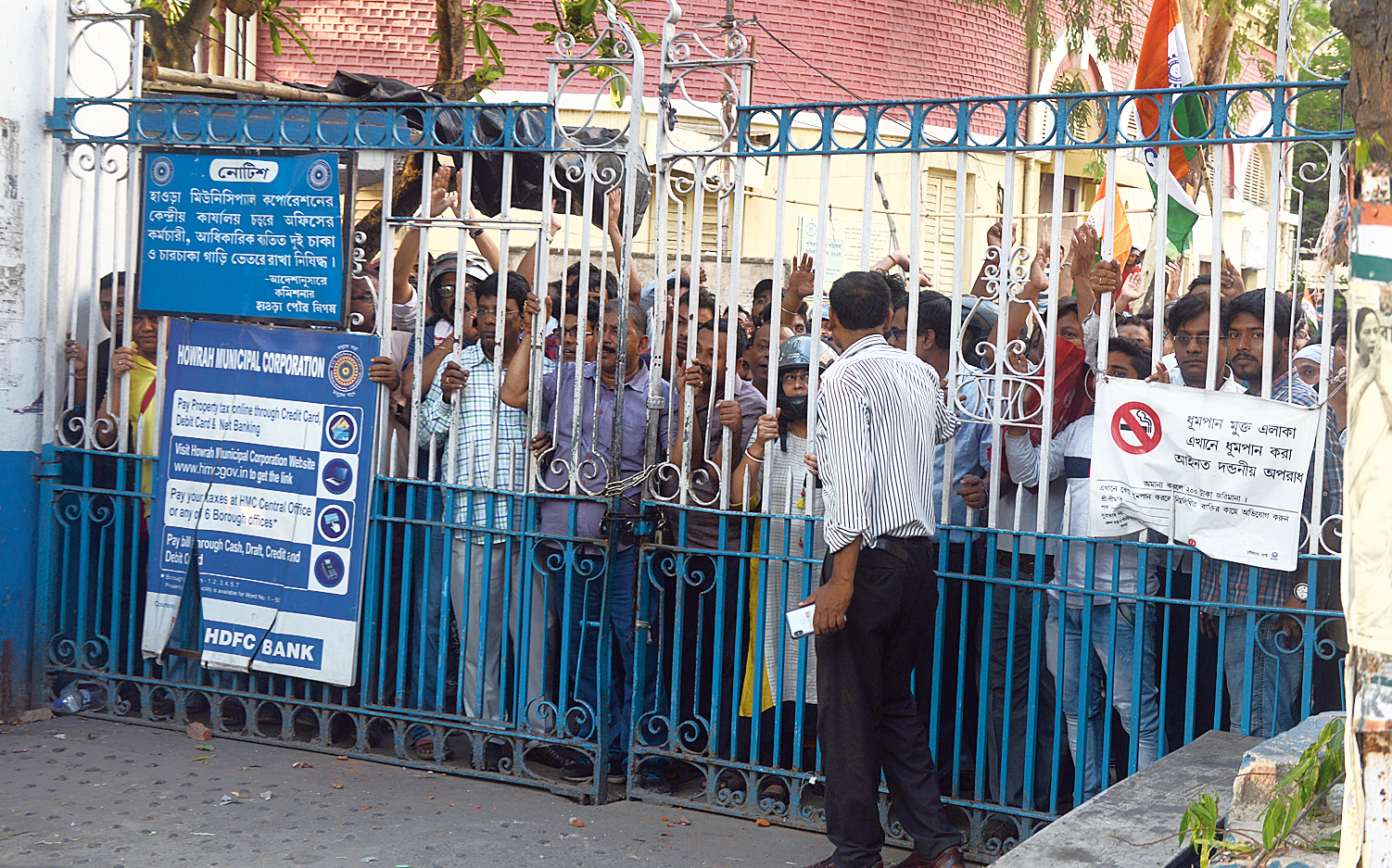 The Howrah Municipal Corporation main gate that will be pulled down as part of the restoration project
The Telegraph file picture
---
Published 29.04.19, 08:15 PM
|
---
The municipal corporation gate right opposite the court premises, where daylong clashes had erupted between employees of the two institutions last week, will eventually be pulled down and barricaded as part of a restoration plan for the civic premises.
Officials entering the Howrah Municipal Corporation (HMC) compound have been told to use a second gate, which was recently repaired and thrown open on the day the violence took place, as a part of the plan to shut down the main one.
Demolition of the boundary wall adjacent to the main entrance has begun and new iron railings are being installed in keeping with the plan of the Indian Institute of Engineering Science and Technology (IIEST), Shibpur.
A source in the municipal corporation said the existing gate, which is on Mahatma Gandhi Road and separates the Howrah court from the HMC, would be shut down in the next few weeks with a notice asking municipal staff to take the second gate that is around the corner.
All vehicles entering the municipal corporation compound, too, would have to take this gate for entering and leaving the compound. The entire area around the main entrance would be barricaded with tin plates once demolition work begins.
A source said senior officials of the HMC entering the compound in their cars had already started using the gate number 2. A few structures that stand around this gate would be demolished shortly.
"We will pull down the main gate," said Bijin Krishna, HMC commissioner. "The structure would be replaced with a new one. It will be in keeping with the IIEST design. The compound and the main building of the municipal corporation will be done up keeping with the grand restoration plan that has been drawn up."
The Howrah municipality was established in 1862. In 1984, it became Howrah Municipal Corporation.
The main building of the HMC houses the Town Hall of Howrah. Records with the civic body reveal that F.H. Schrime, the then chairman of Howrah municipality, inaugurated the Town Hall in 1884. The hall had an encircled balcony on all the three sides for women.
There was a small garden in front of the building, which was covered with iron railings.
A source in the municipal corporation said the restoration plan drawn up by the IIEST had laid down how the main entrance should look like keeping in mind the historic significance of the civic building. The concrete pillars on either side of the gate would be replaced with gothic-style pillars.
The circular balcony on the ground and the first floor of the building, which now houses the office of the mayor and the municipal commissioner, would be restored after the temporary structures are removed.