Illicit hooch link to 10 Nadia deaths
The Bengal government has ordered a CID probe and suspended 11 excise officials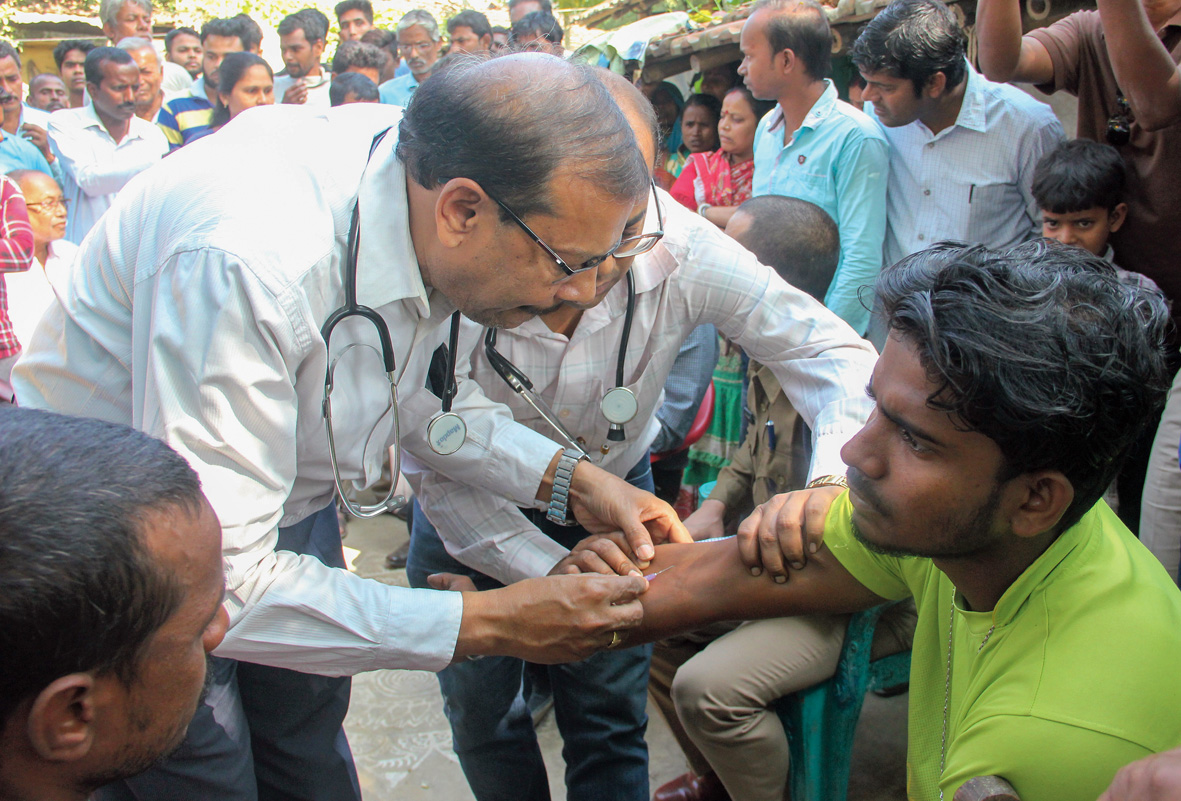 Doctors check villagers at the medical camp set up after the tragedy at Santipur.
Abhi Ghosh
---
Published 28.11.18, 09:16 PM
|
---
Ten persons, including a woman, died and 26 fell ill on Wednesday after they allegedly consumed illicit liquor here.
The Bengal government has ordered a CID probe and suspended 11 excise officials as allegations surfaced that there were lapses on the part of the administration in checking the sale of hooch at Nrisinhapur Choudhury para near the bank of the Hooghly despite complaints from local people.
The deceased were Sunil Mahato, 30, Bhutan Mahato, 35, Kashinath Mahato, 55, Dular Chand Mahato, 40, Goutam Sharma, 24, Munna Roy, 35, Bhalua Mahato, 45, Basudeb Mahato, 46, and Lakhia Mahato. Most of them were farm labourers.
Chandan Mahato, a suspected hooch seller and brother of Lakhia, himself fell ill and later died at Jawaharlal Nehru Memorial Hospital in Kalyani.
A medical camp led by chief medical officer of health of Nadia has been set up in the area to monitor the condition of the villagers.
Police have arrested Dewanti Mahanta and three other suspected hawkers from whom the villagers purchased the liquor.
Finance and excise minister Amit Mitra said the government had ordered a CID probe and whether the victims did consume spurious liquor could be confirmed after a chemical examination. He said the probe would also look into whether hooch was being smuggled from Bihar and Jharkhand.
The government has suspended 11 excise officers, including the current Santipur officer-in-charge of excise, said the minister. "The government wants to send out a stern message that none responsible will be spared," he said before announcing Rs 2 lakh each as compensation for the next of kin of the deceased.
In 2011, 172 people had died after consuming spurious liquor at Mograhat in South 24 Parganas. The government had directed senior police and excise officers to carry out drives against illicit liquor after the Mograhat incident.
"Obviously, there were lapses on part of our officers in Nadia that led to such deaths," a senior excise officer said.
The residents of Nrisinhapur Choudhury have blamed police and excise for allowing the unabated sale of illicit liquor despite their protests.
Inspector-general of police (south Bengal), Neeraj Kumar Sing, visited the village, along with other senior police officers. Sing told reporters in the evening: "Samples of the liquor which the victims consumed were collected and sent for test. It is not possible immediately to identity the exact cause of the deaths. A probe has started."
Doctors at Kalna and Santipur hospitals suspect high level of methyl alcohol in the liquor had led to poisoning and the deaths. "Methyl alcohol is a type of spirit often used by carpenters and illicit liquor manufacturers. It is dangerous if consumed in high quantity by persons with weak physical condition," a doctor of Santipur State General Hospital said.
At Nrisinhapur Choudhury para, villagers started falling ill on Tuesday evening after consuming the illicit liquor.
A family member of Dular Chand said: "Many of us consumed liquor from polythene pouches sold by hawkers. But some of them started complaining of a burning sensation inside and outside their bodies with stomach cramps. Soon, they collapsed. He (Dular) died before we could take him to the hospital."
Sibaji Roy, a doctor at the Santipur hospital, said: "All the victims have common symptoms of strong burning sensation along with abdominal pain and vomiting which were most probably caused by poisoning."
The police have started a case under Section 304 (culpable homicide not amounting to murder) of the IPC and other charges on the basis of a complaint lodged by villager Bishu Mahato, whose elder brother is in hospital.