Hilsa trawler capsize: National Disaster Response Force recovers bodies of three fishermen
Nine among the 14 on board could swim to safety after the vessel overturned in the Hooghly river on Saturday night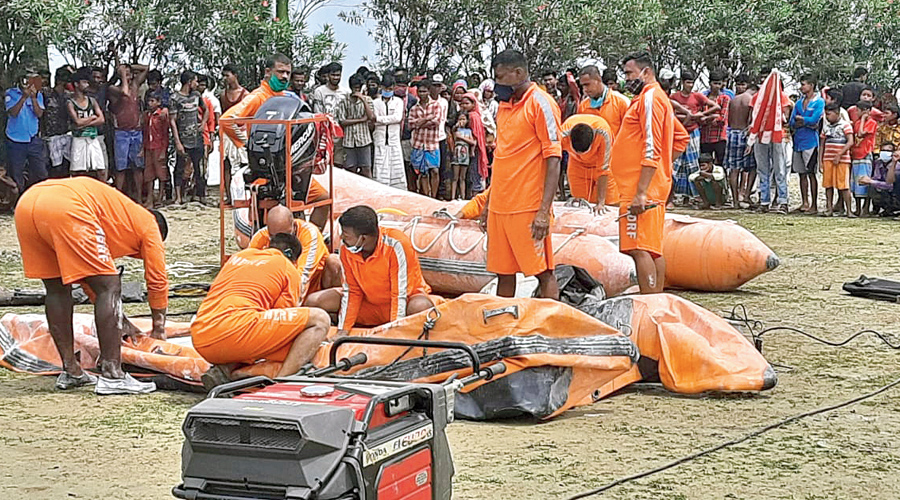 ---
Tamluk(EastMidnapore)
|
Published 15.06.21, 01:48 AM
|
---
Members of the National Disaster Response Force (NDRF) on Monday recovered the bodies of three fishermen who had gone missing late on Saturday night when their trawler capsized in the Hooghly river in East Midnapore's Nandigram amid a sudden high tide.
Police sources said that  the bodies of Rupesh Kumar Khanra, 20, Kashinath Sheet, 42, and Bistupada Maity, 27, were found floating around 6km from where the hilsa trawler had capsized.
All the three fishermen were from Marishda, East Midnapore's Contai.
The body of the trawler driver Pradip Manna, 40, had been recovered on Sunday itself.
Akhil Giri, state fisheries minister, said: "It was a very unfortunate incident as four persons lost their lives. We will reach out to the families with government compensation very soon."
"Each family (of the deceased) will get compensation of Rs 2 lakh," said Kishore Biswas, a deputy magistrate in Haldia.
The crew of 14 on the trawler, Maa Karunamoyee, had been shifting 14 barrels of diesel, of 200-litre capacity each, to fuel the vessel for a new season of hilsa fishing starting from June 15.
Sources said that the weight of these diesel barrels made the vessel lose balance and topple.
Nine among the 14 on board could swim to safety after the capsize.
The accident cast a pall of gloom in the area. Fishermen who had been looking forward to the new hilsa season had told this paper on Sunday that accident was a setback that they would never forget all their lives.